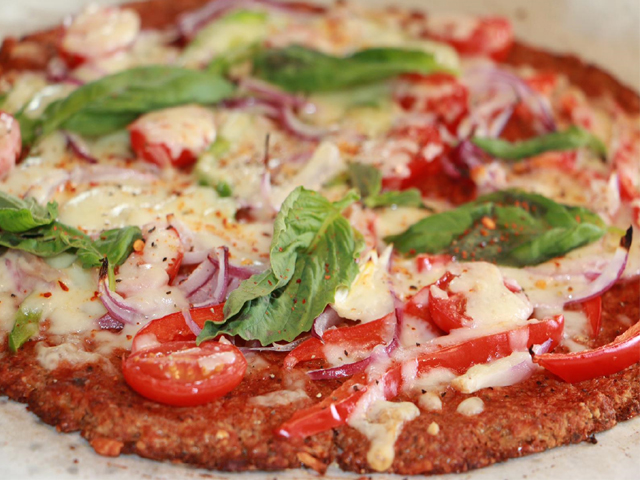 ---
Cauliflower pizza: It may be peculiar but will be your new favourite
My daughter, who is a picky eater, loved this peculiar pizza without even realising it's made from fresh cauliflower.
---


My original recipe of this nutrient-rich, grain and gluten-free pizza is made from cauliflower instead of flour. Trust me, this recipe is surprisingly delicious. It is a healthy vegetarian recipe not involving bread dough and can be made with any favourite sauce and toppings. This makes for a healthy nutritious meal that we can enjoy with family and friends.

Using vegetables has been a growing trend when it comes to people wanting to maintain a healthy life style. It is the best part of a balanced diet, as well as brings transformation to our entrenched ways of cooking and dining.

However, cooking vegetables in a way that is tasteful can still be challenging. I propose to address this challenge headlong. I personally feel that we can make any type of vegetable dish appetising and dinner-worthy if we prepare it with healthy ingredients and smart cooking methods.

This is what I have done with my cauliflower pizza recipe. I find everyone in my family savouring the recipe, in particular my teenage daughter who is a picky eater and refuses to eat cauliflower. Nonetheless, she loved this recipe without even recognising that I have replaced flour pizza crust with fresh cauliflower. I now prepare the dish regularly, especially when she comes back from school for lunch. This peculiar pizza recipe is my favorite too. Every single time I eat it with various toppings, it tastes amazing and is a little crunchy but soft as well as spicy, and I crave the taste. Furthermore, it allows me to follow my low-carb diet while relishing the pizza craving in a guilt-free way.

This incredibly flavourful and healthy cauliflower pizza recipe is a great addition to my meal-making toolkit. It provides me a simple comfort meal experience, while cutting down on calories and carbs and boosting fiber and essential nutrients in my diet. To make it tasteful, I use eggs, grated parmesan cheese, walnuts, almonds flour, fresh spices and herbs as ingredients.

Here is my cauliflower pizza crust recipe that I would like to share with everyone.

Preparation time: two to three hours

Ingredients:

For dough:

One cauliflower head –  2 ½ cups (cut into florets and grated, using a food processor until the texture is like rice)

Parmesan cheese –  1 cup (freshly grated)

Large egg – 1

Ground walnut – ½ cup

Almond flour – 1 cup

Oregano – 1 tsp

Italian herbs – 1 tsp

Black pepper – 1 tsp

Garlic cloves – 2 (minced)

Combination of spice powder – 1 tsp (cumin seeds 1 tsp, raw coriander 1 tsp, red chilli flakes 2 tsp. Roast each of them on low flame and blend them in a mixer until it takes a powdered form)

Salt as per taste

Non-stick cooking oil or spray

Parchment paper




Topping:

Fresh red onion – ½ cup (thinly sliced)

Red or green bell pepper – 1, cut into thin slices

Fresh basil leaves – 4-5

Cherry tomatoes – 4-5 ( half sliced)

Shredded mozzarella cheese – 1 cup

Marinara sauce – 1 tbsp

Method:

1. Saute grated cauliflower over medium heat until it is cooked, and the moisture has evaporated. (Tip: once the cauliflower is tender you need to squeeze out all remaining water. A completely dry crust is needed.)

2. Remove the cauliflower from burner and allow it to cool down. Set it aside.




3. In a large bowl, beat the large egg. Add grated parmesan cheese and all the remaining ingredients mentioned in the dough ingredients list.

4. Mix in dry grated cauliflower to form dough. Set aside. (Tip: almond flour holds the pizza crust together)

5. Place parchment paper onto a baking sheet and grease or spray with oil to prevent it from sticking.

6. Spread cauliflower dough evenly over the parchment paper. Do not make the edges of the crust too thin; keep the size of the crust uniform for even cooking or about 10-inches in diameter. (Tip: use hands to press and shape the dough)




7. Preheat the oven to 400 degrees Fahrenheit.

8. Place the crust into an oven to bake for 20 minutes or until the crust is dry, golden and crispy on the edges but firm in the middle.

9. Remove the crust from the oven once done and set aside to cool completely. (Tip: pre-bake pizza before baking it. The baked crust will not stick to the pan after it has been flipped)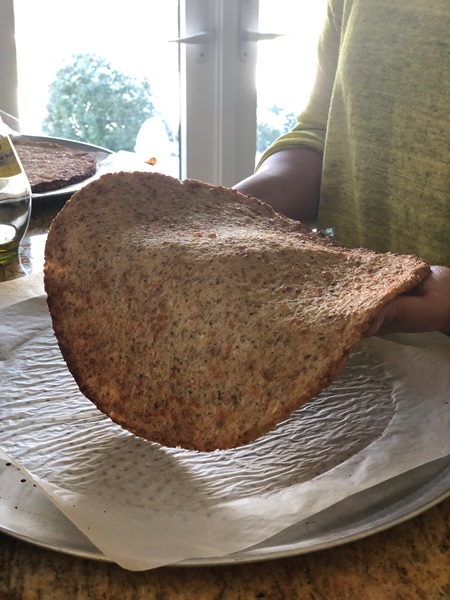 10. Spread the marinara sauce or pizza sauce on top of the crust. Do not use too much sauce as it will make the crust soggy.

11. Add bell peppers, red onions, cherry tomatoes and mozzarella cheese evenly.

12. Place the pizza back in the preheated oven until the topping is done or for about five minutes.

13. Remove from the oven and allow the pizza to cool for about five minutes. Then cut and serve.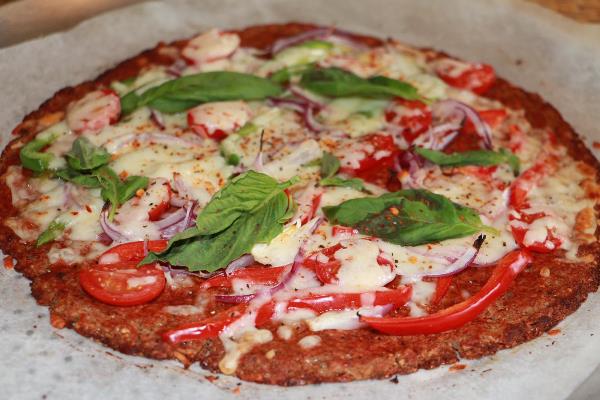 Healthy and delicious!

Note:

1. Instead of almond flour, you can also use white flour or coconut flour for the pizza dough.

2. Cauliflower pizza is not easy to make if you do not follow the steps properly.


---


(All photos by Ayishah Taliaferro)
Facebook Conversations
COMMENTS
Comments are moderated and generally will be posted if they are on-topic and not abusive.
For more information, please see our Comments FAQ