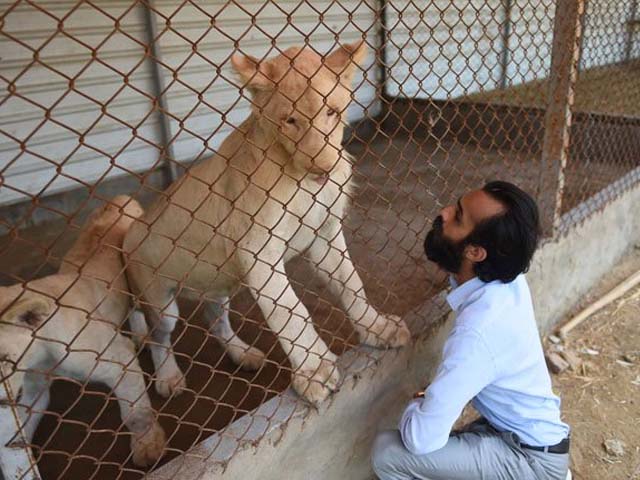 ---
From the jungle to the cage: Pakistan's culture of keeping exotic animals as pets
While the cost of a cub is Rs1.4 million, a wildlife license costs Rs10,000 to "legally" keep a wild animal as a...
---
I have been fighting against the mistreatment of animals in Pakistan for years now. Alongside other animal activists, however small in number, I have been trying to promote kindness and empathy towards all animals, domestic and working.

However, what we activists did not anticipate was the sheer extent to which the sinister culture of keeping wild animals as pets in homes has become rooted in Pakistan. Lions, tigers, cheetahs, deers, bears, wolves, and more recently, giraffes can be found in various neighbourhoods in cities like Karachi, Lahore and Islamabad, among others. While this has been a cause for concern for decades, it appears that it has now become more prevalent.

Naturally, the growing abundance of these cases stems from the lack of laws and regulations which control such behaviour. While there are certain procedures regarding the importing of wild animals into Pakistan, there are seemingly no laws which dictate how these animals should be kept, where they should be kept, what their enclosures should be like, what food they need to be given and in what quantity. The laws which safeguard the rights of Pakistan's local animals do not extend to animals that are imported.

The Wildlife Act of 2012 outlines certain procedures regarding the importing of wild animals and the kind of licenses and permits which must be acquired. But these measures are in desperate need of an update and reassessment. Summaiya Zaidi, an animal welfare activist and lawyer, states that,

"Sindh does have a specific law which regulates the import of exotic species which was passed in 2012. This law is based on the Convention on International Trade in Endangered Species of Wild Fauna and Flora (CITES) framework. One of the appendices of CITES states that lions are not allowed to be imported. But the Sindh High Court (SHC) order is only applicable in the province of Sindh and it is thus up to each of the provinces to come up with their own legislation in light of CITES."

The bizarre thing about these "lion enthusiasts" is that all of them believe that keeping a lion as a pet is acceptable, saying that their animals are "happy" and "trained". But the conditions under which these animals live are absolutely abhorrent. Most of these majestic creatures have had their claws removed, a practice which greatly reduces the animal's chances of ever being released back into the wild.

These creatures are then paraded about at festivals, in the back of cars, and at pet clinics. Often the owner will charge onlookers a few 1000 rupees to take a selfie with the animal. The selfie takers, excited about their interaction with a wild animal, don't think for one second about what that animal is going through.




The fact that most of these lions are stolen from their mothers in South Africa and brought here as little cubs greatly damages their health and chances of survival. Most senior veterinarians argue that these lions suffer from brittle bones and multiple ailments which could have been prevented had they stayed under the care of their mothers. As a result, several of these cubs die quite young. Perhaps that is the only freedom they will ever know.

This problem is further exacerbated by the rise of lion breeders in Pakistan. Such individuals partake in lion farming and claim they can provide lion cubs for anyone within 48 hours of payment, while the alleged cost of procuring a cub in Pakistan is Rs1.4 million. It is deeply saddening to see that the lion, the king of the jungle, a creature that requires acres and acres of space has been reduced to a piece of entertainment for those in Pakistan who can afford it.

Pakistan's lion breeders boast that their practice is helping ensure the survival of endangered creatures, but the truth of the matter is that such individuals are motivated solely by the money which can be made by undertaking such endeavours. If they truly wanted to protect these animals, they would let them stay in their natural environment, thousands of miles away from Pakistan.




Not only is the existing legal framework inadequate, it is also very easy to bypass it. I have been told that one only needs to cough up Rs10,000 to acquire a wildlife license from a designated office in Saddar, Karachi. Apparently, if you can furnish this sum, then you can "legally" keep a wild animal in your home. Inefficient laws and poor implementation makes it extraordinarily easy for people to circumnavigate the system.

A year ago, I was contacted by a girl who informed me that her neighbours had abandoned their pet wolf and that her family had taken the wolf in as their pet. After no response from the World Wildlife Foundation (WWF), it became apparent to me that there was virtually no legal recourse I could take in order to ensure that the animal was removed from captivity.

Evidently, Pakistan is in desperate need of laws which quell the importing of exotic animals and tackle this problem before it is further exacerbated.

All photos: Getty
Facebook Conversations
COMMENTS
Comments are moderated and generally will be posted if they are on-topic and not abusive.
For more information, please see our Comments FAQ