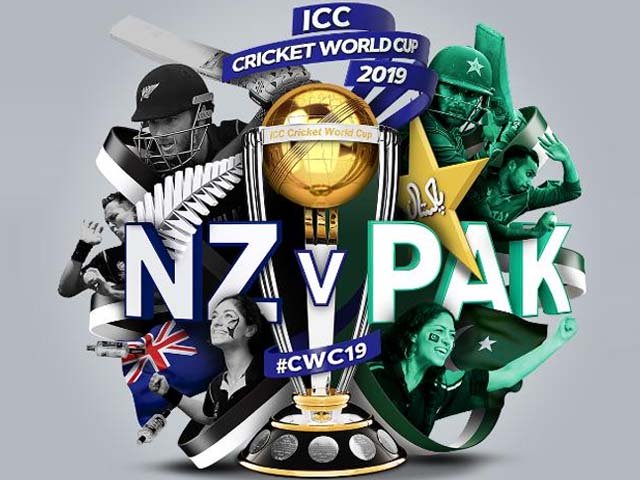 ---
#PAKvsNZ: Will history repeat itself today?
Pakistan and New Zealand have faced each other eight times in the World Cup, with Pakistan winning six of the matches.
---
The 12th iteration of the cricket World Cup is currently underway in England and Wales with 10 teams battling against each other. So far, three teams, South Africa, West Indies and Afghanistan, have been knocked out of the tournament. Two teams, Australia and India, have essentially confirmed their place in the semi-final, while the remaining five teams, England, New Zealand, Pakistan, Sri Lanka and Bangladesh, are in the hunt for the remaining two semi-final spots.

England and New Zealand have their destiny in their own hands, but the remaining three teams not only have to win their group matches, they also have to hope that other results work in their favour.

A critical game in the race for that semi-final berth will be played at Edgbaston between Pakistan and New Zealand, with the latter currently remaining undefeated in the tournament. New Zealand are at the top of the points table, but their remaining three matches are against some tough opponents.

Over the years, Pakistan and New Zealand have faced each other eight times in the World Cup. Pakistan have won six of these matches while the remaining two encounters have been won by New Zealand.

Pakistan faced New Zealand for the first time in a World Cup match in 1983 and lost that match by 58 runs. In the same tournament, Pakistan faced New Zealand again in a do-or-die match and this time around the green shirts conquered the Kiwis and qualified for the semi-finals.

In the famous 1992 World Cup, Pakistan faced New Zealand at Christchurch in a crunch match and won the encounter comfortably, securing a place in the semi-finals in the process.

New Zealand will begin today's match in a better position than Pakistan on the points table. Victory for New Zealand will confirm their place in the semi-finals, whereas a victory for Pakistan will keep their dream of reaching the final four alive. Pakistan may have been in a safe position had their batsman been focused in the match against Australia and not thrown away their wickets at crucial stages. In my view, Pakistan's inability to find their best playing 11 has hurt them quite badly throughout this tournament. Regardless, Pakistan now have to focus on each and every game and their task for today is to see off an unbeaten New Zealand side.


Bangladesh, Sri Lanka and Pakistan fans, how does this table look?!#CWC19 pic.twitter.com/LOOWRAGXHH

— Cricket World Cup (@cricketworldcup) June 25, 2019


Although New Zealand have won all their matches so far in the 2019 World Cup and will start the game as favourites, Pakistan can take heart from the fact that their opponents have played three nail-bitters so far and were tantalisingly close to tasting defeat against Bangladesh, South Africa and West Indies.

In the matches against South Africa and Bangladesh, spinners caused a lot of problems for the New Zealand batsmen and this is one area where Pakistan have a clear edge over their opponents. Shadab Khan, Imad Wasim and Mohammad Hafeez are three spinners who on their day can trouble any batting line-up.

Pakistan chose to include Mohammad Hasnain in their World Cup squad because of his express pace, but strangely enough, the team management has yet to put his skills to the test in this tournament. I think now is the right time to introduce Hasnain into Pakistan's bowling attack. New Zealand's openers struggled against the pace of Sheldon Cottrell in their encounter with the West Indies and therefore I think that an aggressive Hasnain can prove to be a handful for the Kiwis. Pakistan's third pace bowler, be it Shaheen Shah Afridi or Hasan Ali, has so far under-performed in this World Cup. Their poor form has made the case for Hasnain's inclusion even stronger.

Pakistan's batting line-up has been vulnerable and given the top class performance of New Zealand's bowlers, Pakistan will have to be careful against them. They should play cautiously against Trent Boult and Lockie Ferguson and try to target the other bowlers.

Pakistan's batsman should realise that while New Zealand have comfortably chased down below par targets against Afghanistan and Sri Lanka, they have made it difficult to chase down scores in excess of 240 against Bangladesh and South Africa. In this scenario, Pakistan must bat patiently and set small targets for themselves while continually evaluating the situation after every five overs and batting accordingly. The current predicament that Pakistan find themselves in is partly due to their batting collapse against West Indies, wherein Pakistan's batsmen tried to go out all guns blazing since West Indies had scored over 400 runs against New Zealand in a warm-up match. The team failed to read the situation and adapt accordingly.

Although the toss and the nature of the pitch is not in Pakistan's control, Pakistan's best chance of winning the match lies in batting first, setting up a reasonable total and then defending it. Of course, it goes without saying that the players need to sharpen their fielding because Pakistan have dropped the most catches out of all the teams at the World Cup. If they wish to proceed further in this tournament, they will have to pull up their socks in the fielding department.

Unfortunately, not only are our players lagging behind other teams in terms of fitness, they have also demonstrated an inability to adequately understand the situation and play accordingly during tricky matches. In my view, Pakistan's players are both physically and mentally weak.

Irrespective of what happens in this tournament from here on, Pakistan need to do a lot of soul searching and problem solving once the World Cup ends. Most of all, they need to find a permanent solution of their unpredictability. For now though, they have to defeat New Zealand if they want to have any shot at lifting the World Cup.