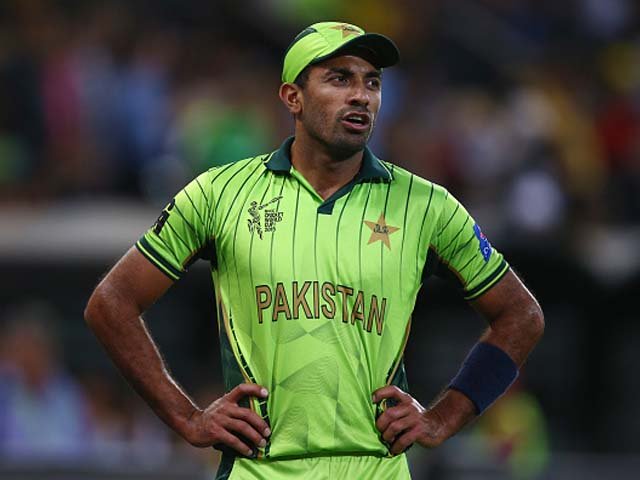 ---
Wahab Riaz selected for World Cup squad – but is that a wise decision?
A risky selection, Wahab can be a masterstroke, but he can also go from hero to zero from one match to the next.
---
The inclusion of Wahab Riaz in Pakistan's World Cup squad has triggered mixed views among Pakistani fans. The ones not in favor of Riaz have some solid reasons for their strong opinions.

Bearing in mind Riaz's track record, he is a gamble. If he plays well, great. And if he doesn't, we're doomed. Does he bowl fast? Yes. Is he accurate? Not particularly. He becomes more and more unreliable as the pressure mounts. Time and time again, we have seen him receive some serious punishment at the hands of batsmen.


Pakistan finalises make-up of World Cup squadhttps://t.co/I4xFbvC5sF #WeHaveWeWill pic.twitter.com/tTdA8iC6Pj

— Pakistan Cricket (@TheRealPCB) May 20, 2019
This happens when u have no parchi to get selected. No merit at all in PCB#JunaidKhan pic.twitter.com/IlfjLHJncg

— Muhammad Umer 🇵🇰 (@IamUmerrr) May 20, 2019


Pakistan's domestic ODI tournament ended a month ago. Riaz had the best overall figures in the tournament, with an average of 20.70 and economy rate of 4.60, which is quite impressive.

However, performing in a domestic tournament is quite different than performing in the World Cup. The difference in the quality of batsmen that Riaz will have to bowl to in the World Cup will pose a huge challenge. Moreover, the conditions in England will not be similar to Pakistan.

In terms of overall statistics, Riaz's numbers are not convincing at all, with an average of 34.34 and economy rate of 5.68. Most importantly, in England, he has played seven matches, and his stats are way worse there, with an average of 96.25 with an economy rate of 6.67. In his last international ODI match, played against India in the 2017 Champions Trophy, Riaz went for 10 runs per over.


So Wahab Riaz is Bran and Amir is Jon. One didn't do shit for years, wasn't in anyone's plans, didn't even play domestic waghera koi khaas, and is now king. Amir Snow on the other hand has been lucky to survive despite no discernible talent left, but Prince Who Was Promised vibes

— Ahmer Naqvi (@karachikhatmal) May 20, 2019
Sometimes being away from the action can be a blessing as Mohd Amir and Wahab Riaz have discovered.

— Harsha Bhogle (@bhogleharsha) May 20, 2019


He also has the honour of bowling the second most expensive ODI spell in history; conceding 110 runs from 10 overs, at an economy rate of 11 runs per over. This happened in the match against England at Nottingham, which will serve as the venue for an encounter against the same side on June 3rd. Moreover, Riaz is the only Pakistani bowler to concede more than 85 runs four times in ODIs. That means his bad days can cost the team dearly.

Considering all of the above, the question arises as to why some Pakistan cricket fans were asking for his return to the side?  Their wish has come true, but is there any logic behind his selection?

Well, Pakistani bowlers didn't perform according to the expectations of the team management in the recent series in England. But for me, it wasn't a surprise due to several reasons.

Firstly, the team they were up against has the most destructive batting line-up. Secondly, the unavailability of Mohammad Amir meant that there was no pacer who could control the flow of runs. Thirdly, a young and inexperienced fast-bowler like Mohammad Hasnain was bound to get a thrashing.

Hence, it was unrealistic to expect too much from the bowlers, especially since Hasan Ali's performance was also not up to the mark. Shaheen Shah Afridi, however, has been outstanding so far in his short-career, so we shouldn't read too much into a few bad performances by him and, fortunately, he seemed to have found his rhythm in the last game.

But the whipping Junaid Khan received in the fouth ODI gave the team management and the chief selector a panic attack. As a result, they decided that a change of personnel was required.

It is indeed a bit unfair on Junaid to judge him only on the basis of two performances, although even before the England series, his performance against Australia left much to be desired. He has lost some serious pace and his once sharp and accurate death bowling seems to have vanished altogether. Junaid didn't look threatening at all against England and is nowhere near the prowess of his former self. Perhaps he only has himself to blame.


Junaid Khan made his ODI debut more than 8 years ago - but he has never played a match in the World Cup #Cricket

— Saj Sadiq (@Saj_PakPassion) May 20, 2019


Having said that, I still don't understand the logic of including both Hasnain and Riaz in the squad. While announcing the squad for the World Cup, Inzamamul Haq justified Riaz's inclusion on the basis that he can get the old ball to reverse-swing, and that he is an experienced bowler.

My issue is that both Riaz and Hasnain are risky options. It seems that the poor performances by Faheem Ashraf and Junaid opened the doors for the lucky Riaz.

The final selection of the five pacers gives an idea as to the lack of planning by the decision-makers. If Riaz was indeed in the mix, then he should have been given a few games in the England series to show whether he deserved to be selected. We could have easily tried Riaz instead of giving Yasir Shah yet another chance.

But that ship has sailed. Now it's time to look ahead. The last minute inclusion of Riaz can prove to be a masterstroke, but the thing which concerns me about him is that he can go from hero to zero from one match to the next. When Riaz is at his worst, he can be an absolute gift to the opposition.

On a good day though, he can surprise you. I just hope that Riaz's good days are more frequent and that the bad days don't surface, especially like they did the last time against India.