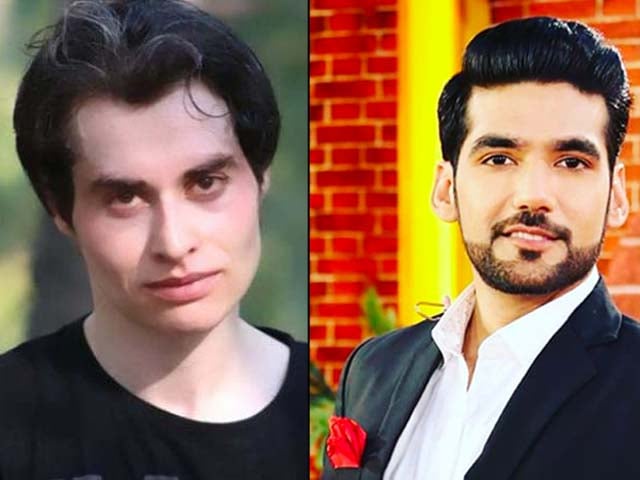 ---
The TV host has apologised to Nasir Khan Jan. Now it's your turn, Pakistan
The host channelled the self-righteousness and chauvinism of countless ghairatmand (honourable) Pakistanis
---
The easy part is over. We must now find our own reflection in Muhammad Shueb's behaviour and apologise for our own classist and chauvinistic worldview.

In a recent viral interview, Shueb, who is a television anchor, berated internet sensation Nasir Khan Jan for his "vulgar" videos. The interview was conducted in an insufferably prudish and invasive manner, inviting comparisons to Maya Khan's moral posse many years ago.

Shueb brought up a video of Jan dancing in a bathroom towel, saying that,

"For you it could be entertainment. For me, it's not!"

As Shueb made this declaration, it's quite possible that he heard in his head the supportive applause of a million people who are equally repulsed by Jan's videos. For a professional journalist, this was probably not a gut reaction but a calculated decision taking into account the popularity of these ultra-conservative views.


It is disgusting to see TV anchors insulting a guest (Nasir Jan). You just cant go this low for ratings, no matter whoever he is n whatever genre of performance he covers.
I can do my bit at least by deciding NOT to work with Muhammad Shueb n Kiran Aftab if i ever hv to!

— Mohsin Khawar (@mohsinkhawar) May 8, 2019
Strict action should be taken against Samaa Tv host, Muhammad Shueb for bullying and engaging in a violent discussion with a guest at his show. Either learn the etiquettes to carry a show or else quit! This is not on! #nasirkhanjan #samaatv #cyberbullying #Pakistan

— Uzaafar Khawar (@UzaafarKhawar) May 8, 2019


Shueb made a similar decision when interviewing a group of doctors protesting the non-payment of their dues. Him and his co-host, Kiran Aftab, cashed in on the 'killer doctor' hysteria that's been fomented during Shehbaz Sharif's regime. The hosts scolded and insulted their guests, as the latter patiently tried to explain something as simple as the need for them to be compensated for their labour. Shueb responded to them by saying,

"If you're not being paid, if it bothers you so much, then just leave. Go find a job elsewhere."

I assume Shueb gets paid for his show, so surely he understand the importance of being compensated for one's work.


Watch how an anchor person invited doctors to her show and insulted them on asking foe their basic rights. Shame on her and shame on our media for promoting such ineligible anchors #Doctorsunpaidfor4months pic.twitter.com/fl1VTYo9bk

— Muhammad Yasir (@MYasir_Shah) March 27, 2019


The standard operating procedure for this show, it seems, is to amuse the audience with mean and hateful rhetoric which they want to hear but don't always want to say. An interviewer needn't believe in that rhetoric personally, but they must be aware of the general public's wishes, which, in this case, is the desire to see Jan being humiliated on television for his allegedly "vulgar" videos with possible homoerotic subtext. I strongly doubt that the rest of the team working on the show was unaware of how Shueb was going to treat his guest.


Please sign and share in support of #NasirKhanJan. The way he was treated on Samaa tv is nothing less than abhorrent. Our anchors should know that we will not stand for this kind of bullying and planned humiliation. https://t.co/SF7lFCHuN4 via @Change @nkjmodel

— Nida Kirmani (@nidkirm) May 7, 2019


Shueb has apologised profusely for his behaviour since then. He apologised for his "hard" demeanour, his "inappropriate" questions, and his "offensive" posture, but he does not seem to specify exactly 'why' it was offensive or inappropriate. In other words, he apologises for simply being loud and improper rather than addressing the crux of the matter, which is the show's tendency to appease the lowest common denominator through unbearably self-righteous and hateful rhetoric.


SAMAA TV anchor Muhammad Shueb apologizes to Nasir Khan Jan@Nayadinsamaa @mshoaib336 pic.twitter.com/0OsVr7YwxX

— SAMAA TV (@SAMAATV) May 8, 2019
Thanks shoaib thanks Sama tv and thanks a lot of you guys ❤️ https://t.co/mI8524FdNR

— Nasir Khan Jan (@NKJModel) May 8, 2019


Shueb is simply the latest person to mock Jan in ways which reek of classism and toxic masculinity. Saad ur Rehman, popularly known as Ducky Bhai, posted a tragically derivative video last year mocking Jan. The video features clips of Jan's videos playing on a phone, after which the phone is shot multiple times with a gun to make the video stop.


I don't understand these stupid TV shows inviting stupid clowns like Nasir Khan Jan and Nouman Khan and later complain why they are famous. pic.twitter.com/JSOW9c9Bad

— Saad Ur Rehman (@duckybhai) April 1, 2018


In Jan's case, this television personality has probably seen male models and entertainers appearing shirtless on screen once in a while. Is there a shirtless picture of Ali Zafar somewhere on the internet? There are quite a few from before he had to reinvent his image for pubic relations reasons. Did we not have the 'honour' of witnessing Hamza Ali Abassi's nipples in the film Jawani Phir Nahin Ani?

However, there are two key differences between Jan and the aforementioned performers. The others are A-list celebrities rather than self-made internet stars. The second difference is that unlike Zafar or Abassi's conventionally masculine performances, Jan's work leans towards the 'feminine' side. And if there's anything that attracts, confuses, and angers us all at the same time, it's 'feminine' behaviour.

As a journalist, Shueb did not merely present a personal opinion. He channelled the self-righteousness and chauvinism of countless ghairatmand (honourable) Pakistanis, whose support he felt was guaranteed. It was only when the uproar and backlash of a shifting zeitgeist drowned the conservative applause that Shueb returned on screen to formally apologise.

Nonetheless, it's a start. This incident teaches us many lessons and, if there's anything we've learned from the crime against Qandeel Baloch, or the countless others who have fallen prey to the ghairat-brigade (moral brigade), these lessons need to be applied.
Facebook Conversations
COMMENTS
Comments are moderated and generally will be posted if they are on-topic and not abusive.
For more information, please see our Comments FAQ