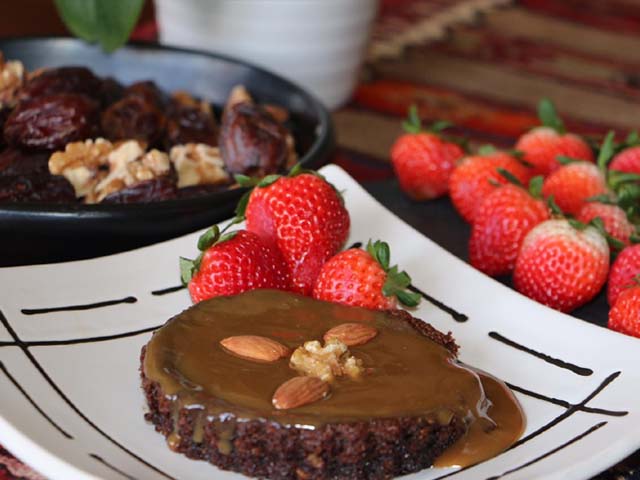 ---
Date cake: Something sweet, something mystical for a delightful Ramazan
A simple, healthy and flavourful cake, while the experience is infused with emotions as we find joy in breaking fast.
---
Dates are a popular staple food in the diet of the Arabian Peninsula. They are a symbol of Arabic hospitality. They are often served as a quick 'pick-me-up' snack and are particularly consumed when breaking fast during the holy month of Ramazan among Muslim communities around the world. On account of their unique attributes, dates represent a unique bond between Muslim communities. I relate to them both culturally and religiously, and find them to be a mystical sweet snack.

Living in America, I find nutritious dates in abundance at the grocery store. They are widely consumed as a snack, in salads, in couscous dishes, and in curries. However, they are more commonly used in desserts and confectioneries. One of the reasons for their popularity is that dates are an excellent source of fibre, magnesium and potassium, and have 'good' carbohydrates which aid the body in providing a sustained boost in energy levels.

Some studies have suggested that consumption of dates in the last trimester of pregnancy produces a more favourable delivery outcome. Dates are mentioned in the Holy Quran for helping Bibi Maryam (AS) during the birth of Hazrat Isa (pbuh). Similarly, dates were a favourite of Prophet Muhammad's (pbuh). He advised Muslims to break their fast with dates in the holy month of Ramazan because of their many health benefits.

With this in mind, I decided to create my own original dessert recipe, a date dessert made with seedless dates, almond flour and raw walnuts. The recipe is simple, healthy and flavourful, and we can all enjoy it while breaking the fast or during other festivities.

I got the inspiration for this recipe from my younger sister who regularly prepares a similar dessert in the month of Ramazan to entertain friends and family. Last year I decided to follow the same practice. When I prepare and serve the dessert in Ramazan, everyone in my family naturally savours it. For me, the whole experience is infused with emotions as we find joy, compassion and meaning in breaking fast with this divine dessert.

I have experimented with and added ingredients such as walnuts and almond flour in the mix to enhance the flavour, texture and consistency. I like this combination, particularly almond flour, as it is rich in vitamins and minerals, and importantly, it is gluten-free.

My teenagers relish the dessert because of its taste, tenderness and flavour. You can pair anything you like with it. I usually like to have this dessert with fresh strawberries but my kids enjoy it with vanilla ice cream. Both combinations are delicious. I hope you enjoy this recipe.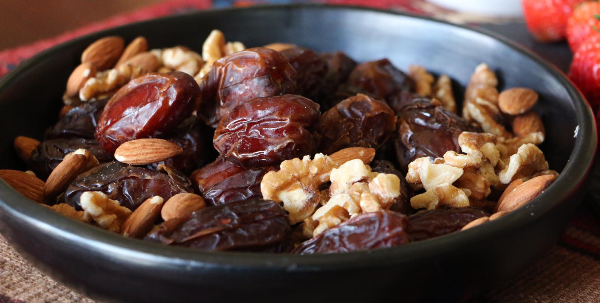 Preparation time: Two hours

Serves: Four to six

Ingredients for date cake:

Fresh pitted dates: 8 to 10, chopped (Medjool dates are great)

Almond flour: 2 cups

Baking soda: 1 tsp

Unsalted butter: 125 grams

Dark brown sugar: 1 cup

Vanilla extract: 1 tsp

Eggs: 2, medium size

Chopped walnuts: 1 cup

Boiling water: ½ cup

Ingredients for caramel sauce:

Dark brown sugar: 1 cup

Fresh cream: 1 tbsp

Vanilla extract: ½ tsp

Butter: 50 grams

Method for date cake:

1. Preheat the oven to 400 degrees Fahrenheit.

2. In a small bowl, mix the chopped seedless dates and baking soda. Then pour the boiling water into it until it is completely moist. This whole process will take 45 minutes (just waiting for dates to get completely moist).

(Tip: do not use very dry dates. Instead use dates that are really soft and moist which are easy to cut uniformly.)

3. In another large mixing bowl, add butter, sugar and vanilla extract. Beat these ingredients together with an electric mixer (hand blender) until the mixture becomes pale and creamy.

4. Add the eggs to the butter and sugar mixture one at a time, beating well after each addition.

5. Now combine the ingredients by pouring the date mixture into butter and sugar bowl mixture.

6. Add the almond flour and mix them well with hand spoon, until smooth.

(Tip: Almond flour should be mixed in after both ingredients are combined.)

7. Add grated sweet walnuts into the pudding mixture.

8. Grease round-shaped metal cupcake plates with oil. Pour the pudding mixture into it.

(Tip: You can use pepper baking cups or cupcake liners as well.)

9. Bake for about 25 to 30 minutes until a cake tester inserted in the centre comes out clean, and the cake begins to pull away from the sides of the cupcake plates.

10. Remove the cake from the oven. Set aside to cool down completely.

Method for caramel sauce:

1. In a small saucepan, combine butter, sugar and vanilla extract over medium heat.

2. Then cook on low heat, and stir until the sauce becomes soft and creamy. Simmer for a few more minutes and then put it on cooling racks for 10 minutes.

3. Pierce the pudding all over with a skewer. Pour warm caramel sauce generously over the pudding.

4. Serve pudding with some chopped walnuts almonds and strawberries or ice cream.




Note:

- You can cover the cake and store it in the refrigerator for up to one week.

- You can use white flour instead of almond flour.

- You can also use light brown sugar. I prefer dark brown sugar as the taste is similar to caramel or toffee.

All photos: Ayishah Taliaferro