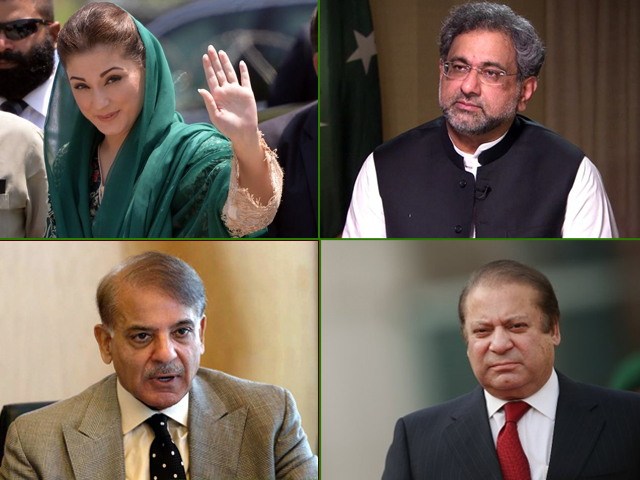 ---
Can Maryam Nawaz and Shahid Khaqan Abbasi break PML-N out of its shackles?
Maryam as party leader means there will be another round of tense and colossal political battle in the near future.
---
The Pakistan Muslim League-Nawaz (PML-N) has finally realised that it will reach nowhere if it keeps riding two boats at the same time. The current changes in the ranks of the PML-N, as well as removing Shehbaz Sharif from the Public Accounts Committee (PAC) chairmanship, are all signs that PML-N supremo Nawaz Sharif has learnt from the mistakes of the past two years and a new dawn is coming for PML-N.

Shehbaz was against his brother's 'respect the vote' narrative from the start, and had an approach similar to Chaudhry Nisar, as they both favoured working towards maintaining the status quo and seemed clueless about what position the party should take both in and outside the parliament. Now Nisar has confirmed he is no longer in the party and Shehbaz's position has also been weakened after he quit the PAC.

The problem with Shehbaz is that while he is undoubtedly a good administrator, he is very bad at politics. In fact, Shehbaz only seems to perform well when the PML-N is in power, making him unable to work as a politician who can keep the party going as part of the opposition.

Despite being the second largest party in the parliament, Shehbaz's inability to decide on one narrative and one strategy created a vacuum, as PML-N overall failed to offer an active or strong role as part of the opposition. This vacuum was very visibly filled by Pakistan Peoples Party's (PPP) Bilawal Bhutto Zardari, who has time and again given a very tough time to the Pakistan Tehreek-e-Insaf (PTI) government in the National Assembly as well as through statements to the press.

A change in the PML-N policy and leadership was thus imminent, and unsurprisingly leaders who are known to deliver have been brought to the helm. Rana Tanvir has been nominated as PAC chairman, Khawaja Asif has been nominated as the parliamentary leader, while former prime minister Shahid Khaqan Abbasi has been promoted to senior vice president. Maryam Nawaz has also been promoted to one of PML-N's 16 vice presidents.

For the time being, the PML-N will be run by its second-tier leadership, as both Sharif brothers are out of the political horizon.

Nawaz's plea to extend his bail on medical grounds has been rejected by the Supreme Court and he will be sent back to Kot Lakhpat jail today. Meanwhile, whether Shehbaz stays in London or chooses to come back to Pakistan will not make a difference, given his lack of impact on the PML-N and on Pakistani politics in general.

It is hence a good move for the PML-N to bring in leadership the party can rely on while the Sharif brothers are out of the picture, and Abbasi in particular is a politician capable for the responsibility of the job. This move also proves that the PML-N is more than just Nawaz and Shehbaz, and that the party has capable leadership to get the job done in the absence of its chiefs.

Further, Maryam's promotion also makes it evident that she is being groomed to carry the mantle after her father. She is undoubtedly the next leader of the PML-N and this is another sign of change, for apart from Benazir Bhutto, Pakistan has not seen female leadership heading political parties. This also reflects how the PML-N, a centre-right party, is trying to adopt a more progressive and liberal stance.

How Maryam will take the party ahead, however, remains a challenge. The PML-N is currently in shambles, with its vote bank dejected and many senior members such as Saad Rafique and Mian Javed Latif unhappy with how the party was being run under Shehbaz and his son Hamza. Nawaz and Maryam's continued silence only further heightened the party's demotivation, and things were only made worse with PTI capitalising on these issues and successfully asserting that Nawaz was seeking reconciliation through a National Reconciliation Ordinance (NRO).

While one can say that Shehbaz and Hamza are both unaware of modern politics and the importance of mobilising the youth, there is no answer for why Nawaz and Maryam remained tight-lipped for as long as they did. It is only after Nawaz's petition had been cancelled that Maryam started tweeting on politics again. This is an important matter, given the impact their silence has had, and should be addressed by the father-daughter duo.

Going against the status quo does not bring power in Pakistan; Nawaz would know this better than anyone, given how he was once the blue-eyed boy that Imran is now. PML-N went for the elections with a revolutionary narrative and it did not prove fruitful for the party, just as it did not work for PTI in 2013. Perhaps Nawaz also trusted his brother with too much responsibility, but he could, after all, do only so much while he and Maryam were imprisoned. Giving time to his younger brother to shine with his own narrative did not work, neither on the party nor as part of the opposition, which is why one hopes the changes made now will help the party recuperate.

This move can be termed a soft coup against Shehbaz and his group in the party, as all the hawkish elements and close aides of Nawaz and Maryam have been awarded key positions in the party. However, it seems Maryam is leading the charge differently this time, working on developing a new narrative that will avoid a direct tussle with the powers that be and will focus instead on criticising the incumbent government for its failures on the economic and governance fronts.

This is actually a good strategy, as in politics one cannot tackle all political rivals at the same time. If Abbasi tries to mend fences silently while Maryam keeps her aggressive stance and organises a few public gatherings after Ramazan, the demotivated and confused PML-N vote bank will feel this way no longer and will rally behind Maryam's cause against the PTI government.

This will not be easy, for there are powers who want to keep the current political discourse working at any cost. Nawaz thus has to decide whether he will play his cards like PPP and Asif Ali Zardari – publicly going against the powers that be while also mending fences through back channels – or whether he will trust the masses of Punjab and let his daughter develop a new narrative that not only revolves around the party's victimisation (especially given Nawaz's health) but mainly addresses the grievances of the common people, which are increasing by the day.

How quickly Maryam and Abbasi can get PML-N out of its current state of inactivity remains to be seen, but watching Maryam prevail as a party leader means we are heading towards another round of a very tense and colossal political battle in the near future.
Facebook Conversations
COMMENTS
Comments are moderated and generally will be posted if they are on-topic and not abusive.
For more information, please see our Comments FAQ