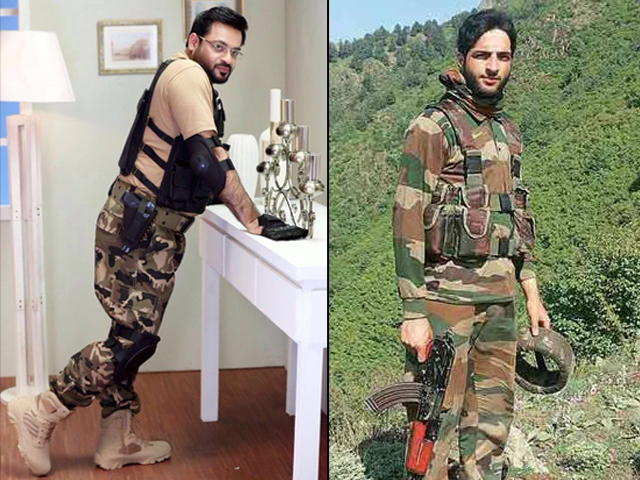 ---
Aamir Liaquat as Burhan Wani is not only artistically insensible, it's also quite disrespectful
It is incomprehensible why any self-respecting artist would choose Aamir Liaquat to play a revered freedom fighter
---
From religious talk shows to the National Assembly, is there no limit to where an over-abundance of self-confidence will carry a man in Pakistan?

After all, Aamir Liaquat has now announced that he will be playing the titular role in Ayub Khosa's upcoming biopic about Burhan Wani, the fallen commander of Hizbul Mujahideen and a Kashmiri freedom fighter.

The filmmaker himself has yet to confirm Mr Liaquat's announcement. If true, one wonders if the delay is the result of him waiting for a more opportune moment, or whether he is simply sitting quietly in a dark corner examining his career choices. It's understandable for one to make decisions that get social media buzzing about a project, but this baffling casting choice is entirely incomprehensible without at least a touch of masochism involved.

https://twitter.com/Habbakhatoon/status/1122556434309439488

For one – and this needs to be stated up front – Liaquat is not a good actor. Although he has done an admirable job of pretending to be a religious scholar on TV, he is highly inexperienced when it comes to the silver screen.

Further, the age difference between 47-year-old Liaquat and Wani, killed at the age of 21, isn't something that can be reconciled with physical training and a dash of makeup. It would require extensive Hollywood-grade CGI, the sort that transformed Josh Brolin into Thanos.

Correct me if 2018 was merely a bad dream that I'm yet to wake up from, but isn't Liaquat also a member of the National Assembly? We understand that members of the ruling Pakistan Tehreek-e-Insaf (PTI) government are renowned for their absence from the parliament, but surely even they will struggle to find enough hours to make federal laws and Lollywood films at the same time.

The nation has also yet to suppress from its collective memory the last set of photographs of Liaquat in a soldier's outfit. This – pretending to be Wani – wouldn't just be artistically insensible; it would also be thoroughly disrespectful.




And it appears that certain Kashmir liberation fronts share the same anxiety. Frontline Kashmir tweeted that this casting choice would be "an insult and disgrace to the sacrifice" of Wani, as well as to the "whole freedom struggle of Kashmir".


Aamir Liaquat in role of Burhan Wani shaheed, in upcoming biopic, will actually be an insult and disgrace to the sacrifice of great martyr and to whole freedom struggle of #Kashmir. This joker @AamirLiaquat playing Burhan will be mockery of our movementhttps://t.co/Ow0bT42Ujw

— Frontline Kashmir (@FKdotPK) April 26, 2019


https://twitter.com/Habbakhatoon/status/1122551795929235456

This is not the sort of 'buzz' Khosa needs before a film. For his upcoming biopic to be rejected by Kashmiri separatist organisations like a plate of mouldy Goshtaba could be majorly embarrassing. Just imagine the premier of a film about women's suffrage movement to be rejected or even protested by feminists.

This probably isn't very embarrassing right now because Kashmiris are quite possibly not the film's target demographic. It could simply be a film not about the Kashmiri people's struggle, but their struggle as read through a Pakistan Studies textbook.


Even India hasn't been this cruel with Kashmiris https://t.co/kHklgMuxth

— Shabbir Hussain Khan (@ShabbirKhan111) April 28, 2019


It is incomprehensible why any self-respecting artist would choose Liaquat to play a revered freedom fighter whose very name still evokes grief and inspires people to fight. How humiliating to associate with Wani's name a foul-mouthed, notoriously bigoted 'celebrity' and politician known for his bizarre antics on television.

If Mr Khosa has indeed chosen Liaquat to play Burhan Wani, I believe it's time for me to prepare for the inevitable: to quit writing, smear on some thick eye shadow, and await my casting as Madam Noor Jehan for Khosa's next movie. I reckon his criteria is to pick anyone with some media following and a pulse.
Facebook Conversations
COMMENTS
Comments are moderated and generally will be posted if they are on-topic and not abusive.
For more information, please see our Comments FAQ