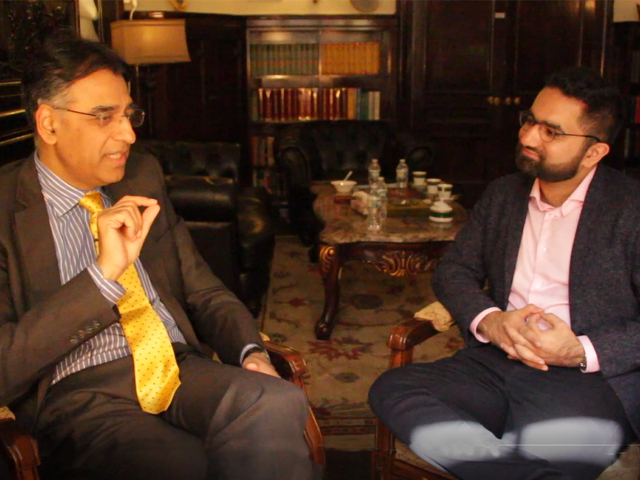 ---
Spilling tea with Asad Umar: Being a finance minister is 'tough'
An irrepressibly optimistic man, it's clear that the weight of the office he holds is bearing down on him.
---


Right after his meetings with the International Monetary Fund (IMF) in Washington, I had the opportunity to sit down for tea with Finance Minister Asad Umar at the Pakistani consulate in New York City. We talked about his negotiations with the IMF, unpacked his outlook on the Pakistani economy as well as the personal toll this job is taking on him.

The second thing I noticed about Umar when he entered the room was how tall he actually is in person. The first thing I noticed was how visibly exhausted he looks. By nature, he is an irrepressibly optimistic man but it's clear that the weight of the office he holds is bearing down on him (although he attributes his momentary exhaustion to jet lag!).

On negotiations with the IMF, Asad is holding cards very close to his chest but appears to suggest that the deal is ridiculously close and that key outstanding issues are about the pacing of the structural reform (indicating that the Pakistan Tehreek-e-Insaf (PTI) is trying to protect the Pakistani people from further, immediate, hard-hitting policy interventions).

With that said, over the next three years, Pakistan is very likely to undergo the critical elements of structural reform, which the IMF typically administers for developing countries in a state of financial crisis (in the case of Pakistan, been there, done that, like 13 times!).

Last year, former finance minister, Miftah Ismail delivered the Pakistani economy on a stretcher to Umar, with the economy gasping for breath in the emergency room. Like any doctor, Umar's first job was to stabilise the patient and make sure he survives, regardless of how painful the treatment may be.

We talked about the shock therapy the economy is experiencing today and unpacked the side effects of the treatment, which are expressing themselves as inflation, depreciation of the rupee and slowed-down growth. Umar is hopeful that Pakistan will be able to emerge from this difficult period over the next two years and return to a path of growth.

On the whole, I came out of the conversation feeling bullish about Umar having good intentions and a fierce personal discipline and competency to solve Pakistan's problems. I do fear that lack of bureaucratic capacity to execute his policies and high expectations that PTI set for itself are significant challenges that can sink or swim Asad's reform journey for Pakistan. View our conversation in the video above and let us know what you think.


---
(Video producer: Noorulain Khawaja)