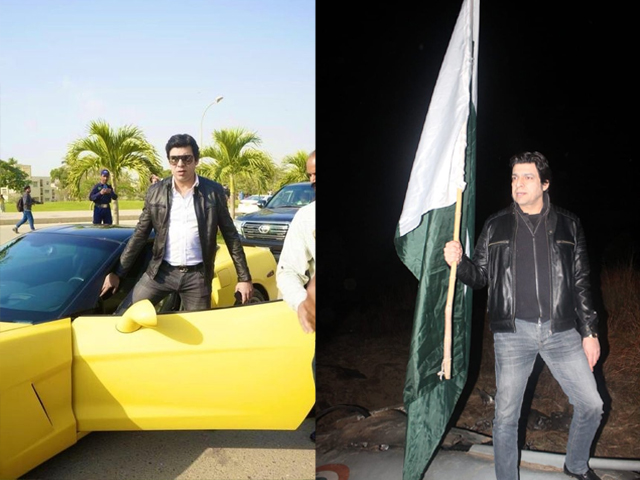 ---
Federal minister of style: 4 great appearances by Faisal Vawda that nobody asked for
It seems unjust to not acknowledge the many contributions of Vawda, who has worked hard to establish himself...
---
Pardon my political naivety, but who asked Mr Faisal Vawda to do anything more than his actual job as the minister of water resources?

Regardless, we have been blessed with an impressive array of performances in Pakistan's robust political theatre this year. It seems unjust to not acknowledge the many contributions of Vawda, who has worked hard to establish himself as more than just a federal minister. The greatest of these performances are being listed here for the convenience and amusement of our nation's proudest patriots or theatre-enthusiasts.

1. The punisher

Some may argue that it's unusual for an armed federal minister to show up at the site of a terrorist attack. But Vawda has no patience for this cowardly "bulls****ing", as he called it on Twitter.


I was informed as I was in the vicinity & I further informed the concerned agencies. As a Pakistani I didn't shy away, it's my right to use my licensed weapon for self defence. At least I'm not a coward like many hiding behind keyboards and bullshitting.

— Faisal Vawda (@FaisalVawdaPTI) November 23, 2018



The attack on the Chinese Consulate was a tragic day to be remembered by many, marked by senseless loss of life and a day of police heroism that saved the lives of many through a timely response. The day, instead, is now an internet meme because a politician decided to wander onto the site unannounced like it was a film set, dressed for his rendition of The Punisher.

2. The kid from Transformers

There's nothing inherently humorous about a man arriving at an event in an expensive yellow car. But it is painfully ironic when the man belongs to a political party that claims to have a finger on the pulse of the 'aam admi' (common citizen).


Faisal Vawda (Federal Minister) during the film shoot - #PTIGovernment pic.twitter.com/DfvXK607fj

— Muqtida Gillani (@muqtida) February 11, 2019


This tasteless exhibition of wealth is not only a political fail for the pro-austerity party, but also fails in its most basic objective of appearing 'classy'. Vawda not only arrived in the car, but seemingly took some fair amount of time posing for the cameras next to his untransformed Bumblebee. 'Classy' is appearing unconcerned with what's generally considered to be an achievement, like shooting a basketball through a hoop and walking away with a straight face like it means nothing. Lingering about to make sure everybody notices you and your yellow bag of money is the dictionary definition of 'lame'.

3. Captain Pakistan

The Chinese Consulate fiasco wasn't the last time Vawda attempted to plant his flag on somebody else's achievement.

By the end of February, Vawda was photographed and even made a video while standing on top of the wreckage of an Indian fighter plane, wielding a large Pakistani flag. How could the social media possibly resist trolling this insincere, over-dramatic, and pointless political stunt?


I don't believe this. He's actually reached the crash site and stuck a flag on the wreckage of the plane. Faisal Vawda has officially become a human meme. Love it! pic.twitter.com/qleDkF1ul4

— Ziad Zafar (@ziadzafar) February 27, 2019


Flag-waving, lest doubt still remains, is the lowest conceivable demonstration of patriotism, but appears to work well with the lowest common denominator of macho-jingoists.


Visited LOC met our brave soldiers standing tall. We are proud of them.
The whole nation salutes you.
No one can harm our beloved country InshaAllah. As PM Imran Khan said we do not want escalation but we reserve our right of defence. So we retaliated. pic.twitter.com/pSNpzaVPmT

— Faisal Vawda (@FaisalVawdaPTI) February 27, 2019


This stunt was so cringe-worthy that Imran Khan himself has been reported to have advised Vawda on focusing on his ministry rather than posting such photos.

4. Steve Jobs

One usually expresses some scepticism when the government predicts a massive decline in unemployment over a period of several months. But when a politician promised this change in the next few weeks, even the most gullible among us were left wondering what sorcery is there at play.

This is, after all, the same government that announced the discovery of oil fields in Pakistan larger than Kuwait's, which was unverified.

Vawda made this baffling announcement at a talk show, promising that the country's economic situation will undergo such dramatic improvement that even paan-walas would want to start paying taxes. Vawda's claim of an upcoming job explosion was not backed up by any significant evidence, of which the host clearly took notice. As Vawda delivered this good news, a tweet ironically appeared on screen reporting a loss of $850 million in a single trading session at Pakistan Stock Exchange.


Faisal Vawda has announced that there will be such a shower of jobs in the "next week, 10 days, 2 weeks or 4 weeks" that there will be more jobs than people needing employment. Chalo bhai, somebody inform Asad Umar stat. pic.twitter.com/JfUr1zrlpr

— Hasan Zaidi (@hyzaidi) April 8, 2019


Who doesn't like being the bearer of good news? It helps, of course, to verify first.

It appears the only role Vawda didn't adequately perform was that of the water resources minister to a country in a perpetual state of water crisis.

In about 10 years, our annual available water has fallen from 1,500 cubic metres per capita to an alarming 1,017 cubic metres, which barely covers our minimum requirement. In fact, according to a report by International Monetary Fund (IMF), Pakistan ranks third amongst countries facing water shortage. Dams are well and good, but there's desperate requirement for short-term policies including awareness-raising for water conservation, smart monitoring systems that keep water usage and leakage in check, and improved irrigation techniques.

These are the areas of development that require the ministry's undivided attention.

Nobody asked Vawda to wave a flag at a crash site. Nobody asked him to show up at a consulate locked and loaded. Nobody asked him to be the federal minister of style.

But it appears that the Pakistan Tehreek-e-Insaf (PTI) reign has ushered in a busload of handsome, photogenic heroes we didn't ask for, at a time when what we need the most are boring men in dull offices doing their actual jobs, and if I dare to dream, doing their jobs well.

I sincerely hope that I would not need to abandon that dream.
Facebook Conversations
COMMENTS
Comments are moderated and generally will be posted if they are on-topic and not abusive.
For more information, please see our Comments FAQ