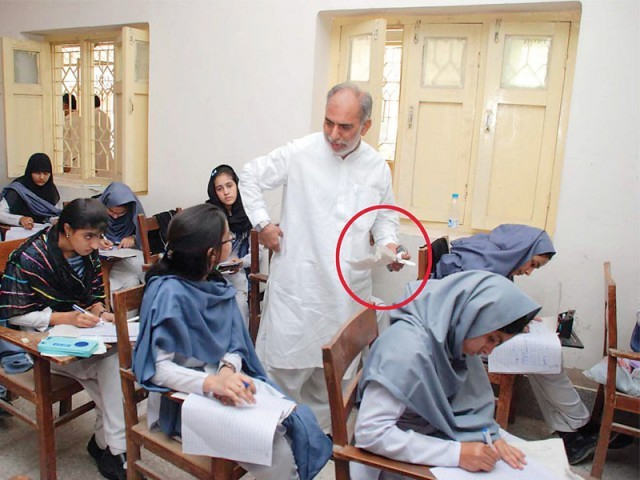 ---
Why is the copy culture an ingrained part of education in Sindh?
A country that spends 2% of its budget on education cannot afford installing cameras in every exam centre.
---
The culture of mass copying is thriving in Sindh, eroding its education system over the past several decades. As usual, those who suffer the most are the poor students from outlying areas, where access to education is negligible. 

Why is this menace still in practice, despite the various legislative and administrative initiatives taken by the Ministry of Education?

Legislatively, Sindh was among the other provinces that adopted a bill ensuring the right to education for all in order to claim political fame. Administratively, the Sindh Education Ministry installed a biometric system – the first of its kind in Pakistan – with the aim to put checks on ghost employees who draw their salaries without attending to their duties. Then why have there been no results?

Why is this 'copy culture' deeply rooted in Sindh?

Despite all efforts, it seems that education is becoming a hydra-headed issue in Sindh. From Karachi to Peshawar, this copy culture has become unstoppable on a national level. However, Sindh outweighs other provinces by a large margin. The moment the exam schedule is announced, it looks as if the 'moon of copy' has been sighted. What should be a stressful event for students turns into a carnival. From parents and teachers to students and their friends, all actively participate in this week-long fiesta of cheating.

Some 'professionals' are especially invited by students to this auspicious occasion to solve their papers. Meanwhile friends of the candidates feel morally obligated to make necessary logistical arrangements like transport, mobile phones with Easyload facility and Wi-Fi connectivity, refreshments for the 'professionals' as well as coordinating with photocopiers and the policemen.

Technology has played a constructive role in this "transfer of knowledge". This technology is environmentally friendly, for it has reduced the importance of the Xerox machine while exchanging information swiftly and more accurately. Before the advent of smart technology, 'pharraas' were the advanced gadgets required for cheating. It would be the moral duty of one's friend to exhibit his acrobatic feats by jumping over walls and hurling pieces of paper at the targeted location.

Why are the concerned authorities silent?

It is very unfortunate that the concerned authorities entrusted with supervising the school centres dare not take stern measures against this culture, as they themselves hail from the same system. They thus lack the moral courage to take punitive measures.

Authorities have a very bizarre way of monitoring the centres. Police vans will disperse unnecessary crowds through their alarming sirens, and there are officers stationed who sometimes snatch contraband away from students. In the meantime, one person is stationed at the school gate to caution the school team of any imminent danger, and the students are advised to remain silent while the officers conduct their 'checking'.

There are of course a few honest officers and teachers, but they are reluctant to perform their duties during the exam since they are threatened with severe consequences by students and other status quo forces. The union of teachers in Sindh is deep-rooted and does not accept any kind of reforms, as they threaten its survival. From the appointment of invigilators to the establishment of centres, the process is entirely shady.

There are different rates for different services, such as leaking the papers, exchanging answer sheets and so on. This entire business runs under the very nose of the Teacher's Association, the district as well as the provincial administration.

Who is to blame?

Sindh's education system seems trapped in a vicious cycle of corruption involving politicians, bureaucrats, the so-called association, teachers and parents. The issue has many layers.

When teachers remain absent throughout the year and academic sessions remain suspended, how can we expect students to burn the midnight oil and get through their exams?

In a statement, Secretary School Education and Literacy Department Qazi Shahid Parvaiz admitted that 11,850 primary schools are 'not viable'. Many lack most basic facilities such as desks and toilets. When primary education is at its lowest ebb, all others measures pertaining from the right to education to the 18th Amendment are merely symbolic and nugatory.

Provincial legislators are also not interested in raising this issue on the floor of the house because teachers are the only employees that can be exploited by them during an election. Bureaucrats always hide behind the back of ministers and try to play safe. Ultimately, it is the civil society and parents who have to come forward in order to rescue their children's future. It is we who must demand our children's performance reports on a regular basis. It is we who must question the head of the schools if teachers are not showing up to class. With easy access to social media, posting such concerns online can draw the attention of the higher authorities and shame them into taking action.

Why are students not interested?

Another reason why cheating is encouraged by parents is because it involves the numbers game. Ironically, parents spend a handsome amount of money to send their children to the best tuition centres, yet are fearful of losing the marks required to get their kids admitted to good institutions.

Families who cannot afford this have it worse, and thus encourage children to do whatever it takes to get the grades to get into a better school .

On a provincial level, Punjab is far ahead in bringing reforms to fix the issue. In order to keep students motivated, the government announced a laptop scheme. They also keep introducing different scholarship schemes for children coming from underprivileged families. These attractive learning packages have helped students retain an interest in their education and reduced the curse of cheating.

What should be done?

It is no secret that Pakistan lags far behind most countries when it comes to literacy. With this shameful fact in mind, it will be a herculean task to improve the rate altogether, given how we are struggling with what we currently have. A country that spends hardly 2% of its budget on education cannot afford installing cameras in every exam centre.

At a macro level, there is a strong need to set up an independent education commission identical to that of the Federal Public Service Commission (FPSC). This commission must be tasked with designing and developing questions papers and conducting not only annual exams but also quarterly exams and publishing an assessment report giving recommendations and suggestions to the Sindh government.

Teachers must realise that teaching is a very noble profession and in order to earn respect, they must play a constructive role in producing quality students that can contribute towards society rather than producing more mindless individuals who serve no purpose.

The School Management Committee must be restructured and strengthened to oversee academic performance as well as the utilisation of school funds by involving parents, teachers and local elected representatives.

At the curriculum level, it is high time the archaic syllabus is removed. Maybe children would be more interested if we actually taught them something worthwhile instead of the outdated content we currently teach.

It is definitely not one person's job, as it takes a village to raise a child. Unless all key players play their part, we can never deliver even the basic rights of education to our children.
Facebook Conversations
COMMENTS
Comments are moderated and generally will be posted if they are on-topic and not abusive.
For more information, please see our Comments FAQ