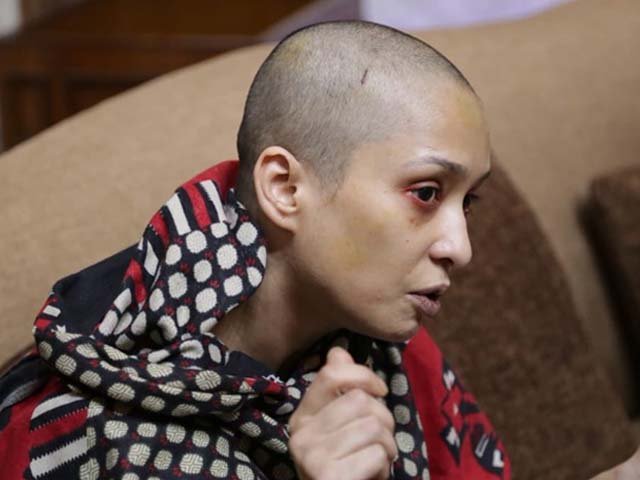 ---
'Perfect victim' or not, Asma Aziz is still a victim of her husband's brutality and society's mentality
Initially Asma ticked all boxes of being the 'perfect' victim for all of us who demanded justice for her.
---
We have all seen Asma Aziz's bruised face and shaved head plastered across all media forums. With a croaked and defeated voice, she narrated the extent of the sexual violence and physical abuse inflicted on her by her husband, Faisal Aziz. She disclosed that he had stripped her naked and beaten her with steel pipes while the male house-help pinned her down in a grotesque display of violent voyeurism. She later implored for justice through social media.

And justice is what the nation demands, unequivocally, irrespective of class and gender.


Disgusting! A woman in Lahore, who identified herself as Asma Aziz was tortured and her head was shaved by her husband just because she refused to dance in front of his friends. She was stripped, beaten with pipes & threatened with death.@BushraGohar @odysseuslahori @marvisirmed pic.twitter.com/yOe2S73Lnf

— timesofpakistan (@timesofpak123) March 27, 2019


A frail, subservient wife saved her honour and dignity when an intoxicated sinful husband inflicted sexual violence on her because she refused to dance in front of his inebriated male friends on his insistence. Initially, she fit the sati-savetri (devoted and pure woman) image of our society and ticked all boxes of being the perfect victim for all of us who demanded justice for her.


Took notice and chkd - my office was informed by SHO PS Kahna Lahore: Police has registered FIR and arrested both accused & booked under sections 337-v and 506. Medical report of the woman is awaited. One of the arrested is Faisal her husband pic.twitter.com/M3yMN4wlUU

— Shireen Mazari (@ShireenMazari1) March 27, 2019


But the societal hypocrisy was soon visible when more details emerged.


The story doesn't complete until you hear and balance both sides. Mostly it's women who has portrayed women as relatively oppressed gender. Talking about this particular case #AsmaAziz,The lady was enjoying an equal wild life as his male counterpart. 1/2

— Owais Ali Shah (@owaisleo) March 30, 2019


TV channels started showing an old video of her dancing in a bus and TV hosts dug up details of her past, reporting that this was not her first marriage. Reporters, under the guise of 'journalists,' that have prime time programs on national TV started questioning her character and victim status. This was followed by similar opinions emerging in the public discourse.


She was no longer the 'perfect victim' and the urgent need to get her justice was questioned. Thus, the privilege of being seen as a 'perfect victim' was fickle – it was taken away as soon as it was granted.

The concept of 'perfect victimhood' was introduced by a Norwegian socialist and criminologist Nils Christie in 1986. Christie attributed certain characteristics of the perfect victim and said they ought to have enough agency to establish themselves as a victim but not be powerful enough to threaten other important interests.


Secondly if Dancing on other men lap is legal in our culture in a Muslim state then let's not criticise& badmouth any prostitute or dancers. Let's not play desi Liberal fool for sure Husband should get punished at very same time Punish #asmaaziz as well. Both are equally involved

— *SANDY* (@SANDY_SARUNIAN) April 1, 2019


In Asma's case, her bruised, subservient demeanor begging for justice proved her minimal agency to the society.

She was the ideal victim.

But later videos, that showed her choice to exercise her individual autonomy by dancing, seemed to threaten the fragile moral diktats of patriarchy. She was now too bold for their liking. This is the perfect manifestation of the dichotomy Christie spoke of.


Please Don't be so judgemental. She must be hiding some truths. Its take two to quarrel. #AsmaAziz

— Asim Rehan (@AsimRehan_) March 30, 2019


The established patriarchal order began questioning her character and intentions when she was perceived as a challenger to the stereotypical roles imposed by it. As always, the patriarchs do not want to allow the vulnerable victim her right to bodily autonomy because it disrupts the unwritten order of subservient women.


I never comment on other journalists,but this one on City 42 has left me dumbstruck with his insensitivity & lack of ethics.He just asked Asma Aziz (woman humiliated & beaten by her husband)if her love for her husband can be reignited if he apologises to her in court! pic.twitter.com/QyFO2C6sRE

— Munizae Jahangir (@MunizaeJahangir) March 28, 2019


We also have other examples of this phenomenon. Mukhtara Mai was the perfect victim until she became a brave champion for other rape victims on an international level. Malala Yousafzai was a perfect victim until she started expanding and exercising her agency to speak of girl's education and started getting national and international recognition.

We cannot discriminate outrage and justice based on a prototype of our collective understanding. She is a 'perfect victim', regardless.


It's like saying if a prostitute was raped its her fault anyway. When will some of you really understand the meaning of #consent??? An old leaked video of #asmaaziz dancing, does not justify her being tortured for refusing to dance when she doesn't feel like it. Have mercy!

— Sanam Saeed (@sanammodysaeed) April 2, 2019


Faisal is not abnormal or a lone evil. Faisal is a mere mirror to the society in general. He stripped off her clothes and punished her for not adhering to his demands, just as the patriarchal society stripped Asma off of her victim status and agency by questioning her character and intentions.


Apparently this needs to be said:
1. Dancing does not justify being subject to violence.
2. Use of any substance does not justify being subject to violence.
3. People raising this issue as if it is a subject to be debated are actually sick. #AsmaAziz

— Nida Kirmani (@nidkirm) March 30, 2019


Asma is a 'perfect victim' irrespective of her choice to exercise her agency as a human being in whatever form she chooses.

Asma is a 'perfect victim' but she is also a strong survivor of her husband's brutality and society's mentality.