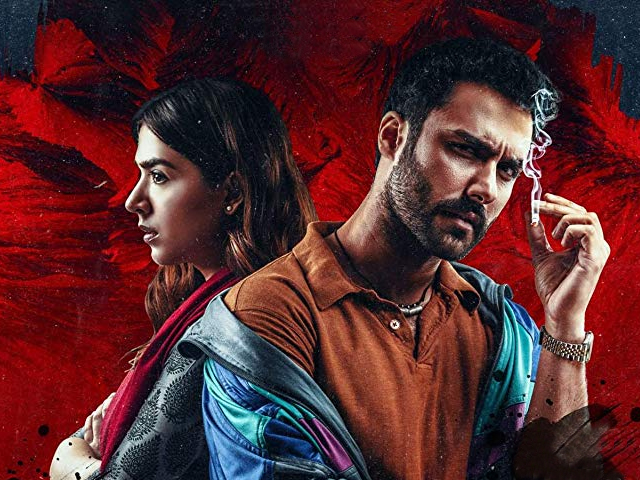 ---
In conversation: Mansha Pasha and Ahmed Ali Akbar talk about Laal Kabootar and life behind the camera
"My character went through an emotional breakdown, got varied responses. That was not film; it was something else"
---
This Friday, we will get to witness two new Pakistani films compete rigorously at the box office: the patriotic film Sherdil, and the thriller Laal Kabootar. I met the leading duo of the latter, Mansha Pasha and Ahmed Ali Akbar, to talk about more than just the movie. In a light, fruitful conversation, I dig deep into their personal lives. So let's get to know them like never before!
Talking about your thrilling new venture Laal Kabootar, what is the film's premise?
Pasha: The movie centres on Karachi. It is sort of like a melting pot, with our characters belonging to different areas of the city and having their personal journeys.

Akbar: The themes are greed, power and revenge, as you have seen in the trailer. These represent the characters in the film. They are motivated to achieve what they can in life, even if it is opting for the wrong path. As we often get to hear, "You must do something to get somewhere in life no matter what misleading path you choose".

This mentality becomes a part of the culture. Then there are people in the movie who feel the need to rectify their past. I believe the audience may identify with one of these characters or more.

Perhaps the most beautiful aspect of the film is that each character finds an advantage in being a part of someone else's life to achieve a goal. If they associate themselves with one individual, it can benefit them but what they don't realise is it may intensify their problems. My character Adeel, and Aliya (played by Pasha) struggle with their bothersome past. In fact, their past is an essential component of the story.
How would you assess Kamal Khan's direction?
Pasha: He is an excellent director! I was a huge fan of his before. Prior to shooting, I had watched Desert Journey. He is committed to his style of filmmaking and I find that refreshing. It is amazing to see new people unapologetically devoted to telling a story their way. If I would ask, "Khan, can we do it this way?"

He would listen and say, "No, I don't think so. This is how I want to keep it."

I am so glad he did that!
Walk me through your preparation for the role.
Akbar: I auditioned for Adeel's character. You end up revealing your vulnerabilities to Khan because he would do the same just so you can relate to the vulnerabilities of the character. The process of internalisation and externalisation was necessary for the development of my role. I had to wear an earring and smoke cigarettes, which I have never done before. I often zoned out after a kush (drag) or two.

I would ask questions during the rehearsals and Khan would reply, "No, your character won't do this!"

I thought to myself, if this was some other director, he would have let it go.

He carved the character to precision. Khan wouldn't emphasise on slight movements but would trick you into improvising while being in character. That way, Pasha and I were able to explore our roles in depth. We gave ourselves time to establish our fictional personalities.
How intense was it on set?
Akbar: It was very intense! In a few scenes, I felt that my heart would pump out of my chest. Khan told me a long time ago that I would have to do a scene in public with a hidden camera. The team expected a realistic reaction. My character went through an emotional breakdown and we received varied responses. That was not theatre or film. It was something else!

Some scenes were uncut for six minutes straight and they intensified as we moved along. Pasha and I were purposefully kept apart from each other throughout the shoot to maintain natural chemistry.
What is the best way to stay optimistic in this line of work?      
Pasha: By being true to myself. People want you to be a certain way in this industry and if that is meant for self-improvement, one can always try to change a bad habit. Some may also say, "You should be like her or why don't you wear such clothes?"

If it makes me happy to change a certain habit or trait, I work towards it. It can be a very small thing, for instance, waking up early in the morning but often people end up saying unexpected things.
What valuable lesson has life taught you?
Akbar: It would be more of a burden if you cling onto unnecessary things in life. I saw my priorities come together clearly and realised what I wanted in life. I am a minimalist and like to keep my life meek. Just play your part and the universe shall bear its own.
What makes you happy?
Akbar: If I keep doing good work, it makes me happy and it can be anything, be it scuba diving in another part of the world, spending time alone or with my close buddies. It could even be a chocolate! Happiness can come from anywhere but you have to create it for yourself and the generations to come. I have learnt that it is a talent.
How do you overcome uncomfortable situations?
Pasha: The only way to confront an uncomfortable situation is to go through it.
What is one thing you have learned the hard way?
Akbar: I have learned not to create shortcuts in my profession and continue to do hardwork while enjoying it. Personally, I can't do the kind of work where you feel stuck, be it ironing clothes or acting. There was a point early on in my career where I had to find happiness in a role. You end up doing a drama that consists of 20 episodes but you are not entirely satisfied with it. You manage to seek contentment in a few scenes.
Pasha: To try not to be like other people. That is what I have struggled with in the past. I thought, "If this works out for that person, I should try it too". I couldn't pull it off with the same enthusiasm as that individual. That is what I have learned the hard way. It is necessary to be a kinder version of yourself and not be pompous. Judy Garland once said, "Be a first rate version of yourself, not a second rate version of someone else."
As a celebrity, you have to put yourself out there on social media for judgement and oftentimes many stars succumb to hate. How do you cope with it?
Pasha: There are days when I am sensitive but 90% of the time I am fine with the public's judgement. I feel bad being judged for my work though! I fear that, but personally whether people like me, dislike me or feel the need to comment, it is their right to do so. I can't tell them not to write about my clothes. If they discuss me or my appearance, that is just their opinion.
Your fans adore you! What message would you relay to them?
Akbar: A few people in this system come out successful but don't give up because of that reason. Maybe you will find that kind of success four or five years later. Never compare your life with someone else's; it will lead to depression. I began theatre with my friend. He gave up but I continued in this field. My career kick started 10 years later and he is doing a local job. So, do what you love, and money is a by-product.

Pasha: You have been so loving and forgiving! Celebrities are prone to mistakes but you continue to support me. Thank you so much for that! I love you all!
---
(All photos by author)