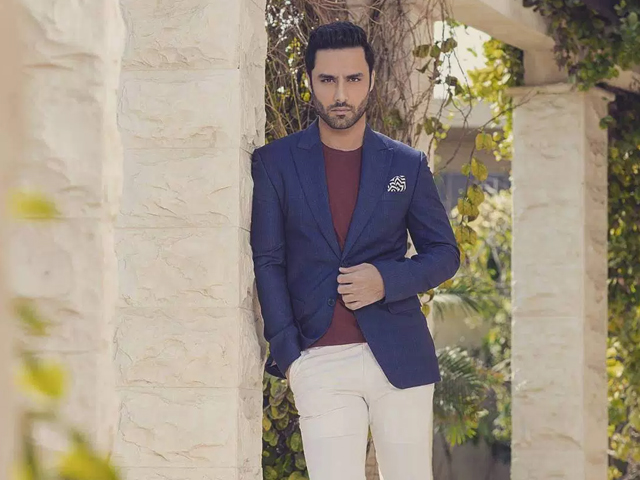 ---
Up close and personal with Parchi's Ahmed Ali Akbar: "You cannot pull people down if they are more talented than you; you have to push them up"
There are two homes in this lifetime you should take care of; the planet and the other being the body you live in.
---
It was an absolute pleasure to join Ahmed Ali Akbar, from the cast of Parchi, in Islamabad. Akbar is known for his roles in films such as Karachi Se Lahore and Siyaah, and his experimentation with diverse genres is a testament to his versatility as an actor.

A one-on-one conversation with Akbar, however, is enough to determine that not only is he a good actor, but an amazing human being inside out as well!


I sat down with Akbar to talk about his upcoming film Parchi, his latest projects and more in an exclusive conversation that will definitely keep you thoroughly entertained!

How did you start off as an actor?

As an actor, my first job was in the PTV drama Stop Watch. I got the role because my best friend's father had written the play, but I didn't think that I would take up acting as a career. After 10 years, while I was singing for a progressive rock band, my friend suggested that I give an audition for a play that was being conducted at a restaurant by some person. Later, while I was pursuing it, I discovered that the person was Osman Khalid Butt. So, I gave the audition and fell in love with theatre.

How do you cope with rejection as an actor?

I accept it. I was an athlete prior to becoming an actor, and one of the things sportsmanship teaches you is to cope with failure. That being said, you cannot be a champion without losing, thus it is not a big deal for me. I always liked auditioning for the roles I received, as it confirms your worth. I opt for legit ways of auditioning, so that the director or producer doesn't regret it later. Hence, I believe my approach to accepting rejection has a lot to do with being an athlete.

How do you balance your personal and professional life? Is it ever challenging?

I make a conscious effort of keeping both separate from each other. My personal life is incredibly valuable to me; my family, my brothers and cousins. It has become more difficult to balance both over time (laughs). Many people want insight into your life, and aim to get any photographs or videos taken and have them posted on social media. So, I look at a picture five times and think if I should put it up or not, as it gives away unnecessary information.

Do you have any insecurities being an actor?

I'm only proud of my past, and God has been very kind to me. When I ponder about my future, I think that anything can happen; I could lose this career, but that thought relaxes me. Since I have dealt with some harsh times in the past, I am glad that those moments taught me to live in the moment and focus on what is being done at present. The minute you start comparing your career with others, you will feel insecure. However, at the same time, if you compare yourself to those who haven't been as fortunate as you, it kind of balances your mindset. But I am truly grateful for what I have achieved so far.




How do you manage to keep yourself mentally and physically fit?

I think if you keep yourself physically fit, mental fitness follows. I used to play tennis, and it is as mentally challenging as it is physically. All in all, you have to eat right, as you are what you eat; I firmly believe in this saying. There are only two homes in this lifetime you should take care of; one being the planet and the other being the body you live in. If you take care of these two things, you will not encounter any problems in life.

What is your character profile in the upcoming film, Parchi?

The film is about four guys who get into trouble after one of them makes a wrong decision. I am one of the more grounded friends in the group. The character I am playing is Saqlain, who is the complete opposite of the character Ali Rehman is portraying. Ali's character gets into trouble and his friends help him out. My character is very sensible, but he can come off as scared and he can be overly careful as well. He has a girlfriend, whom he falls head over heels for and wants to marry, and his priority in life is to keep his relationships secure.

What are your upcoming projects as an actor?

The next project I am working on is another film directed by Kamal Khan. We are getting the script finalised and it will go on floors very soon. It is a very unique script and character altogether. I can't reveal much about it right now, but it is going to be something very different.

What would you like to change about Pakistani dramas and films?

I would say writing. We have the facilities to make great dramas and films. However, the only thing we lack is writing. I believe we need to explore the depth of characters. We tend to show sad dramas, from the start till the end – that should not be it. A drama should imitate life. It needs to have all those bittersweet moments that life has, similar to the dramas we had back in the 90s.

Have you made any regretful decision personally or professionally?

There have been no regretful decisions personally, however professionally, there was a time I had to do a couple of dramas that I was not fond of doing.

What qualities are needed to become a good actor?

Empathy – it is one of the greatest qualities an actor should know of. You need to understand what the other person is feeling and why they are feeling it. You need to be open to experiences, and need not bound yourself to something or draw lines. The more you experience, the better you understand humanity and are able to re-enact it! I believe actors need to be good listeners and observers, and should be able to empathise.

What are your thoughts on newcomers exploring Pakistani cinema?

I think people should be recognised for their talent and worth.  What would make me happy is Pakistani cinema making its mark internationally and contributing to arts. However, it is always a collective effort. You cannot pull people down if they are more talented than you; you have to push them up.




What is your advice for aspiring actors?

Something I admire about Osman Khalid Butt and many other people is how they have set up their own theatre plays, and write, choreograph and direct their own work. So if newcomers are coming in, and they cannot seem to find a way into the industry, they should create a way on their own. I believe aspiring actors need to start from theatre, as television and film will restrict them. In today's world, there are no excuses for newbies, as there are open platforms like YouTube. If you are an actor, you can be bigger than the people who appear on television.

Say no more! Akbar's passion for acting and love for theatre is a standout example for aspiring youngsters. As witnessed above, the actor has constructive views and looks at life in a profound manner. I was truly impressed!

Catch Akbar in his latest comedy flick Parchi, set to release this Friday, January 5, 2018. It looks like a true entertainer!

All photos: Haider Rifaat