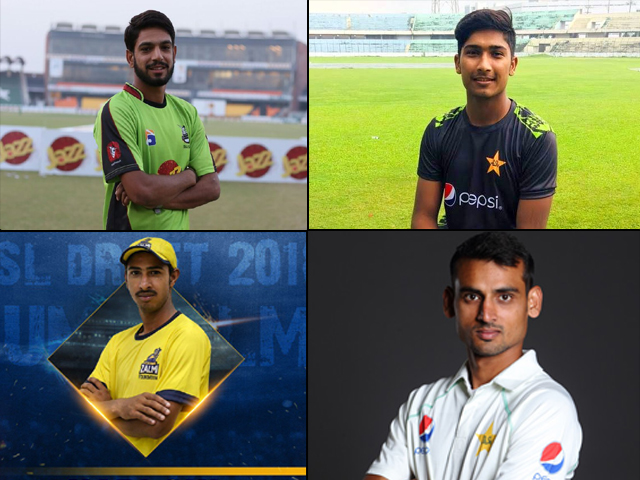 ---
Emerging talent: 6 players to look out for in PSL4
Selectors and cricket analysts have been vigilant for the last three years, looking for budding domestic cricketers.
---
The best thing about the Pakistan Super League (PSL) is that the franchise remains active throughout the year. They work all year scoping for talent that is in abundance in our country. Case in point: Lahore Qalandars run an intense players' development program. It was due to their efforts that fast bowler Salman Irshad was discovered from Azad Kashmir and inducted to play in the third season of PSL.

Pakistan's national team has so far scored six to seven players from the first three seasons of PSL, including Shadab Khan, Hasan Ali and Shaheen Afridi, while many players are on the fringe of breaking into the national side. I hope that this trend continues and we welcome new talent into our national side.

Many young players will get the opportunity to showcase their talent on the biggest stage of Pakistan's domestic circle: PSL4. In my view, the following players have what it takes to shine brighter than the sun and make the most of this tournament.

1. Haris Rauf

Rauf is also one of the players who was unearthed by Lahore Qalanadars through their players' development program and will be representing them this season. Under the guidance of Aqib Javed, Rauf has transformed from a tape ball bowler to an effective hard bowler in a short span of time. Global cricketing fraternity first laid their eyes on him at the Abu Dhabi T20 trophy held a few months ago. The way he bowled to Morne Morkel, Heino Kuhn and Chris Morris, was exhilarating to watch.

Many cricket analysts have commented that his Yorkers are better than many bowlers' at the domestic level. Rauf was also sent to Australia by his franchise where he got a chance to bowl to Virat Kohli and Cheteshwar Pujara ahead of their Test match against Australia and received high praises from them.

https://twitter.com/cricjhs/status/1080808066684256256


Lahore Qalandar's emerging fast bowler for PSL4, Haris Rauf shard a practice session with Indian Captain Virat Kohli. pic.twitter.com/ai4nnMfmEe

— Ahsan. 🇵🇰 (@imPakistaniLAD) January 2, 2019


Qalandars did a wonderful job with his transformation and now it is time for him to help his team win the tournament and through his good performance, barge in the national team for the upcoming World Cup.

2. Saad Ali

Ali has been present in the Pakistan cricket world for the last seven years. He was part of Pakistan's Under-19 team for the 2012 World Cup. Through his consistent performance at first class level, Ali established his credentials and was rewarded with his selection in Pakistan's Test team for the tours of England and Ireland and also for the home series in UAE played against Australia and New Zealand. Unfortunately, Ali was not included in the playing line-up and after warming the bench, he was unceremoniously dropped from the Test squad for the tour of South Africa.




He was initially ignored by the franchises but when PCB allowed an additional player to be picked for PSL, Qalandars selected him. He has a reasonable record in the shorter format of the game. At the National T20 in December, he scored 183 runs with a hefty average of 91.50. Last season, Ali was part of Quetta Gladiators but was unable to make his PSL debut. This time, he has the opportunity to interact with the legendary AB de Villiers and I hope he takes advantage of his presence and learns from him to overcome the deficiencies present in his game.

3. Mohammad Hasnain

One person's loss is another person's gain. This is the story of two young fastbowlers, Nasim Shah and Hasnain.

Sixteen-year-old Shah was touted as another pace sensation of Pakistan. A native of lower Dir, Shah is capable of giving the batsman a really hard time due to his bowling ability. Unfortunately, he suffered a back injury and was replaced in the Gladiators' squad by Hasnain, a teenager from Hyderabad who is capable of bowling at 140kph.


Please welcome emerging speedster Mohammad Hasnain of Hyderabad as replacement of injured Nasim Shah #PurpleForce #Gladiator pic.twitter.com/XxI5Ll05en

— Quetta Gladiators (@TeamQuetta) February 6, 2019


According to the Gladiators' management, Hasnain is capable of bowling fast and has all the ingredients to represent the national team.

Hasnain was part of Islamabad United in PSL3 and was regarded by Waqar Younis as an upcoming superstar. However, unfortunately due to an injury, Hasnain was unable to play in PSL3. Hopefully, the injury gods steer clear of him this season so he can push his career to new heights.


Quetta Gladiators latest signing for PSL4 - 18 year old pace bowler Mohammad Hasnain #Cricket pic.twitter.com/eXJGR2zPXt

— Saj Sadiq (@Saj_PakPassion) February 6, 2019


4. Umer Khan

Another teenager expected to mesmerise onlookers with his craft is Khan. The 19-year-old left-arm spinner was ignored in the 2018 PSL draft but fortunately, Karachi Kings picked him in the squad in the replacement draft as their 21st player.


19 year old Umer Khan Mohmund who recently took 7 wickets on his First-class debut for SSGC against Peshawar #Cricket pic.twitter.com/JkAb5CXZ2N

— Saj Sadiq (@Saj_PakPassion) November 22, 2018


Pakistan was part of the Pakistan U-19 team that participated in the Emerging Asia Cup played in Sri Lanka. He made a perfect first class debut this season representing Sui Southern Gas. Khan picked seven wickets and played a key role in his team's victory. He is fortunate to be performing under the eyes of national Coach Mickey Arthur and a few good performances in the tournament can land him a spot in the national team.

5. Nasir Nawaz

The 20-year-old batsman from South Waziristan is part of United's squad for PSL4. He is a powerful hitter and United is intending to use him as an opener to take advantage of the power play overs.

Nawaz has represented Pakistan at U-19 level. During 2016 Asia Cup, Nawaz scored match-winning 45 runs against Bangladesh. In the 2018 T20 Cup, Nawaz playing for Rawalpindi only scored a meagre 110 runs in six matches but whatever time he spent on the pitch, he impressed everyone with his talent.




PSL4 will provide Nawaz with an opportunity to interact with many experienced national and international players. He will share the dugout with Dean Jones who in previous seasons proved to be an ideal mentor for youngsters. I hope Nawaz can take full advantage of his opportunity and raise his game for the occasion.

6. Nabi Gul

Gul is another exciting batsman expected to make his debut in PSL4. He failed to impress at the National T20 Cup in December, however, his ability to swing the willow was noticed as he scored his run with an impressive strike rate of 145.28.

Gul made an impressive century in his first class debut. Playing for Peshawar against Islamabad, Gul scored a blistering 138 in only 166 balls to help his team overhaul the stiff target of 374 runs. This proves that he definitely has talent.


We have picked Nabi Gul in the emerging category. 🤩#YellowStormReturns pic.twitter.com/4STIzlLD3y

— PeshawarZalmi (@PeshawarZalmi) November 20, 2018


He was on Peshawar Zalmi's radar after giving a superb performance in the Zalmi Azadi Cup. Gul is fortunate that he will have Younus Khan as a mentor and Misbahul Haq as a player during his stint with Zalmi. If Gul wants a career as a professional cricketer, he should make an all-out effort to regularly interact and learn from the two stalwarts of Pakistan cricket.

Moreover, since Pakistan cricket is facing a dearth of skilled batsmen, I hope Gul performs well and is promoted to the next level.

A lot of talent is wasted in our country due to lack of media coverage of domestic matches. It is unfortunate that on many occasions, selectors also don't visit the stadiums to watch domestic cricket matches and only rely on score sheets to know about players' abilities. Due to the heavy promotion of PSL by Pakistan Cricket Board (PCB), selectors and cricket analysts have been vigilant for the last three years, looking for budding domestic cricketers.

Arthur's recent statement about taking PSL4 performance into account while selecting the squad for the upcoming series against Australia and the World Cup can serve as an added incentive for the youngsters to bring their A game!

It's game on!