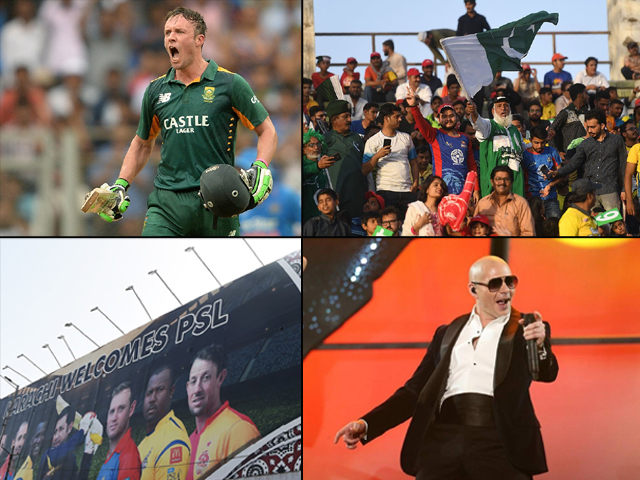 ---
PSL4: 3 reasons why the best entertainment package of 2019 has arrived
Karachi Kings and Lahore Qalandars have two things in common: loud fans and empty shelves of trophies.
---
If you love stories with happily ever afters, then Pakistan Super League (PSL)'s story might just be the right pick for you. I know I may sound biased, but I absolutely love PSL out of all the leagues around the world because it defied all odds to make its own name in a densely populated T20 market. As PSL4 is around the corner, let's peek at what it's got in store for us to look forward to!

Star-studded opening ceremony

I know what everyone first noticed when PSL announced its plans for the opening ceremony: is that Pitbull? Is this a fake post?


The Florida based singer @pitbull a.k.a Mr. Worldwide is excited to be part of the #HBLPSL, here is what he has to say! #KhelDeewanoKa

More about HBL PSL Opening Ceremony 👉 https://t.co/Uj1fIyOAcR pic.twitter.com/Q5gHUsaSKJ

— PakistanSuperLeague (@thePSLt20) January 31, 2019


PSL has been around long enough to prove its own worth. It survived all the turbulence in its early days and seems all prepared to spread its wings and take off. Pitbull is the first international star with a popular following around the world who will have anything to do with a Pakistani event – PSL.

I know the talk in the town is that Pitbull is bagging a ridiculous amount for a performance that may be over before you got back with your snacks from the kitchen. From my perspective, hiring Pitbull is more than just having him jump around on the stage singing lyrics that may sound like gibberish to the locals. It's about getting the brand name out to global audience via Pitbull's social media platforms. I like that PSL is dreaming big even if that means we have to be generous with our pocket.

If Pitbull is not your cup of tea, there is more in store for you at the opening ceremony. Pitbull is nothing more than a marketing gimmick to get some more global eyeballs but the real performance that everyone in Pakistan should be looking out for is Junoon!


Pakistan's legendary sufi rock band Junoon is excited to be a part of the Grand Opening Ceremony lineup. Catch them live at the Dubai International Stadium on the 14th of February at 8 PM

Get your tickets now: https://t.co/LwPb9DRDuQ pic.twitter.com/kTeaswK3uR

— PakistanSuperLeague (@thePSLt20) February 10, 2019


For a band that holds so much heritage and legacy, if it ever was to re-unite again, then PSL must be the right platform to make it memorable. Having Ali Azmat and Salman Ahmed share the stage again is a dream come true for a lot of music fanatics that I have come across. On a side note, let's not forget Ali Zafar's contributions in each of the first three editions of PSL and we surely will miss him this time around.

AB de Villiers enters PSL

Enough of the showbiz, let's talk cricket. This year's first pick from the players draft was a no-brainer and thankfully the turn went to Lahore Qalandars who often don't bother making intelligent decisions at drafts anyway. De Villiers was an obvious first choice and I doubt any of the other five franchises would have picked anyone else.


Lahore Qalandars will win PSL 2019, InshAllah.
Good night to everyone except those who disagree.

— Ayeshay (@champagne_lassi) February 5, 2019


With de Villiers all set to make his debut in PSL, I would suggest anyone going to the stadium to start doing some fielding drills for 'catch a crore' because this man is Mr 360. It won't matter much which part of the field you find a seat in because he can pull, paddle sweep, reverse sweep, cover drive or simply smash one down the ground. He doesn't discriminate against any side of the field so everyone should have a fair shot at 'catch a crore'.


Big news for Lahore Qalandars and Pakistan Cricket. AB de Villiers is coming to Pakistan for two LQ matches in PSL on 9th and 10th March. pic.twitter.com/HGl7bsfnkz

— Faizan Lakhani (@faizanlakhani) January 14, 2019


With de Villiers under their sleeves, PSL4 seems to be the season that will bring Lahore Qalandars back to life. Wounded Lahore has found itself a superman in the field and a mad man with the bat. If de Villiers gets going, then Fawad Rana can plan on bringing his dancing shoes with him and perhaps practice a few moves already because the camera sure does love him.

Pakistan bags eight matches

Karachi Kings and Lahore Qalandars have two things in common: loud fans and empty shelves of trophies. Luckily, we can put the energy of their fan base to better use this time around. PSL4 is bringing eight matches back home and if anything, Lahoris and Karachiites are the best at screaming their lungs out to support their teams. Especially since we all know that the Karachi versus Lahore battle is a never ending one!


Schedule of PSL 4 announced pic.twitter.com/oBP8s6s74u

— Saleem Khaliq (@saleemkhaliq) December 14, 2018


Whether you belong to one of these two beautiful cities brimming with passion or happen to be a neutral fan like myself, games in Karachi and Lahore are something you would not want to miss out on. Both cities may lack victories in the field, but they sure do know how to turn up in numbers.


Luke Ronchi "There was a lot of excitement all around when we landed in Karachi for the PSL final last year. The energy in the city was amazing & it felt like we were part of a big festival. Winning the PSL trophy in Karachi is a memory I will cherish for a long time" #HBLPSL

— Saj Sadiq (@Saj_PakPassion) February 9, 2019


Music, laughter and dancing in the stands – for eight days, the differences within our society will become a big fat blur. One can only wonder why we can't stay in such harmony for the rest of the year but even if it happens for a moment, let's make sure we live it to the fullest.

Lucky people of Karachi and Lahore, call it your national duty or whatever else you may want but we trust you to fill the stadiums to the very brink as always!

Meanwhile, the rest of us outside Lahore and Karachi need to mark our calendars and get our excuses ready to call off from work; I am using "I fell off the stairs" so please pick a different one. PSL4 is about to bring the best entertainment package for 2019 and we better be prepared to hog our stadiums and our television screens.

Lastly and most importantly, don't forget to enjoy yourself because no matter which team loses, at the end of the day, PSL and its fans have already won. Congratulations to Pakistan Cricket Board (PCB) and each one of you out there for the fourth season of PSL.
Facebook Conversations
COMMENTS (4)
Comments are moderated and generally will be posted if they are on-topic and not abusive.
For more information, please see our Comments FAQ