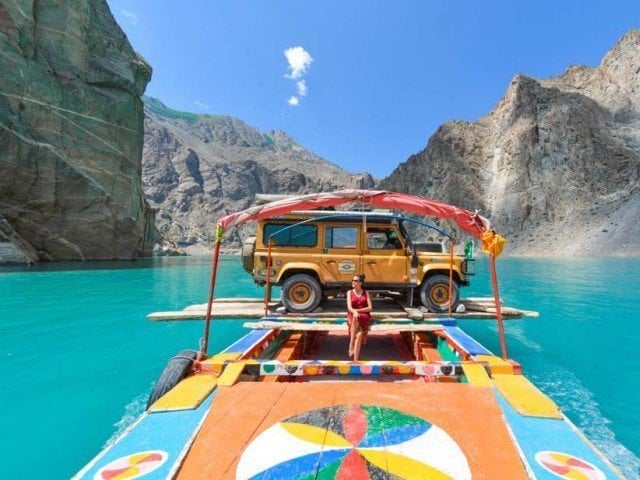 ---
How can you expect international tourists to visit Pakistan when even the locals avoid it?
If you lack basic facilities and infrastructure, tourists will not consider visiting your country.
---
Pakistan is beautiful; there are no second thoughts about it. It is common to see videos making rounds on social media and the internet that show breathtaking landscapes of Pakistan. The purpose for most of them is to appeal to viewers to visit these places and witness the wonders of nature. We see people tagging their family and friends on such posts, making plans about their next trip. However, in most cases, the decision to take a trip isn't based solely on how beautiful the place is rather the means, resources, security and facilities available there are taken into account.

Recently, the government of Pakistan extended friendly visa policies to help businesses and revive tourism industry of Pakistan. If we take a look at the kind of places tourists prefer, we would see that these places provide a comfortable experience to their visitors. It should be clear as broad daylight that if you lack basic facilities and infrastructure, tourists will not consider visiting your country. There is no denying that relaxed visa policies are always an incentive for people to travel, however, it is not the only factor that people consider. In fact, it is not even the most important one.

Keeping international tourism aside, Pakistan has such a diverse nature of scenery that they can do a lot with their local tourism. The real issues for most of the tourists are security, accessibility and basic infrastructure. Sadly, Pakistan is lacking in all three departments. How can we then expect anyone to visit our country? Visual pleasure does not trump one's comfort and safety, not for most people at least.

When I go through different videos which are purposefully made to promote tourism, the focus is always on how beautiful Pakistan is. So much so that a year ago, a list of countries published by British Backpackers Society placed Pakistan right at the top in the list for most beautiful countries for 'adventure tourism'. This was celebrated on social media and some of the media houses also joined the party without understanding the difference between 'holiday destinations' and 'adventure tourism'. To give you an idea, this list does not contain any country from North America or Europe whereas Congo, Uganda, Montenegro, Angola and the likes are listed. These countries have plenty of beautiful places but getting there and exploring the beauty is an 'adventure' in itself.

Yes, the videos of lakes in Balochistan are mesmerising and push the viewers to visit them but I can only imagine the abysmal state of facilities there when we don't even have public washrooms available at popular beach spots like Sandspit and Hawkesbay that host thousands of local tourists every month. Even the security situation is so tricky that you don't want to risk an overnight stay with your family at the beach.

Even a place like Murree, which is a popular tourist sport up North, has been marred with incidents of street fights between visitors and hotel owners. Some people even campaigned 'Boycott Murree' a few months back to convince the masses not to go there so that hotel owners can understand the respect one needs to have for tourists.


Boycott Murree pic.twitter.com/uMbK4kIPfF

— Nazir Shah (@SsyedHhussain) December 16, 2018


I am not undermining the efforts to promote the beauty of Pakistan, many locals want to visit and see their own country. But they choose not to because they find easier, convenient and safer alternatives. I personally had a really bad experience where the person with whom I booked a hut, threatened us after I questioned him. He mentioned clearly that it's his area and if he makes one phone call, my family will face severe consequences.

Moreover, we also need to understand that 'adventure tourism' is only appealing to a very specific section of the society. Mostly people like to go on vacations with their families and 'adventure tourism' generally isn't suited to their requirements. I can go with my brother to beautiful lakes in remote areas; I can pass through difficult terrain and can bear the hardships of traveling with little or no facilities on the way. Add my wife, parents and kids to this equation and I will definitely cancel the plan. Additionally, I am willing to spend a lot more when I am traveling with my family as compared to when I am with my brother. And I believe it works the same way for most Pakistanis.

To put this 'adventure tourism' in perspective, how many of you would like to visit Uganda instead of Malaysia? How many hands will be raised in favour of Angola as compared to Thailand? How many of you will give Montenegro priority over France? Remember, in each example, the former country is listed as 'best adventure country' whereas the latter doesn't make it to that list. As a matter of fact, 'adventure tourism' is a very tiny fringe of total tourism and countries which look to tap the potential in tourism industries focus on 'family destinations' while keeping some adventure destinations intact.

For sustained economic progress, local tourism, coupled with international tourism, plays a vital role and I don't find any reason why this can't be the case for Pakistan. With the stunning beauty nature has already gifted us, it's our turn to utilise it to our advantage. Frustrated citizens of big cities are always looking for a time out from their hectic, busy and unforgiving lifestyle and when they look around for options, sadly, they don't find much. As a result, you may find many people around who have not been to the lengths of this beautiful country but have visited Malaysia, Thailand and so on for holidays. They have spent a lot more on these trips as compared to what they would have spent if they could go to mesmerising sites of Pakistan.

Why would international tourists consider visiting out country when even the locals avoid travelling here? If Pakistan wants to promote tourism and make the best of their e-visa policy, they need to work towards their tourism industry. No one wants to go off into the unknown without being sure that their needs will be taken care of.

In Naya Pakistan, will we continue to celebrate 'adventure tourism' or will we provide a safe space for everyone to experience this beautiful country?