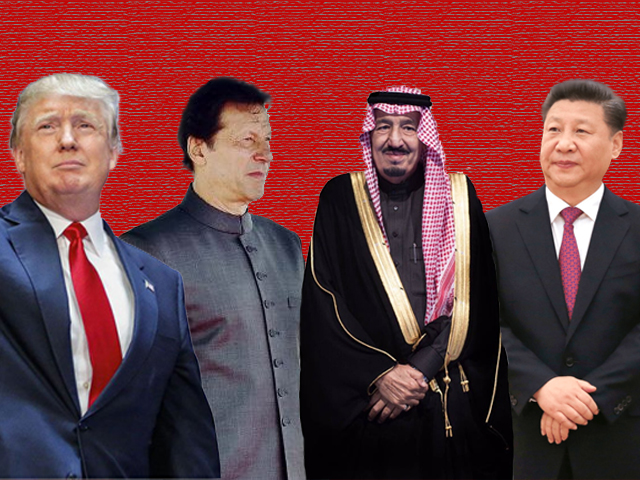 ---
PTI's vague and static foreign policy will only worsen Pakistan's standing in the world
The Parliament still has not been informed about our agreements with the countries who have agreed to 'assist' us.
---
Historically, Pakistan's foreign policy has been a domain in which elected governments have been allowed very little space and scope to work in. Our founding father envisaged a foreign policy based on peaceful relations with our neighbours – including India – and one that would value our sovereignty. Contrary to his vision, Pakistan has not been able to devise a balanced policy that can be termed entirely beneficial for its own national interest.

The current government led by Pakistan Tehreek-e-Insaf (PTI) also finds itself in a position where Foreign Minister Shah Mehmood Qureshi is symbolically heading foreign affairs while the actual decisions are perhaps made somewhere else. Since the era of Liaquat Ali Khan when our political leadership held the reins, Pakistan's foreign policy has been heavily influenced by our dependence on US aid. Now however, our tendency to depend upon the oil-rich Middle Eastern states is clear, especially as our historic ties with the US worsened under the administration of President Donald Trump.

Over the decades the civilian government has lost its hold over foreign policy matters, and the most we have seen a leader deviate from it has been during the tenure of former Prime Minister Nawaz Sharif.

Nawaz tried to assert control and was partially successful in shifting the focus away from the US and the Middle East to improving ties with China, Russia, Iran and Turkey. He also tried his level best to normalise relations with India and the fundamentalist government of Narendra Modi's Bharatiya Janata Party (BJP). While ties with these states did improve (with the exception of India), we suffered the consequences by falling out of favour with the Gulf states, especially when Nawaz's government decided to not get involved in the war in Yemen. Similarly, as our relationship with China furthered and we grew less dependent on the US, we also fell out of favour with Washington.

The current PTI government, which is not very experienced in the geopolitical front, lacks the competence to understand the dynamics of the diplomatic and foreign policy domains. The decision to turn back to Saudi Arabia and the UAE for immediate relief packages in the form of soft loans and oil on deferred payments has raised serious concerns regarding the current direction of our foreign policy. After all, there is no concept of a free lunch in the diplomatic world, and the Parliament still has not been taken into confidence about the detailed nature of our agreements with the countries who have agreed to 'assist' us.

After all, the presence of Saudi Arabia and UAE in Gwadar will not please Iran, their greatest rival in the region. Further, despite claims by the government that Pakistan will remain neutral in the conflict between Iran and Saudi Arabia and mediate in Yemen, one wonders how neutral we can remain given our newfound dependence on the Gulf States. One hopes the present government understands that Pakistan cannot afford any confrontations with Iran, especially once the Taliban and the US agree on the latter's departure from Afghanistan, leaving the region more vulnerable.

On the other hand, there have been hints that China is not too happy with the possibility of Saudi involvement in the China-Pakistan Economic Corridor (CPEC). As China is often tight-lipped regarding such policies there have been no recorded official statements, but their hesitation to offer assistance (before eventually doing so) indicates that all is not well.

One must also remember that the Saudi monarchy played a major role alongside Washington in giving birth to extremism in Pakistan, particularly through the dollar and riyal sponsored jihad in the 80s and the war on terror after 9/11. The extremism that almost destroyed the social fabric of our society is the by-product of relying on the Saudis and the US. Once again relying on the Arab States in order to fill the void left by US dollars goes to show that we have not learnt our lesson and perhaps need a refresher of our recent past.

Talking to the Express Tribune, former Ambassador of Pakistan to the US Hussain Haqqani cited our dependence on other countries as a flaw in our foreign policy. According to Haqqani,

"Dependency is never a good policy. Pakistan had several difficult decades because of dependence on the US, and the willingness to depend on China also hampered economic growth, as an addition to creating a rent-seeking mentality. Saudi Arabia and UAE are less likely to be as interfering as the global powers, but there will still be political consequences of economic dependence. Pakistan should keep balanced relations with other countries instead of persisting with seeking patrons whose aid constrains the country's foreign policy options."

Haqqani seems to get it right, for our foreign policy over the last 71 years has seemingly revolved around seeking patronage from different but powerful countries instead of making ties based on equality and trade, the way India does.

Imran had the unique opportunity to change this, and instead of relying on the Arab States or other global powers, he could have added some balance by neutralising relations with our neighbours and put in front of the world the case of Pakistan as a state ready to learn from the mistakes of the past and interested in making friendly and business-seeking relations with states other than the ones it is presently dependent on.

However, Imran missed the opportunity and we are back to square one. If we are only to be a state dependent on foreign aid and willing to become a part of proxy wars waged by powerful countries, we can attain neither peace nor progress. One way forward would be for elected governments to have more control in laying down the foundation of a new foreign policy. China is an example in this regard, for despite having major conflicts with the US, India and Japan, it still maintains good trade relations with these states and never lets hostility become a hindrance towards its trade and profit.

Thus, it is not hard to see that an entirely aggressive or defence-based foreign policy will get us nowhere in the world. Additionally, a government whose own legitimacy is in question, due to allegations of electoral manipulation, cannot fully take control and reshape foreign policy while also surrendering to the national interest of other states and taking dictation from its benefactors. Without a balanced and multidimensional foreign policy, Pakistan will keep moving in circles and will always remain dependent on various global players for its survival.
Facebook Conversations
COMMENTS (11)
Comments are moderated and generally will be posted if they are on-topic and not abusive.
For more information, please see our Comments FAQ