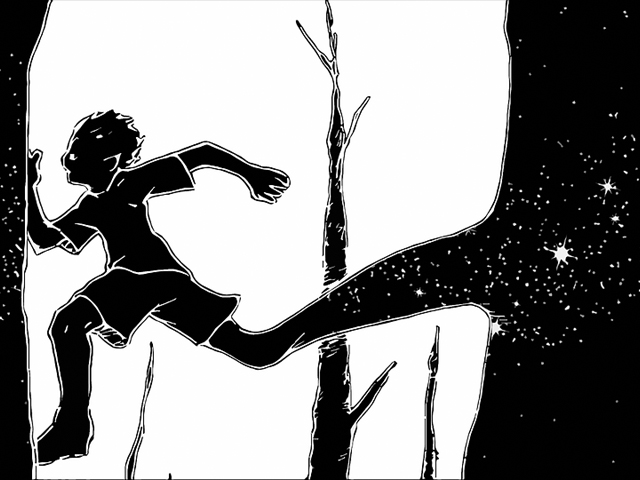 ---
What if there really is no end?
Khuraim's body was always bruised and he had endured several fractures. Junaid was cruel. Too cruel to be a father.
---
It was a dark night, there were no stars or moon in the sky. A little boy was lost in a labyrinth of little streets. He ran from one street to another, and then to another, and then to another— there was no end.

But there has to be an end. There's always an end.

He was unfaltering in his pursuit of finding an end. He was out of breath and felt sparks of searing pain in his legs, but he still ran.

Breathe. Breathe. Breathe. 

His body screamed. He had been running for a long time.

What if I had been wrong all along? What if there really is no end?

He stopped at the corner of a street and filled his lungs with air. And then he ran again, thinking the end must be close.


---


Khuraim wandered on the empty road at 2am. He felt his fear dismantling. He felt brave, indomitable.

He was 12-years-old and living an unusual childhood. Parizah, his mother, had left Junaid, his father, afraid that he might kill her. That was a long time ago but Khuraim hadn't swerved too far from the past. He vividly remembered everything.

He still remembered Junaid bawling at his mother, threatening her.

"I will kill you, I will kill you." His voice reverberated throughout the house.

Khuraim pulled the blanket over his head, but the voices only got louder. It was a frightful night.

Junaid was a monster. An unfeeling, cruel monster. Khuraim too wanted to run away from him just like his mother had. He felt a surge of angst thinking about Junaid. He was scared of him.

But he didn't have anything to be scared of this late at night. Junaid was sound asleep at home, and he was out on the road. He couldn't hurt him. The dark, echoing nights were Khuraim's freedom. No one could hurt him at night.

The sky was tinged with amber at dawn. He wished the night would persist for just a little while longer. He did not want to go back home.


---


The little boy was still lost. There were too many streets, and all were dark and empty except a few with street lamps.

Where do I go? Everywhere's the same.

He sat under a street lamp, with his knees drawn to his chest, and breathed deeply. It had been a long night, and wasn't over yet.

Suddenly, he caught a fleeting glimpse of someone's shadow in the pale flickering light of the street lamp. He wasn't alone out here, somebody else was here too.

He knew in his heart that this 'somebody' wanted to hurt him. He got up and ran again— from one street to another, and then to another, and then to another.

I must not give up, the end is close. 


---


Khuraim tiptoed back into the house. Junaid was sitting on the big couch in the living room, wide awake, and his face drawn in shades of hate and disgust. He hated his son. Fiercely. Aggressively. With unrelenting conviction. Khuraim could see it in his steely eyes.

Khuraim's fearlessness petered out and his heart sank at the sight of his father.

He'll kill me.

He shrank back against the wall and waited for Junaid to lunge at him, or hit him with something sharp, or lock him up in his room and starve him for days. All of this had been done to him before. Khuraim's body was always bruised and he had endured several fractures. Junaid was cruel. Too cruel to be a father.

Khuraim waited but Junaid didn't move. Silence hung between them— heavy and poisonous.

"I know you sneak out of the house every night, Khuraim. I see you from my room's window."

Khuraim's brain seized up, and his mouth turned to sawdust. It can't be true, he thought.

"I thought you'd stop on your own but you didn't. Now it's time for punishment."

"Please…don't hurt…me, Papa. Please, please…don't," Khuraim nervously stumbled over his words, his eyes were instantly watery with tears.

"I'm sending you to your mother. You're reckless. I can't take care of you,"  Junaid's voice deepened to a husky growl. "I want to get rid of you."

Khuraim took a while to absorb what was just said. Tears fell out of his eyes now but they were happy tears. He felt sublimely, ridiculously happy. But he knew better than to make this fact known to his father.

"No don't, please!" Khuraim said meekly.

He didn't mean his words.


---


The sky was misty pink as the early rays of the sun began to spread. The little boy was out on a familiar road, just like one he was every single night outside his house. He had finally found the end of the maze. He wasn't lost anymore. The long night was finally over.


---


Khuraim would only sleep during the day, after coming home from school. He slept less, but his sleep was smeared with terrifying dreams where he was lost, trying to find the end of the most bewildering maze ever contrived.

But now his dreams had changed. He wasn't running away from anyone, or anything, or life itself.

The day of going to his mother had finally come. Junaid had booked a taxi to take him to Parizah.

"Parizah", even the name was comforting.

When Khuraim got into the taxi, rain started falling from a smoky sky and it swept away all memories of Junaid and his house from Khuraim's imagination. His big, brown eyes glinted with delight.

And as the taxi lurched forward, Khuraim did not look back. There was nothing to look back to.
Facebook Conversations
COMMENTS (1)
Comments are moderated and generally will be posted if they are on-topic and not abusive.
For more information, please see our Comments FAQ