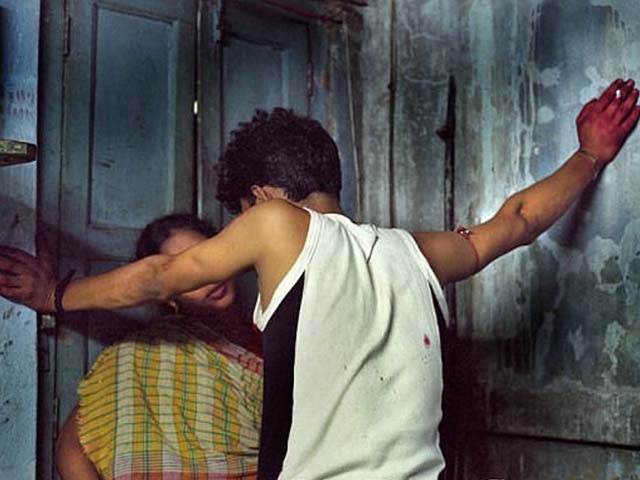 ---
She waited for him, but she knew
It was almost as if her life was holding on to the darkness of the night. A darkness it refused to let go of.
---
Seher stood by the road, waiting for a rickshaw to appear and take her back home. A young girl stood next to her, quiet as a shadow, still as the summer air of Lahore. Seher didn't know her but she could see the damage written all over her. She could read through her hard face and unsmiling demeanour. On the journey back home, she kept thinking about that girl. 

Seher felt her head churning and the small of her back prickling with pain when she got back home. She was easily tired these days and her body ached more each day. Baji had offered to show her to a doctor but Seher had refused. 'I shouldn't have,' she thought.

She wandered in the courtyard of her house, restlessly. The day was still bright, Seher squinted her eyes into the sunshine. Sometimes, it felt unfair for the sun to be so yellow, for the sky to be so blue, for life to simply move on.

Hours later, Seher curled up on her charpai (bed) and stared out at the sunset. Another day had come to an end and Afzal still hadn't come home. He said that he wasn't going to come home again when he left three days ago. Seher didn't believe him then but his words felt real now. She should've stopped him, begged him to stay. But she didn't. Now she didn't know where he was, or whether he would come back.

Seher slowly drifted to sleep. In her dreams, she lived in a different world. A world where she belonged.

When she awoke, another day had begun. Another day without Afzal.


---


Afzal moved through a maze of cobbled streets. He went back in time as little details of these streets resurfaced in his mind. Not a lot had changed in the years that he had been away. The huge, green trees still stood in their place on the side of a street. Mehmood Sahab, whose house he used to come to everyday when he lived here, still hadn't painted his chipped door. The graveyard that he crossed now had more graves than he last remembered. As Afzal walked those streets again, he realised how this village was his only true home.

He hated Lahore now. He didn't want to live there anymore. He hated everything about it — the prickly heat, the bustling roads, his house, his wife. In fact, he hated his wife the most. She fought with him over the smallest things. The last time they fought was because she told him she wouldn't give him her salary. She said if he needs money he should go out and work. Afzal left the house, but instead of finding work, he came to the village. Before coming, however, he took out all of Seher's money from the cupboard. Guilt passed over his face like a shadow when he thought about it. But then he told himself that there was no other way he could've gotten a bus ticket.

Afzal was strolling in the narrow streets of the village, deep in thought, when he saw a beautiful young woman pass him by. The face was familiar — dark honey skin, almond-shaped eyes and plump lips. Afzal blinked and then suddenly remembered who it was. In that moment, Afzal realised that his decision to come back to the village wasn't wrong at all.


---


Seher wandered in circles in her courtyard. Her heart fluttered inside her chest like a trapped bird and sparks of sharp pain sizzled in her body. Baji got her medicine but Seher didn't take it. She knew it wouldn't make her feel better. No medicine could fill in the cracks that Afzal had left in her life.

On their wedding night, Afzal had told her that she would have to go out and work if she wanted to live with him. Seher broke into a tearful protest but then Afzal slapped her hard across the face. That stunned her into silence. She cried herself to sleep that night.

After a few days, Seher started working at baji's house. She worked for long hours during the day, but only for Afzal to waste all her earnings on alcohol, cigarettes and other women. Seher never made her displeasure known to him. She didn't want to anger him. He was terrifying when he was angry.

But he was gone now. Before he left, she told him that she wouldn't spend her money on him anymore. He'd have to go out and find work for himself. But Afzal took away all her money anyway.

Seher felt wretched, broken and betrayed. She didn't know what to do anymore. It was almost as if her life was holding on to the darkness of the night. A darkness it refused to let go of.


---


Afzal and Fiza got married. Fiza was a widow who lived alone. When they were younger, Afzal fell in love with Fiza and used to follow her to her house each day. But when Fiza found out what he was up to, she told him she'd tell her father if he didn't stop following her. From that day on, Afzal was never seen around Fiza again.

But now, years later, things had changed. After just a few days of courting, Fiza had agreed to marry Afzal.

Initially, Afzal and Fiza happily settled into their new life. Afzal also spent generously on her. When a demand slipped from her tongue, Afzal made sure he fulfilled it.

But he was left with little money now and Fiza clearly told him that she would not help with the household expenses. Their days were suddenly gloomy, their love waned, their perfect life crumbled. It was as if someone had lifted their world, turned it sideways and set it down again.

One night, they had a row and Fiza stormed out of the house. Anger flared in Afzal but he gulped it down. It wasn't Fiza's fault. He knew he had to find a way out of all this. And even if he didn't, Afzal knew that he still had another home to go back to.


---


The sun relentlessly beat down on Seher. She was drenched in sweat by the time she got home.

When she entered the house, everything felt different. Things were subtly out of place. It felt as if someone had been here. She thought it was her imagination until Afzal called out.

"Seher, I'm back!" he said in a terse voice.

Seher nearly jumped out of her skin. She couldn't believe her eyes when she saw him. She had convinced herself that he wouldn't return.

"Did you think I wasn't going to come back? Did you think I'd let you do whatever you want behind my back? You're a shameless woman!" Afzal bellowed at her.

Seher felt anger raging in her, like when the storm hits the sea. Afzal's words were bitter, but she let them go.

She knew why he had come back to her. She knew it too well. Suddenly, tears stung the back of her eyes and she felt broken all over again. Yet the only thing she said was,

"Thank God you're home, Afzal!"

She had waited for him endlessly. She didn't want to let him go again.