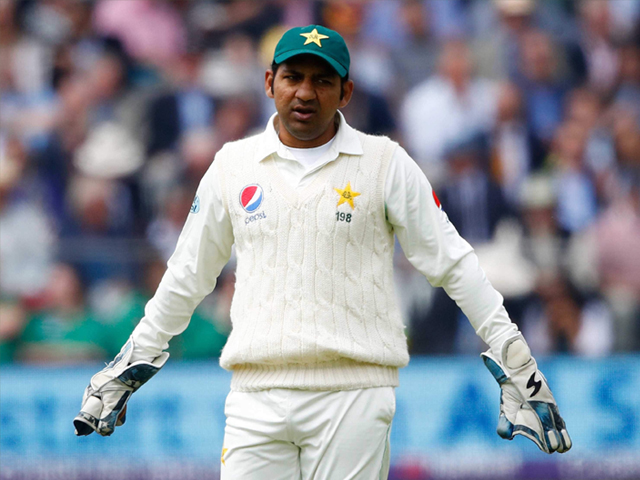 ---
Is it time for Sarfraz Ahmed to hang his hat as the Test captain?
It won't be surprising if Shan takes over from Sarfraz, as we have often gotten successful captains out of the blue.
---
Sarfraz Ahmed takes pride in his T20 captaincy, as he holds the record of the highest win percentage as a T20 International captain and has taken Pakistan from number seven to number one in the International Cricket Council (ICC) T20 rankings. However, he hasn't enjoyed similar success as captain in other formats.

Although, Pakistan won the Champions Trophy under him, that has proved to be an anomaly considering the results that have followed in the ODI format. However, it is his Test captaincy that has continuously come under the microscope since he took over. Pakistan losing their first home series in a decade under him, along with the recent Test defeats to New Zealand and South Africa, have only made those calls louder.

Since he took over the Test reigns, Sarfraz's batting form hasn't helped his cause either, as he has been averaging a mere 26.94 in 20 innings. In the subcontinent, a captain has to perform in order to command respect and to have some influence in decision-making. Virat Kohli was able to replace Anil Kumble with Ravi Shastri as coach of the Indian team because he is the star performer of the Indian side and uses that influence to fight for what he wants. Similarly, Imran Khan also used to fight for the kind of players he wanted in the team and then gave them a fair chance to exhibit their abilities.




However, according to journalist Syed Yahya Hussaini, it is Mickey Arthur who has been calling the shots in terms of selections and Sarfraz has been complying with them, as he doesn't enjoy much influence. However, if the rumours are to be believed, Sarfraz finally put his foot down before the second Test and fought for Asad Shafiq's selection, as Arthur wanted to replace Shafiq with Mohammad Rizwan. This also led to suggestions of Sarfraz keeping his place safe by denying Rizwan a chance to perform, as that could put more pressure on his future as captain.

Sarfraz admitted he is definitely feeling the heat and would have to step down from the captaincy if results don't improve, as he believes the Pakistan Cricket Board (PCB) would sack him anyway. Sarfraz also lamented the lack of support from the media for the Pakistan team during these tough times, which has often affected the players mentally. For instance, Shoaib Akhtar also made a sarcastic remark after the first Test against South Africa, suggesting Sarfraz is promoting Shah Rukh Khan's latest movie Zero. Misbahul Haq was also not spared such criticism, despite being a performing captain as well as winning in the UAE. It was his own performance that kept Misbah going and continue having an influence in the matter of player selection.


Shoaib Akhtar "I've heard that Sarfaraz Ahmed is promoting Shah Rukh Khan's latest movie Zero. This type of criticism will keep coming at him when he doesn't give good performances" #SAvPAK

— Saj Sadiq (@Saj_PakPassion) December 29, 2018


Sarfraz has found some support from Wasim Akram, who believes Sarfraz is the best man to lead Pakistan due to the paucity of options available. However, some names have been doing the rounds on social media regarding who could possibly take over from Sarfraz in Test cricket.

Azhar Ali and Shafiq were supposed to take the mantle from Misbah and Younis Khan, but they have often failed to take responsibility in high pressure situations. With both approaching the wrong side of their 30s, Pakistan can instead look at someone younger to take over the Test reigns.

Babar Azam's name was recently floated by Akhtar as a possible option. Azam has really come to his own in Test cricket this year, so the added responsibility of captaincy can create pressure on him and affect his batting. However, Kohli has revelled in such responsibility and has performed better since he took over the captaincy. Although it can also be argued that Kohli's prime as a batsman coincided with his captaincy tenure.

Another name that has come up out of nowhere is Shan Masood. Masood has easily appeared to be Pakistan's most valuable player until now. His performance thus far during this South African tour and his articulate responses during press conferences have impressed some Pakistanis who often feel embarrassed with Sarfraz's lack of communication skills. Masood has the experience of leading the Pakistan A side and has proved himself headstrong after making a successful comeback, despite the calls of nepotism often hounding him. Don't be surprised if he actually ends up taking over from Sarfraz, as Pakistan has often gotten long term successful captains out of the blue, be it Imran after Javed Miandad, Inzamamul Haq after Rashid Latif, or Misbah after Salman Butt.



Arthur still maintains Sarfraz is the right choice for the captain and needs support to get his batting form back. Sarfraz finally did find some form in the first innings of the second Test match, but if the team results don't go his way, will he be able to withstand the pressure?


When Ali stepped down as the ODI captain in 2017, he also gave up vice captaincy of the Test side. Pakistan can ill afford a similar situation, especially with World Cup being just five months away. Drastic changes in leadership or personnel just months before the World Cup have often ended up in disastrous results for Pakistan.

Pakistan's next Test series is in October after the World Cup, so if Sarfraz decides to relinquish his Test captaincy, he should only announce it after the series ends. Announcing it before the World Cup might diminish Sarfraz's authority further, and lead to camps being formed within the team. Akram also believes that Pakistan should have only one captain in all formats, suggesting that where players find it hard to follow one leader, it becomes even harder for them to follow three.

The PCB should avoid taking any hasty decisions on this front and conduct a proper appraisal after the South African tour. Pakistan Super League (PSL) starts a week after the South African tour ends, but that should not mean that the South African tour is forgotten and brushed under the carpet. The same situation was witnessed last year, like the ODI whitewash in New Zealand, which was also followed by the PSL. Everyone got distracted by the PSL then as well and forgot about the abysmal performance of our team, and if this year is to better, we cannot afford a similar mistake again.
Facebook Conversations
COMMENTS (4)
Comments are moderated and generally will be posted if they are on-topic and not abusive.
For more information, please see our Comments FAQ