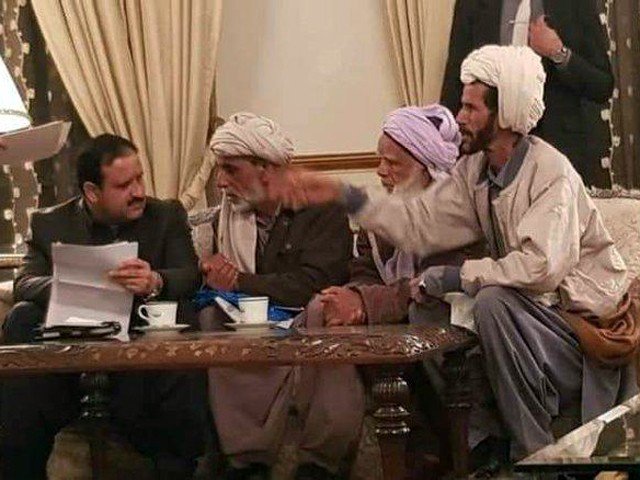 ---
Has Usman Buzdar's inefficiency murdered Imran Khan's vision of Naya Pakistan?
Like the former minister, the current chief minister of Punjab is also focusing on his personal political development
---
Prime Minister Imran Khan stood up against the status quo and promised to make a difference. He also claimed the people of Pakistan would feel a change after the first 100 days of his government, which would focus on the system and the common people.

As a matter of fact, many people who voted for Imran now regret it, since they believe it would have been better if the Pakistan Tehreek-e-Insaf (PTI) was still in the opposition, giving people hope. PTI's journey from a beacon of hope to a practical defender of Pakistani democracy is so far dangerously shaky and utterly dismaying.

Pakhtuns, Balochs, transgenders and women were expecting a lot from Imran, who assured the citizens he would create a state of Medina. His stated objective was to create a Pakistan where the law would be above individuals and organisations, one where nobody would have any right to kidnap or extra judicially kill a person on the roads without any consequences. Since Imran was the most outspoken champion of human rights in his league, it was therefore much anticipated that he would listen to everyone protesting in Waziristan and Balochistan.

Imran is doing well and that is appreciable, but his team is not trustworthy and apparently he is unaware of this. This is worrisome. Let's forget about Pakhtuns and other politically marginalised groups in Pakistan for a while. If you are keen to learn about the murder of Imran's idea of Naya Pakistan, just come to Punjab. The province is crying to let you know about the murder of a vision; of a long lasting struggle and high hopes. Just come here and see.

Unfortunately, like the former chief minister, the current chief minister of the largest province of Pakistan is also focusing on his personal political development and not on the masses. If anyone wants to see PM Imran's political romance in Pakistan, there will be no better manifestation than Mr Usman Buzdar. Buzdar, a local MPA who had never been in national politics, was given the task of dealing with the Punjab police and the politicised bureaucracy in Punjab. An unknown Buzdar came in and the renowned Nasir Khan Durrani went out, even though he was there to reform the unruly Punjab Police.

Similarly, it was heartbreaking to see Buzdar's spokesperson Dr Shahbaz Gill share a picture where three villagers were narrating their problems to the CM. After a while, PM Imran also tweeted the same picture.


This is Naya Pakistan. A picture is worth more than a 1000 words pic.twitter.com/IodLZkonBc

— Imran Khan (@ImranKhanPTI) December 27, 2018


This reminded me of Shehbaz Sharif, former chief minister of Punjab, who used to visit different offices and suspend officials to give off an impression of accountability and his love for the people. All of us know it was just politics. We need to realise the same thing is happening under the cover of Naya Pakistan. Dr Gill has on several occasions shared on Twitter that the CM has taken action on the reports or videos circulating on social media.

It is unfortunately a clear demonstration of the system's failure that only a highlighted case is taken up for mere political game scoring and thousands of other cases are thrown into the trashcan because of an unresponsive system. It is a moment of shame that the villagers had to come see the CM since their cases were not being heard by the relevant authorities. This marks the failure of Mr Buzdar and his team; this is not something that makes him a hero.

The problem with a Twitter-led government is that it is just to appeal to a few people, not the entire community. Dr Gill, who has studied leadership and management, is good at appealing to people for a while, but he is unable to apprehend the political world where politicians make long-term polices and reform institutions to remain politically relevant. The Punjab government is not interested in reforming the Punjab police, but it is interested in suspending junior officers off and on.

The latest example is that of policemen in Murree misbehaving with a woman. The video of the incident went viral and Dr Gill announced after a while that the involved officials had been arrested. This made him a hero in the eyes of many. However, just a week later a six-year-old boy was kidnapped, raped and brutally murdered in Bhakkar, a remote district of Punjab, and despite my several tweets to Dr Gill and messages to Dr Shireen Mazari and Mr Shehryar Khan Afridi, none of them took up the matter.


Agent mafia active again in Murree, brawls, quarrels, fist fight reported all the day today, woman who tried to lodge complaint met failure , watch details pic.twitter.com/ZGAPLdPhQ8

— Khalid (Halit Ertuğrul) (@khalid_pk) December 16, 2018


Finally, after almost 20 days after the incident, Dr Gill let us know on Twitter that he was on the case. However, it is important to mention here that this case is still pending and the boy's family is waiting for justice to be served.


This is very sad news. We are in contact with the local police. CM Punjab directed police to catch this insane criminal/s. https://t.co/Wxu2oHobP5

— Dr. Shahbaz GiLL (@SHABAZGIL) January 1, 2019


PTI's government in Punjab is thus exposing the fragility of PM Imran's vision by relying on populist tendencies to seek legitimacy. This is very dangerous for Pakistan, primarily because of Imran's promises to the youth. After all, a disappointed youth will not be strength but a liability. It is now up to the prime minister to deal with Buzdar and his team who are working to pacify only a few individuals and are not committed towards bringing any considerable, long-lasting social change.