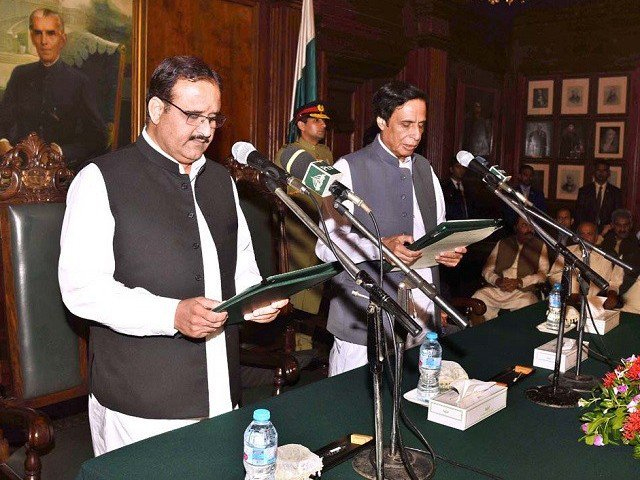 ---
Buzdar, Khan, Sarwar or Elahi – we still don't know who is running Punjab
This is a struggle between many men to become the one powerful man in the province.
---
The truth has become the rarest commodity, hasn't it? Take anything ranging from religion, politics or economics and you will find media cells and experts trying to manipulate public thinking. In Pakistan, well-educated individuals are hired as media consultants, spokespersons or advisers but their job is not to formulate people-friendly policies, rather the core purpose of their appointment is to defend the indefensible. Dr Shahbaz Gill is the latest example of such individuals.

Fahd Hussain wrote an interesting op-ed almost a month ago titled Who is running Punjab? At the very outset, Husain observed that:

"From Rawalpindi to Rahimyar Khan and from Layyah to Lahore, there is a problem: no one knows who is in charge."

In his piece, Hussain questioned the wisdom behind the appointment of Usman Buzdar as the chief minister of Punjab. He made various attempts to let the readers know that Punjab was not being ruled the way it should have been. He clearly mentioned,

"If tabdeeli has arrived in Pakistan, Punjab hasn't heard about it as yet."

In a very precise and decent manner, Hussain exposed the political helplessness that the chief minister is facing currently. But the Punjab government was not pleased. Dr Gill, who holds a PhD in leadership and management and currently works as a spokesperson for the Punjab chief minister, decided to write a rebuttal to counter Hussain.

In a piece titled End of one-man show in Punjab, Dr Gill used some academic jargon, probably to let us know that he holds a PhD in leadership and management, and attempted to answer the questions raised by Hussain. Dr Gill did his job and justified political incorrectness in Punjab by presenting it as essence of democracy where a single man is never empowered enough to do everything. Pakistan is an interesting country where dictators, trouble-makers, politicians and even religious leaders use the garb of democracy to defend their highly undemocratic agendas. Dr Gill did the same but, of course, in a politically correct manner.

The underlying message of Dr Gill was simple and very clear: CM Buzdar is an active, powerful CM and everyone else including Chaudhry Sarwar, Pervez Elahi and Aleem Khan are doing their jobs within their respective domains. However, for a person living in Lahore, working in media and covering domestic politics, I find it very hard to digest such overstated claims by a well-educated man.

CM Buzdar is certainly an interesting man in Punjab. Bureaucracy is not comfortable with him because of many known and unknown reasons, and his allies and opponents don't take him seriously. Above all, the CM lost his credibility when he rendered an unconditional apology in the apex court after being found guilty of meddling in departmental affairs of the police. Finally, the resignation of Nasir Durrani from his post during Buzdar's time is reflective of his lack of political as well as administrative understanding.

Now let's come to the ground reality. The Pakistan Tehreek-e-Insaf (PTI)-led government in Punjab is nowhere to be seen when you visit a police station or any other office. Recently, I invited an SHO over for a cup of tea. During a candid discussion, he told me that there was absolutely no change in the institution of police. Police officers still take bribes, blackmail common people and are used by politicians against their political rivals.

The agenda to reform police was on the table but the government has reportedly decided not to free police of political influence in Punjab since it will affect the political base of lawmakers belonging to the ruling party.

There is still no clarity about who is running Punjab.

Buzdar? No.

Khan? Maybe.

Elahi? Probably.

Sarwar? Yes.

Sometimes you feel Khan is in the driving seat. Mostly you feel Sarwar is the front man, and often Elahi is seen running after the first-man seat in Punjab. But do not be fooled, this is not the separation of power. This is a struggle between many men to become the one powerful man in the province. There is a difference between what Dr Gill has tried to portray and what the situation is on the ground.

Interestingly, Prime Minister Imran Khan has to now focus exclusively on Punjab since he realises that his front man in the province is not fit for the job. The worrying part is that a PM who has the portfolio of interior minister and is busy in reforming and developing the country's foreign policy is now also required by a province to settle things down.

Dr Gill, who is doing justice to the job he is assigned, ridiculously claimed:

"In this government and under the leadership of CM Buzdar, no one is a puppet."

Such ludicrous claims will push the government led by Imran into a dark alley. Everyone, including Mr Buzdar, knows who the puppet is in the present government. Perhaps the leader in Punjab himself?

If like the former government, our present government continues to hire experts to justify their blunders, they might get away with it today but history will never be able to forgive Imran, the skipper.