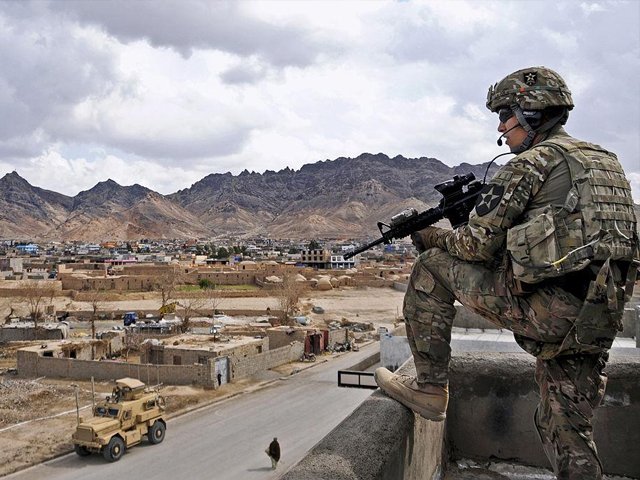 ---
Could the withdrawal of US troops make the Afghan war worse?
The US has tried withdrawing troops & increasing troops many times since the war's inception, only to fail each...
---
President Donald Trump's shocking announcement that he was first withdrawing troops from Syria, and then Afghanistan, has drawn almost compete outrage from the mainstream media. US Defense Secretary, James 'Mad Dog' Mattis more or less resigned in protest. The Guardian called Mattis's resignation a "bad day for America", describing him as a "voice of reason" in the White House. This is, of course, the same military general who once exclaimed that it is "a hell of a lot of fun to shoot some people," referring specifically to the Afghans. 

The proposed withdrawal of troops from Afghanistan has individually been confirmed by a US official to the Military Times, with no dead timeline in place. Altogether, some 7,000 US troops will be brought home, cutting the US military role in Afghanistan approximately by half. In other words, despite the media's brazen headlines, thousands of US military personnel will remain inside the country.

Furthermore, the timing of Trump's announcement of the Afghanistan troop withdrawal has appeared to coincide with the news that Erik Prince's former security contractor firm, Blackwater USA, has announced a planned return. Personally, Prince has been lobbying the Trump administration for some time now to privatise the war in Afghanistan. As Military Times has noted, in the latest print issue of the gun and hunting magazine Recoil, Blackwater USA published a full-page advertisement with the slogan, "We are coming".

According to Michael Wolff's bestselling book Fire and Fury, Trump's former chief White House strategist Steve Bannon was an advocate of Prince's self-serving idea to replace the US military with private contractors and CIA personnel. This concept was briefly entertained by Trump, but ridiculed by the military.

As the debate regarding what to do about Afghanistan raged on before Bannon's eventual ouster, the National Security Council (NSC) allegedly presented three options to Trump: to withdraw from Afghanistan, Prince's army of private contractors, or a conventional (but limited) surge into Afghan territory. Military Times explains Prince's lobbying of the Trump administration:

"Prince has courted President Donald Trump's administration since he took office with the idea that the now 17-year Afghan War will never be won by a traditional military campaign. Prince has also argued that the logistical footprint required to support that now multi-trillion dollar endeavour has become too burdensome. Over the summer and into this fall Prince has engaged heavily with the media to promote the privatisation; particularly as the Trump administration's new South Asia Strategy, which was crafted with Mattis, passed the one-year mark."

Prince has called the Pentagon's Afghanistan strategy a "total failure", and has stated in the past he would remove the North Atlantic Treaty Organisation (NATO) mission there and replace the estimated 23,000 forces with a force of 6,000 contracted military personnel and 2,000 active duty forces. In September, Prince met with the Afghan intelligence chief and interior minister, as well as "lowly militia commanders" and "several potential presidential candidates", according to The New York Times. Clearly, Prince's growing involvement in Afghanistan cannot be denied.

For those people wondering if Trump's proposed withdrawal from Afghanistan has arisen out of nowhere, just to make it clear, the option of privatising the war through Prince has always been on the table. Right now, it appears Trump has amalgamated the first two options and created somewhat of a hybrid of his own. Yes, he may be withdrawing a large part of America's military footprint in Afghanistan, but may also be looking to privatise the war as well.

Allegedly, there is support for this move on the ground in Afghanistan by the US military, including US Army Lieutenant General Austin Miller. The media won't tell you this, but this development is most likely the real reason Mattis has resigned. In August, Mattis told reporters in the Pentagon Briefing Room that "when Americans put their nation's credibility on the line, privatising it is probably not a wise idea," referring to the war in Afghanistan.

On a side note, Prince is the brother of Trump's current education secretary, Betsy DeVos, which probably tells you everything you need to know about the current US administration and the way things get done in America now.

There are already more than 26,000 private contractors serving in Afghanistan, according to the latest estimate from the US Department of Defence, the State Department and the United States Agency for International Development (USAID). Either way, Afghanistan will struggle to see a stable peace process anytime soon. The Afghan government has already rejected proposals to privatise the war there, with the president releasing a stern statement saying,

"Under no circumstances will the Afghan government and people allow the counterterrorism fight to become a private, for-profit business."

According to a recent report, the Taliban now control more territory in Afghanistan than they did at the time the US invaded in 2001. In light of this, the 17-year-long war in Afghanistan can only be seen as a dismal failure, particularly if the goal was to defeat the Taliban and provide stability to the war-ravaged country.

The US has tried withdrawing troops, increasing troops, escalating operations and de-escalating its role there many times since the war's inception. Under President Barack Obama, troop levels were increased to as high as 100,000, and have fluctuated throughout his presidency.

A general like Mattis will tell you that the US needs more troops in Afghanistan; meanwhile, Prince will tell you he needs to be given full reign for his contractors to take over and he could end the war in six months. We have tried all of these things before. As the famous saying goes, the definition of lunacy is attempting the same thing over and over again and expecting different results.

That being said, the proposed US troop withdrawal may end up paving the way for neighbouring and regional powers to pick up the slack and actually do something for peace, including Pakistan, China, Russia and Iran. Believe it or not, Pakistan actually desires peace in Afghanistan, given that decades of war in its neighbouring country have affected Pakistan in more ways than one. Pakistani and Chinese foreign ministers are now meeting to specifically discuss Trump's proposed troop withdrawal and the way forward, determining that the conundrum that is Afghanistan can no longer be solved by military means alone.

In the meantime, those who are worried, including the media, need not fret, for the bombs and snipers will keep raining down on Afghan civilians with close to zero accountability, just like it always has been.
Facebook Conversations
COMMENTS
Comments are moderated and generally will be posted if they are on-topic and not abusive.
For more information, please see our Comments FAQ