---
Zero: Too many flaws and not enough ink
The film evoked 'zero' emotions and believability. After finishing it I had 'zero' idea what the film was...
---
Newly released Zero, starring Shah Rukh Khan (SRK), Katrina Kaif and Anushka Sharma in lead roles, reminded me strongly of Shahid Kapoor's Mausam. Similar to Mausam, Zero has a strong premise. 

However, the 20 subplots it takes to explore this subject in a lengthy 165-minutes narrative makes it a tedious watch. It is a film with a good heart but the body of the film has a more acute case of cerebral palsy than the lead character of the film does.


Zero has a misleading title. It should have been called six. Or seven. This is the number of stories the writer has tried to cover in one film. It is impossible to define what the film is about in one sentence. It is a film about people with physical limitations and emotional limitations. A film about a confused man who runs away from responsibilities and love. A relationship drama between a glamourised actress and his fan cum secretary. It's a film about a woman on a mission to defy physical handicaps and a man trying desperately to grow up. It's a story of friendship. A story of a broken father-son relationship. A Sci-fi thriller. It is also of course a love story (as are most Bollywood films). How many stories did I manage to list? Nine? And the list can go on and on. How then can a movie with so many stories be called Zero?




The first half of the film is still bearable. It has its moments. Some parts of the story are nicely developed. The relationship between Bauua (SRK) and Guddu (Zeeshan Ayub) is heart-warming. Tigmanshu Dhulia as Bauua's dad appears natural. There are many oh-no-they-didn't moments in the first half of the film as well as the second half but the first half is still relatively believable. As the story progresses , the film becomes increasingly bizarre. Towards the end, things appear to be so out of control that it looks like the director skipped pages of the script to complete the film on time.

For instance, he doesn't consider it important to explain just how Bauua reached the final of the dance competition with his excessively poor dancing skills. Absurdly, the film does not show any other contestant in the competition but only fits Salman Khan into a poorly choreographed song. Even the dwarfism of Bauua is badly executed. In some scenes, he looks like a dwarf while in others, he just looks like a slightly short SRK.

The film keeps throwing poorly written sequences and characters on your face one after the other. Babita Kumari (Kaif) is a ridiculously written and comically enacted character. The only problem is that her performance is meant to be serious. Perhaps Kaif could have made a great comic character in a funny film but the attempt to make her character appear serious only makes a mockery of the audience.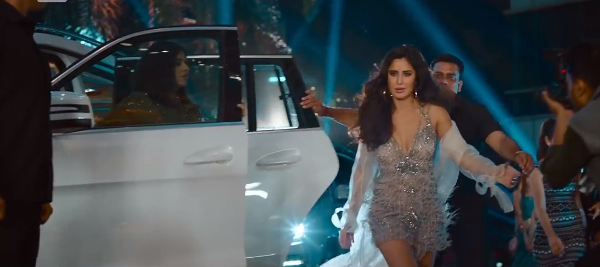 The science-fiction part of the film seems to be heavily inspired by a Chetan Bhagat book. The music is uninspiring and the dialogues are yawn-inducing. But let's at least appreciate the filmmaker's attempts at inducing creative liberty.

What still doesn't make sense though is the regressive theme of women's dependence on men where a brilliant scientist sending a billion-dollar mission to Mars still needs a man in her life and the only one who is willing to accept her is a dwarf. On the other hand, the most popular actress of the country (Kaif) acts unequivocally jealous and throws tantrums in public when her boyfriend (brilliant cameo by Abhay Deol) breaks up with her. In her anger, she appallingly throws her secretary (SRK) out of her party holding him with his shirt's collar. Stereotypes about a woman's dependence on a man embedded deep in our society are thus definitely adhered to in the course of the film.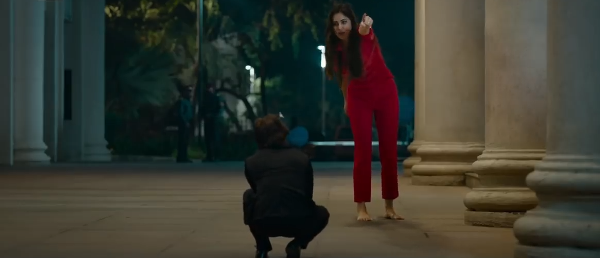 Having said all this, the film has certain redeeming factors. The song 'Mera Naam Tu' has been choreographed beautifully and is the highlight of the film. Additionally, Sharma has given perhaps her best performance to date. After having played a stream of similar roles, this is actually the first time I have seen her come out of her comfort zone and play a character that challenged her. The sheer physical demands of this role are enough to warrant appreciation.




SRK, on the other hand, has tried hard, at times too hard, but things just don't seem to be working for him. He needs to rethink what he wants to do from here on in his career. This is his third failure in a row after Fan and When Harry Met Sejal. His inter-galactic tinder swiping of the stars, bringing all his friends (Kajol, Rani Mukherjee, Alia Bhatt, Deepika Padukone, Juhi Chawla, Karisma Kapoor) onscreen for unnecessary entertainment purposes cannot make up for the lack of meat in the story.




Zero has too many flaws to be covered in a short review. The film has too much excess fat to be burned with 30 minutes of cardio even for 30 straight days in a row. It would have been better to release a low-fat diet version of the film before this version. Zero is a film that takes itself way too seriously and in turn becomes unintentionally hilarious. Perhaps the title of the film then is appropriate: it evoked 'zero' emotions and 'zero' believability throughout its narrative. After finishing the film, I had 'zero' idea how to review it and what the film was trying to do.




If this review still doesn't convince you to not watch the movie, do give it a shot but make sure you go with 'zero' expectations. Though I feel like giving it 'zero' stars, I'll be generous and give it:



All Photos: Screenshots