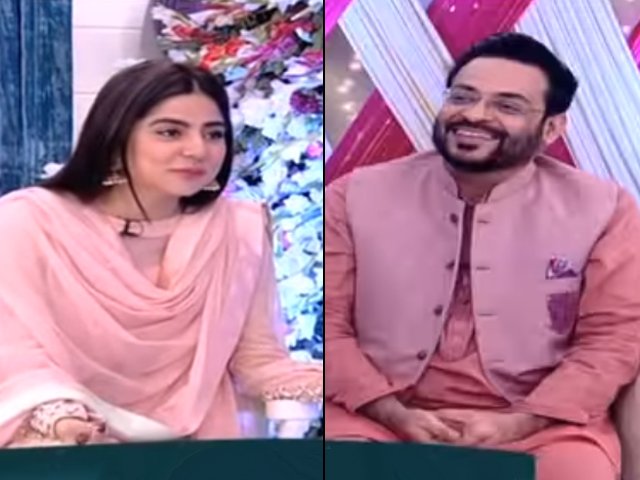 ---
To Bushra and Dua Aamir: As a man, I apologise for how our society continues to treat you
While women like Baloch encourage patriarchy, we also have women like Duaa and Bushra who speak out when it's enough.
---
Aamir Liaquat is neither new to misogyny nor to propagating hatred for minorities by calling for them to be murdered, as well as all other ugly things under the sky. After all, he shot to fame by mostly self-creating the controversies he is known for. From trying to give away babies on live TV and inciting hatred against groups by giving judgment calls against them, to using foul language for his opponents, he has never had any qualms when it comes to getting his hands dirty.

We also witnessed how his filthy mind believes in sexualising fellow female colleagues, when he used an old Indian song to caption a picture of Sherry Rehman and a leader from the Jamiat Ulema-e-Islam-Fazl (JUI-F). He was vehemently called out for his disgusting behaviour, and had to delete that tweet soon after.


Twitter didn't delete my tweet, I deleted it myself cause I later realized it might look bad for you. I have respect for you because of the issues you raised in NA when I was there too. It is a misunderstanding, I was targeting MMA Owais Norani, not you.I apologise @sherryrehman

— Aamir Liaquat Husain (@AamirLiaquat) August 1, 2018


We thought we had seen the worst of this self-professed Islamic scholar then, but we were wrong. The worst of Liaquat to date was seen recently on Sanam Baloch's morning show, where he was a guest along with his second wife. As if the whole duration of the show – where the new couple was visibly romancing despite knowing the first wife and children might be watching – was not cringe-worthy enough, Liaquat also decided to belittle them and question his first wife's religious credibility after being asked an extremely inappropriate question by the host. Clearly sexism, toxic masculinity and respect for others, especially Liaquat's own family, are concepts alien to both him and Baloch.


Setting the stage for Liaquat to wash his dirty laundry in public, Baloch started the show by asking the male audience members whether their wives would allow them to get married a second time. I am still trying to figure out how and why she thought asking a husband what a wife would do was a good idea. She clearly forgot every individual has autonomy and the freedom to make their own decisions, and no husband has a right to speak for his wife.

She then introduces the obnoxious Liaquat to the audience, and then Baloch and Liaquat flirt with each other in front of the current wife. God forbid if any Pakistani wife dares to flirt with another man in front of her husband, but obviously, a man can get away with much worse in this country. Marrying a second time without taking consent from the first wife while your children tweet their agony is definitely worse, amongst other things. There are other abhorrent moments on this show, such as Liaquat playing the victim to justify his second marriage, or rudely interrupting the wife every time she tries to speak, but I will not waste time in listing all of them down.


Another day, another tragedy
Ever since you hurt your family
Sincerest prayers for you to recover
And that too goes for the homewrecker
Hoping Allah guides you to the right way
Whilst your children wipe their tears away.

Your devastated daughter in pain,
Duaa Aamir.

— Duaa (@duaaart_) November 17, 2018


https://twitter.com/areebah21/status/1072595983656206336

Baloch ends the show by asking one last question that showcases Liaquat to be as disrespectful and vile as a person can get. She reluctantly asks Liaquat, while also admitting the first wife may not like the question, why his first family did not accept his marriage. Now, the question itself and the way it was asked were both entirely awful, but Liaquat's inhumane and cruel response outshone everything else cringe-worthy about the show.

He responded that his first wife, Bushra Aamir, may have studied religion but has not understood it, while saying his children have done a lot more that was intended to hurt him, but he ignored it. He went as far as saying that even the internet being used by his children is paid for by him, while he has also given them a house to live in. Baloch shamelessly smiles at this sexist, privileged attitude of her guest while the second wife, Tuba Aamir, slyly smiles. This disaster cannot be explained in words, and perhaps has to be watched to realise how wrong it was on so many levels.


Im so disappointed in Sanam Baloch for talking about Aamir Liaquat's first wife..call him and his wife on the show..thats fine but she could've avoided defaming his first wife when she knows NOTHING about the situation..These morning shows are hitting new lows everyday 🤧

— Mahirah 🇵🇰 (@liveluvlaugh_96) December 11, 2018
And Sanam Baloch endorsing him and passing judgements about his family. Aamir Liaquat ridiculing them its so disgusting. Cant imagine how painful and humiliating it must be for his family.

— Fatima Malik (@FammaMalik) December 11, 2018


To say this morning show was the best manifestation of a patriarchal and cruel society would be an understatement. The show and its participants perpetuated sexism and patriarchy in a society already plagued by this disease. On top of this, they demonised the first wife for not accepting her husband's abhorrent shenanigans. I am not saying a partner does not have the right to divorce or marry someone they want to, but I do argue that the first partner's consent as a stakeholder is of paramount importance, especially that of women, who already survive in a patriarchal society that dehumanises them every step of the way.

Our society teaches women to have sabr (patience) and tolerate injustices committed against them. Bushra is doing exactly the same, for she has not uttered a single word despite being an educated, professional woman herself. But I see hope in getting rid of this sexist mindset when the next generation, in the form of daughters, acts strong and speaks out against the injustices done against them and their mothers, the way Duaa Aamir has done. So while we have women like Baloch and Tuba encouraging patriarchy and toxic masculinity, it's good that we also have women like Duaa and Bushra who are patient and speak out when they have had enough.


Used to like Sanam Baloch but just lost respect for her after watching this clip. Why would you have this vile polygamous creature on your show and then be applauding him so... https://t.co/eQmjf6pYDc

— Ayesha Ijaz Khan (@ayeshaijazkhan) December 11, 2018
Aamir liaquat is such a disgusting person, degrading your first wife for second is not even in Islam, kudos to Bushra Aamir and her kids for bearing such a terrible person and Sanam Baloch disappointed me with her stance about Aamir liaquat's wife

— Jaweria (@jawismm) December 11, 2018


To Liaquat, Baloch, and the people who share a similar mindset, shame on you!

To Pakistani men who only think of religion to use it to their advantage by advocating for polygamy, this fire won't take long to reach your own backyard.

To Bushra and the children, you have our love and prayers, and as a man, I apologise that this continues to be the way a segment of our society treats you.
Facebook Conversations
COMMENTS (11)
Comments are moderated and generally will be posted if they are on-topic and not abusive.
For more information, please see our Comments FAQ