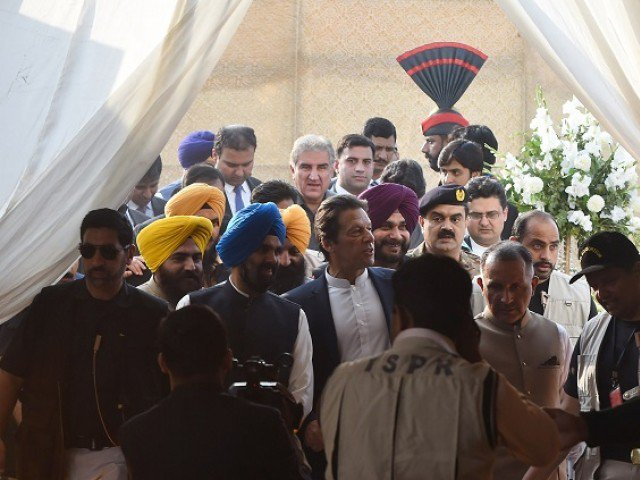 ---
Of India's refusal to attend SAARC and its mistrust and pessimism towards Pakistan
One may get away with not doing anything to build Ram Temple, but one may never be spared for going soft on Pakistan.
---
"If France and Germany who fought several wars can live in peace, why not India and Pakistan?"

Well batted, Imran Khan.

To begin with, the occasion that has led to this eastward flow of a fresh breeze from Pakistan – the inauguration of the Kartarpur corridor – must be celebrated without any political hesitations. It is indeed an occasion that deserves to be celebrated with the child-like joy that results from the deep spiritual moorings of the subcontinent.

Indeed, Imran appeared sincere, hopeful and emotional in his speech and anyone with faith in humanity feels tempted to go head over heels for his proposal to achieve a historic breakthrough. However, the world of geopolitics is not all about emotional proclamations and wishful thinking. The world of geopolitics is instead ruled by intelligence agencies, vote-seeking populist politicians, geostrategic designs of world powers, profit-hungry corporations and hawkish generals.

There is nothing new in India's response. It has followed its old line that "terror" and "talks" cannot go together. India's official position has mostly been the one mentioned above for almost the last two decades, albeit interspersed with brief spells of over-generosity and wishful thinking. However, since 2014, i.e. Narendra Modi's arrival on the scene, one can witness an element of consistency, clarity, and steadfastness in the approach. Also, it is explicit in the official statements of Sushma Swaraj and India's army chief that the Kartarpur corridor should be seen as separate from the dialogue process between the two nations.

Thus, India's response to Imran's emotionally-charged speech does appear a little harsh in the first place, and it actually might be so to a neutral observer. However, to this author, India's response is not at all a surprise and was wholly expected.

Before deconstructing India's response further, the question that needs to be answered is: was Pakistan's peace proposal honest and sincere? As an Indian writing for a Pakistani paper, this author can easily be accused of playing the blame game. Agreed, it may not be possible to remain entirely neutral and objective in such an analysis. However, even a relatively reasonable and fair analysis from an Indian perspective will reveal there is a history of Pakistan supporting proxy terror groups. In the eyes of India's public and its security establishment, there is a deep sense of scepticism prevalent regarding Pakistan's peace overtures.

In the Indian public opinion and media circles, the cross-border support for unrest in Kashmir since 1989 has been a dominant narrative, in addition to the belief that Pakistan supported a separatist movement in Punjab in the 80s. The episode of Kargil taking place after Atal Bihari Vajpayee's peace initiatives further made it difficult for Indians to go ahead with peace. However, both nations could still have moved forward with peace under Vajpayee and Pervez Musharraf, with the credit going to the extraordinary political leadership both countries had. However, all this did not majorly impact the common people until terrorist attacks began outside the disputed territory of Kashmir. The series of terror attacks began with the 2001 Indian Parliament attack and peaked in its impact with the Mumbai attacks.

The Mumbai attacks left a deep trauma on the psyche of ordinary Indian citizens. After that, there emerged a strong psychological barrier and a deep sense of pessimism about any peace overtures from Pakistan. Hence, cutting across the political and ideological lines, there emerged a robust and serious consensus that "terror" and "talks" cannot go together. However, this did not mean the peaceniks became extinct, as one saw initial episodes of dialogue and bonhomie between Nawaz Sharif and Modi, in the hope that there would be demonstrable change on the terror front.

Unfortunately, the subsequent incidents in Pathankot and Uri happened and unrest spiked in disputed Kashmir, allegedly with cross-border support, not to brush aside the domestic factors as well. Further, the recent upsurge in Khalistan activities by the Sikh diaspora across the world has also given more fodder to India's suspicions, as a result of which one can easily witness the caution with which India is proceeding in the matter of the Kartarpur corridor.

India's refusal to accept the invite to attend the South Asian Association for Regional Cooperation (SAARC) may appear extremely harsh at a cursory glance, but in essence it reflects a deep sense of mistrust and pessimism. However, that does not mean India is making war-cries or has closed its mind to peace proposals. India's response strongly indicates it would like to see concrete and substantial action on the terror front, which may include severing financial and logistical ties to anti-India terror outfits as well as sincere cooperation in bringing the culprits of the Mumbai attacks to justice.

Secondly, India's response also needs to be seen in the context of the overall cultural and political milieu of India. India is in an election mode now, as the three large states of North India, i.e. Rajasthan, Madhya Pradesh, and Chhattisgarh will have elections soon. In May 2019, India will have its national election. Besides this, the country is also witnessing the rapid growth of the Ayodhya movement seeking to build the Ram Temple over the controversial structure of the demolished Babri Masjid. Plus, since 2014, India has been going through an intense phase of struggle between forces of Hindu nationalism and the distorted legacy of Nehruvian secularism.

One can see an intellectually aggressive Hindu nationalist side rapidly marginalising the secularist camp, which is facing an acute dearth of ideologues having intellectual depth, spiritual insight, integrity of character as well as being in touch with the masses. In such a milieu where India has relocated itself towards the centre-right, with even so-called secular Congress leaders making desperate temple visits, Hindu nationalism is the only vibrant theme in electoral discourse and beyond. With elections approaching fast, even the most secular parties will not bury their political future by talking peace with Pakistan. In a light vein, this author would like to mention that one may get away with not doing anything to build the Ram Temple, but one may never be spared for going soft on Pakistan.

Thus, India's response can also not be categorised as an abject denial to the idea of peace. Despite some initial hiccups and hesitations, India finally embraced the idea of developing the Kartarpur corridor with an open heart. Though Swaraj did not attend the event in a personal capacity, India did send two central ministers to participate. To this author, India's overall attitude appears to be more of cautious optimism, i.e. India wants to convey it is willing to cooperate in cultural and religious matters, where the more substantial interests of the citizens of both nations are involved.

However, it appears that India finds it difficult to trust Pakistan and will reciprocate only in the event of achieving a substantial breakthrough on the terror front. Nevertheless, Imran's peace proposal has the emotional strength to appeal to ordinary Indian citizens, and his fan-following as a cricketer might supply some more steam to that appeal, and will perhaps add to the larger Indian populace embracing the hand of friendship, eventually.