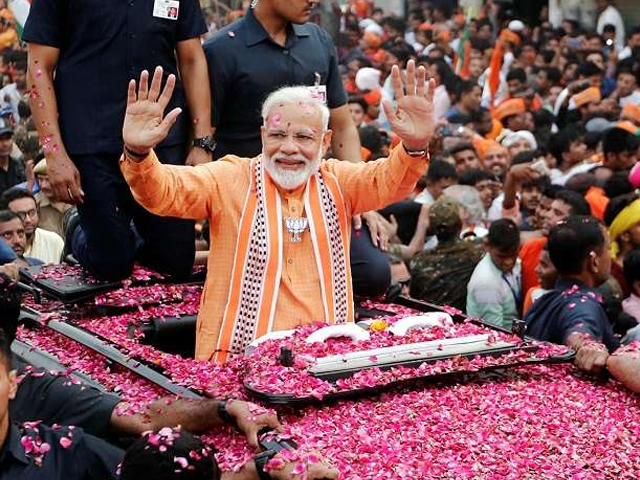 ---
What happens to India now that Modi stays in power?
I am not surprised by the juggernaut of Hindutva sweeping the country, for India was always Hindu nationalist country.
---
At the time of writing this piece, the National Democratic Alliance (NDA) is leading in 351 seats. This landslide victory belongs to Narendra Modi and his Bharatiya Janata Party (BJP), for those who predicted the demise of the Modi wave did not realise how India's electoral democracy works. When a magician like Modi – who knows the nuts and bolts of public perception – teams up with a shrewd election strategist like Amit Shah, together they create waves that win elections. If by divine grace they are blessed with an opponent as incompetent as Rahul Gandhi, such tides turn into tsunamis.

Over the last five years, Modi has emerged as a cult figure for the Hindu majority, and also as a man who is both passionately loved and intensely hated. TIME magazine recently referred to him as "divider in chief," accusing him of communal and ideological polarisation and espousing fear among the minorities of India.

Modi may not be the 'divider in chief,' but he has indeed emerged as the icon of Hindu nationalism. Shashi Tharoor called this election "a battle for India's soul" while Yogendra Yadav argued that the "very idea of India is under challenge". However, I cannot entirely agree with this understanding of India's history, society and culture.

During my bachelors at St Stephen's College in Delhi, a school that was the bastion of left-liberal elitism, I found that for many of my upper middle class peers, the Nehruvian consensus on India's secular and socialist identity was like a gold standard deeply embedded in their subconscious. On the contrary, I felt they were living in a bubble. The India I had grown up seeing in rural areas and small townships was full of communal riots, intensely Hindu nationalist, conservative, casteist and deeply religious. The rosy picture of Ganga-Jamuni syncretism was confined to government text books and dull documentaries on Doordarshan.

India saw the worst communal riots in the lifetime of Jawaharlal Nehru and Mahatma Gandhi – the heydays of secularism. The Nehruvian consensus on secularism was born out of a reactionary process with the intent to occupy a moral high ground by presenting India as secular vis-à-vis Muhammad Ali Jinnah's Islamic Pakistan.

The intention was idealistic, but ultimately took on ugly forms of minority appeasement for political motives. Congress was always trying to adopt a textbook model of secularism which hardly reflected the deep-rooted fears and grudges of the Hindu majority, which does not have a positive perception of Muslims. Such a model of secularism lacked well-nourished roots in the ethos and culture of the majority Hindus who, whether one agrees or not, are firmly rooted in their faith.

Hence I am not at all surprised by the juggernaut of Hindutva sweeping the entire country under its wheels. India was always a Hindu nationalist country; it's just that the thin upper-crust of secularism was shrewdly kept in place by Congress. This collapsed against the tsunami of social media. Saffron forces intelligently and maliciously used social media to both 'expose' and 'frame' the Nehru-Gandhi family as anti-Hindu, elitist, corrupt, selfish, and incompetent.

Before 2014, the BJP never spelled out Hindutva in a clear, consistent or comprehensive manner. The pre-Modi phase of Hindu nationalism was vague, unsure of its identity, objectives, and capabilities. Modi's Hindu nationalism is aggressive, confident, and pervasive, with a populist agenda that has always existed as a fantasy buried in the deepest layers of the average Hindu mind. This is why Modi has won everything; even the controversial Pragya Thakur won her seat. Meanwhile Rahul could not even win his home seat in Amethi and lost to Smriti Irani, painting a vivid picture of Congress' performance this election.

What happens to India now that Modi stays in power?

What is clear is that Nehruvian secularism is as extinct as a dodo. I also imagine the Nehru-Gandhi dynasty to be on the verge of political extinction. The Congress party will question its survival, which may result in an internal revolt and slow journey into oblivion if they do not reboot themselves and start anew.

Muslims, until recently, were living in the comfort zone of Congress' proxy leadership. In Modi's India, Muslims and other minorities are likely to perceive an existential threat, and such fears will hopefully enable them to produce a genuinely secular and robust leadership with national appeal. Muslims today constitute around 200 million of India's population, but their representation in the parliament has come down from 9% in 1980 to 4% in 2014. This win may just motivate them and bring the movement from the fringe to the mainstream.

There is also a strong likelihood – in the distant future – of Muslims becoming more active in the BJP and perhaps even the Rashtriya Swayamsevak Sangh (RSS). Though the rhetoric of RSS and BJP has been overtly Hindu nationalist, their vision is ultimately of nationalism. Given India's deep roots in spirituality, tolerance and democracy, there is always the possibility that the Hindutva camp will use this win to become more open and accommodating.

After all, in an electoral democracy, no political party can afford to ignore 200 million Indian Muslims. The process has already begun. Even Kashmiri Muslims possess a small group that supports the BJP.

Hence, my sanity urges me to have deep faith in India's civilisational values and democratic culture. This country has enough space to allow diversity to flourish. However, in the long run, I do expect that the dominant academic, sociocultural as well as the state narrative will significantly shift towards the right. Perhaps in the process India might discover a model of secularism that does not have the baggage of colonial and Partition hangover and is primarily rooted in its own ethos and culture. Needless to say, this may sound a bit hawkish to some bleeding heart liberals and abstract intellectuals, but it will be a more realistic approach to India's ground reality.

In the short-run, I expect an assertive and occasionally aggressive phase of Hindutva in the different realms of society, state and culture. Along with it, I also expect youth unrest coupled with intellectual and ideological polarisation. The youth needs jobs and a vibrant economy, and they better get that. Otherwise, their energies will find a vent in mob-lynching, communal riots, crime and terrorism.

This time around, Modi is not expected to repeat the mistakes of the last five years, especially with the economy and the Kashmir issue, where the options range from the least likely ones (such as dialogue with Pakistan) to most likely (removal of Article 35A and 370).

Thus for Modi, the rhetoric ends with the election, which he has won in a landslide. India has voted for him, and the journey to find a reformer and a visionary statesman in him must begin in earnest, and soon. One hopes Modi will learn from his many mistakes and act maturely in victory, presenting a long-term vision to create robust and reliable institutions and a corporate-politico-intellectual ecosystem to shelter it. Modi has been given a historic opportunity to turn things around for India – we can only hope he makes good use of it.