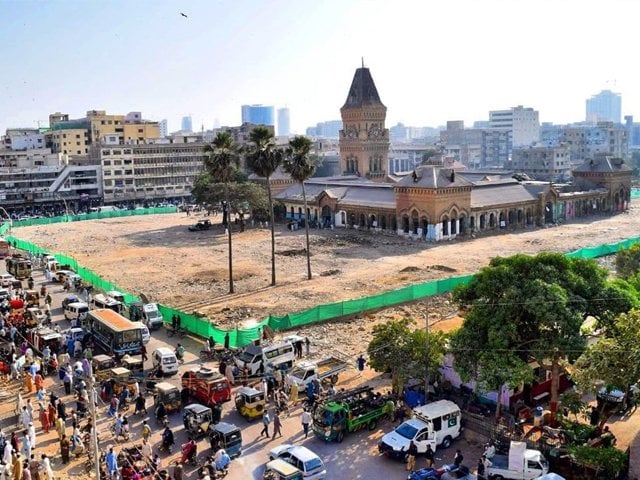 ---
Understanding encroachment and why its end will be a breath of fresh air for Karachi
People will be displaced and many will go jobless but in the longer run, violations will come down significantly.
---
The city of Karachi is left with a handful of neighbourhoods where encroachment is not an issue yet, namely the Defence Housing Authority, Malir Cantt and few other housing societies. Rest of the city is plagued with encroachments involving roadside restaurants, car showrooms, push cart vendors, illegal settlements and so on.

Sometimes hard decisions need to be taken in order to address an issue that was hard to approach earlier. People will be displaced, businesses will be shutdown and many will go jobless but in the longer run, malpractices and violations will come down significantly. Rule of law can only be implemented with an iron fist. This city has suffered just because the law enforcing authorities were lenient and had an extremely 'accommodating' attitude, therefore a plethora of civic problems engulfed the city since the last few decades. So to better understand why encroachment was allowed in the first place, here are four causes of encroachment:

Real estate prices

Karachi is home to immigrants from almost every nook and corner of the country. They head towards Karachi in search of jobs, business opportunities and a relatively better lifestyle than the one offered in their hometowns or villages. In a highly saturated and urbanised Karachi, where real estate prices and rents are sky rocketing, most of them prefer to settle down in katchi abadis (illegal settlements) in order to save some money to cover the rest of their expenditures.

Those who opt for trading or business, the cheapest option available for them is to set up their carts or cabins on encroached land since the prices of shops in commercial areas are way out of their reach. When established businesses are trying to expand and reach out to other areas of the city, the only factor that keeps them from doing so are the real estate prices. This forces them to violate the building by-laws and they create more spaces by encroaching upon government land in order to facilitate their clients or customers.

Dearth of commercial areas

In order to make more money out of residential plots, the development authorities in Karachi left very few options for commercial activities. In such a highly saturated scenario, a businessman would either encroach upon government land or start his venture on a residential plot by paying heavy bribes to the officers concerned. This results in an urban landscape imbalance and the sporadic commercial activity on encroached land destroys the aesthetics of the city leaving very few open spaces for the general public to enjoy.

Political motives

Almost every political party has contributed towards the systematic destruction of this once beautiful city. In order to increase and strengthen their respective vote banks, political parties with mostly rural fan following brought in people from the villages of rural Sindh and got them illegally settled in katchi abadis and encroached land that was otherwise meant for public welfare. As a consequence to this, the political parties enjoying an exclusive urban electoral mandate started settling down their voters in a similar fashion: in illegally constructed housing societies or apartments.

The issue of Gujjar naala was lingering on for the sole reason that one political party had its voters settled illegally along the banks of the naala resulting in frequent overwhelming of the narrowed down drain during monsoon season. Similarly, areas like Empress Market, Katti Pahaari and so on were heavily encroached by voters of a political party that used to enjoy a sizable mandate in Karachi during the Pakistan Peoples Party (PPP) government tenure.

Lack of civic sense

This comes down to the void left by our educational system that has failed to instil civic sense and awareness regarding the responsibilities of a citizen among the people of our city. When people are not even aware of the very basics of cleanliness, discipline and the concept of open spaces in an urban landscape, they will blatantly encroach upon government land without any regard for the law just because they are fully aware of the loopholes in our system. Anyone can get away by merely bribing the concerned officers of the development and municipal authorities of the city.

The ongoing anti-encroachment drive is like a breath of fresh air for the city of Karachi. At a time when citizens had lost all hope, the court orders gave Mayor Wasim Akhtar a chance to make his presence felt and help the people of Karachi. They went for Empress Market first in order to send a message that no one will be spared. If this drive is successful and the move is a permanent one, Karachi will have its beauty restored, history shall be preserved and the general public will get to enjoy more open spaces and sidewalks.

The mayor of Karachi and the government of Sindh must, however, make alternate arrangements for all those who have been affected by this drive and provide them space where they could resume their business activities. This would also keep them from entering the world of crime which they eventually will turn towards if they are not rehabilitated properly. As a resident of Karachi, I would be the ultimate beneficiary of this entire drive. If this goes through and turns into a sustainable model, we will have cleaner and wider roads, walkways and more public spaces will eventually beautify our city and provide much needed international exposure to Karachi. The city will have some order and after a long time, Karachiites will enjoy exploring areas that were earlier choked with encroachments.