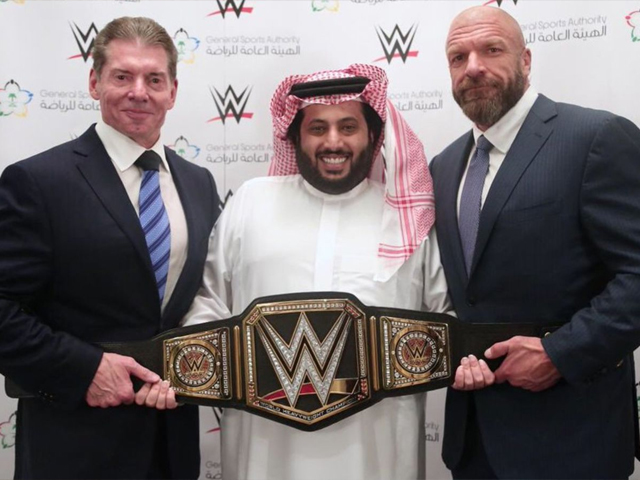 ---
The unholy alliance between WWE and Saudi Arabia
If WWE continue with Crown Jewel in Riyadh, they lose their popularity among American fans and their global reputation
---
The year 2018 has brought with it a promise of progress. While Pakistan's the new leadership has been taking steps towards economic growth, Saudi Arabia is apparently adapting to the 21st century modus operandi and opening its doors to the world. In one of Crown Prince Muhammad bin Salman's (MbS) progressive reforms, the Kingdom opened new cinemas for the first time in decades. They followed it up by lifting the driving ban on women, which was a much-applauded move.

Adding to the propaganda of change is World Wrestling Entertainment (WWE), the American sports entertainment conglomerate, which signed a 10-year, $450 million deal with the Kingdom (according to American wrestling journalist, Dave Meltzer). The deal materialised with WWE holding their first show, Greatest Royal Rumble, in Saudi Arabia earlier this year. The second show, interestingly titled WWE Crown Jewel, is to be held on November 2nd.


However, since their recent exhibition of change was tarnished by the disappearance and alleged murder of journalist Jamal Khashoggi while he was at the Saudi Consulate in Istanbul, not only is the show's fate in jeopardy, but also the million-dollar deal as WWE faces immense pressure from American politicians as well as the media.

On his show Last Week Tonight, John Oliver spoke of how MbS's PR push isn't just toward attracting businesses, but also toward changing the world's perception of Saudi Arabia. After showing clips of WWE's previous show held in Jeddah, he slammed the global wrestling brand, saying,

"It seems the WWE is as overtly pro-Saudi Arabia as it is lately homoerotic, which is to say, intensely."


Meanwhile, WWE has currently issued a statement, saying they are monitoring the situation; retired pro-wrestler John Bradshaw Layfield (JBL) recently appeared on Fox Business to talk about the situation. The long-time loyal WWE employee and a former WWE champion himself, JBL is in favour of the company holding a show in Saudi Arabia.

"My personal opinion is that they should go. I think that's the only way you promote change – look what we did with Cuba," he said.

"(When) you isolate a country all you do is impoverish that country."

He praised the company for promoting change and recalled his experiences performing in countries such as Afghanistan.

"You want to promote change? WWE went to Abu Dhabi and did the first women's match that had ever happened in the Middle East," he said.

"For these guys to hide behind their patriotism and their flag-waving, to me, I think is to try and improve their abysmal approval ratings. That to me is wrong. WWE has been at the forefront of change, and you want to change Saudi Arabia? You send something like WWE there."


While JBL's remarks do have weight, one can't turn a blind eye to the recent happenings. With horrific details of the alleged murder and evidence of the Kingdom's involvement in it piling up, the matter isn't helping WWE at all. Beside the external pressure, wrestling dirt sheets have been reporting internal conflicts in WWE too, saying many superstars are against going to the Middle Eastern state.

But then, against such speculations comes Randy Orton's remarks. In an interview with TMZ Sports, he suggested WWE should not cancel the trip despite criticism. Echoing JBL's sentiments, he said,

"Going helps."

Another aspect of the situation is WWE Chairman and CEO Vince McMahon's wife, Linda McMahon, is part of the US President Donald Trump's cabinet. It has been a well-known fact that Trump and the McMahon family have been on good terms for the last several decades. With Trump ordering investigation into Khashoggi's disappearance and yet not backing out of the million-dollar arms deal with Saudi Arabia, it might give WWE an excuse to withstand the pressure and eventually go ahead with Crown Jewel.

The situation isn't any less complicated for the company than it appears. If they go ahead with the event, they risk massive backlash from every party involved. The company's stock rose higher than it ever has this year (as of October 18th, it stood at $84.57) because of their very profitable 10-year deal. If they continue with Crown Jewel in Riyadh, they lose popularity among American fans as well as their global reputation.

Media and political pressure aside, when The Undertaker mentioned Crown Jewel on WWE SmackDown Live's 1000-episode anniversary on October 16th, the fans in the arena booed him. This is the very pushback that caused WWE to not mention the event on Monday Night Raw this week. The company's official website also removed the references to Saudi Arabia as a result.


On the other hand, if they pull out, they risk bad relations with the Kingdom as well as miss out on the staggering amount of money they have been promised (the amount is so high as to lure Shawn Michaels out of retirement, after nearly a decade of refusing all offers to perform again). The violation of the contract may also cost them a heavy penalty and with the company churning out more and more shows on the WWE Network, that would be an unwise choice.

Further, if they intend to postpone the upcoming show until the uproar dies down, that would put the company in another awkward position as they have already announced and heavily marketed Michaels' in-ring return as well as several other high profile matches.

With WWE putting themselves in such a situation, they shouldn't have expected things to go smoothly either. They even gained unwanted attention at the time of Greatest Royal Rumble when WWE star Sami Zayn wasn't allowed in the country because of his Syrian roots. Further, WWE staged a segment during the show where their latest Saudi signees beat up two wrestlers of Iranian descent.

With nearly two weeks remaining till Crown Jewel on November 2nd, we never know how future developments in the Khashoggi case may affect WWE's partnership with Saudi Arabia.
Facebook Conversations
COMMENTS
Comments are moderated and generally will be posted if they are on-topic and not abusive.
For more information, please see our Comments FAQ