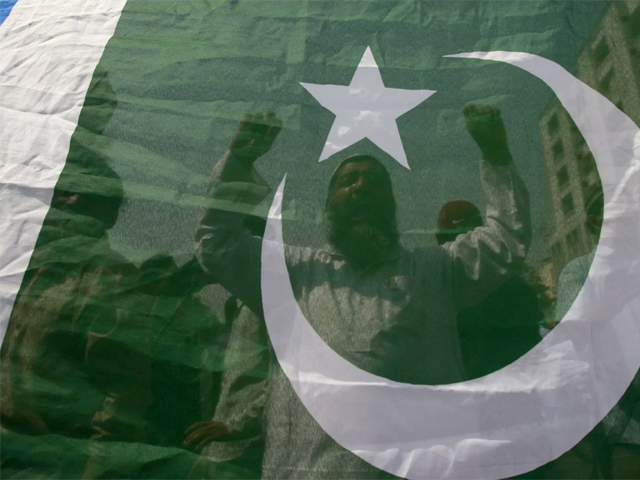 ---
From 'unity, faith, discipline' to 'faith, faith, faith'
No longer was it enough to be patriotic; what mattered more was whether one was a Shia, Sunni, Wahabi, Barelvi, Ahmadi
---
"O, what a fall was there, my countrymen! Then I, and you, and all of us fell down, whilst bloody treason flourished over us…"

These enduring words of Shakespeare describe best the cruel hand dealt to Pakistan, by internal and external forces alike. One is filled with an innate feeling of dejection when one observes how with the passage of time, our societal ethics and standards tumbled in almost all walks of life. Pakistan is amongst the few unfortunate countries that have regressed, not progressed, with time.

Let us start with governance. We all have read the bleak history of the early days of independence, when our exchequer was virtually empty, millions of immigrants coming from India were living in abysmal conditions and civil servants did not even have notepads and tables to work on. This was our beginning. But within a short span of 15 years, Pakistan became the 'Asian Tiger', a country on its way to becoming a powerful nation-state in Asia.

Pakistani leaders were welcomed as royalty wherever they visited. Political blocs sought out the membership of Pakistan. We entered into treaties to build the world's largest dams. We spearheaded the diplomatic effort that led to the Organisation of Islamic Cooperation (OIC) summit in Lahore (which was the first and only time in the last century when the Muslim world united at a political level and created a strong, but alas brief, economic hegemony to compete with the West). Our bureaucracy was credited as amongst the finest in the region, and our national institutions, such as Pakistan International Airlines (PIA), were renowned throughout the world for being trendsetters and completely redefining the air service industry. We were, in essence, a proud, patriotic nation that held firm to its cardinal principles of unity, faith and discipline.

But then came the 80s, and in one man's quest to legitimise and retain power, our inclusive, enlightened society was dealt a fatal blow of religious hypocrisy. Through deliberate political manoeuvring of promoting "religious values", our soil was criminally allowed to be used as a training ground for thousands of young kids, who were trained to use guns and bombs, and inculcated with an extremist ideology that had nothing to do with the peaceful religion of Islam, all to fight a proxy war at the behest of western allies against the Soviets. This single decision was to have a domino effect that would lacerate our entire social ethos.

No longer was it enough to be a patriotic Pakistani; what mattered more was whether one was a Shia, Sunni, Wahabi, Barelvi, Ahmadi and so on. It seemed as if the cardinal founding pillars of the Pakistani polity were being altered, so that 'unity, faith, discipline' was deliberately converted into 'faith, faith, faith', with unity and discipline in the state taking a backseat.

Inevitably, intolerance spread, and as religious extremism and the Afghan war took centre stage, socio-economic development and progress on nation-building took a backseat as well. Those who dared to speak up against the injustice being done against the country under the garb of religion were persecuted, labelled "communists", tortured and thereby, forced to become silent or go into exile.

Moreover, with Ziaul Haq too concerned to hold onto his illegitimate power, previously unknown figures used this political vacuum to their advantage, and transformed overnight into electoral bigwigs. By covertly introducing and institutionalising corruption within the political system, starting from politicians and bureaucrats right down to the SHOs and Patwaris, the entire administrative machinery of the state was hijacked by this small group of enterprising public representatives, which put merit and competence aside.

Furthermore, if the Afghan war brought an unprecedented blow to our social attitudes, the advent of the War on Terror post 9/11 sounded the death knell for our society. This singular occurrence had a ripple effect that was felt far beyond politics. Pakistani culture, music, sports, drama, theatre, all of it suffered as a result of the rise of extremism in the country.

As sports, music, entertainment television and other avenues of entertainment fell silent under the deafening and tragic sounds of bomb blasts, the high standards set by Pakistanis of yesteryears slumped drastically. Our country was so blessed that without any teaching academies or professional training schools, our performers and athletes excelled and simply astounded the masses with their natural talents. From listening to intellectual talks of Ashfaq Ahmed and the discussions on religion of Dr Israr Ahmed, to hearing impeccable musical geniuses like Noor Jehan, Iqbal Bano, Farida Khanum and Nusrat Fateh Ali Khan. From watching Zia Mohiuddin conversing with his guests in the most eloquent manner to viewing classic TV dramas like Waris, Ankahi and laughing at witty comedy shows like 50/50, Aangan Terrha and Family Front. We cheered for our legendary sportsmen in the fields of squash, cricket and hockey such as Jahangir Khan, Imran Khan and Shahbaz Junior, who ruled the world and won all major trophies. Pakistanis were used to watching high quality performances in all fields of life.

Unfortunately, the seeds of extremism sowed during Zia's era grew into overshadowing jungles of unrest, hatred, sectarianism and suicide bombings. Along with the rise in terror attacks, came the advent of the 24-hour news channels. This led to a condition where for the entire day, our people were 'bombarded' with breaking news about routine matters. A nation that was used to hearing the news just once at 9pm, suddenly and unconsciously, became addicted to news channels as their sole source of entertainment.

We were so consumed with news that all other avenues suffered: those whom once we would have brushed aside as average and downright mediocre now became our top most 'celebrities'. People like Aamir Liaquat Hussain are termed 'scholars' and morning shows are simply a hollow ratings battles. Ordinary players such as the Akmal brothers were the face of Pakistan cricket for the longest time and people forgot hockey was our national sport. Music channels closed down and hardly any new songs or albums are released. Our TV serials lack good meaningful scripts, having worn out themes based on love and mundane family conflicts.

One feels that the following immortal words of the Lebanese-American poet, Khalil Gibran, sum up our state of affairs perfectly:

"Pity the nation whose statesman is a fox,

Whose philosopher is a juggler,

And whose art is the art of patching and mimicking…"

Yet, there have been silver linings too: democracy finally seems to be catching on with the masses and strengthening its roots; private channels ended the monopoly of PTV and gave viewers more choice; Coke Studio has made a great contribution to our folk and sufi music projection internationally; and we did win the T-20 World Cup. But there is no denying that as a society, our growth has stunted; our circumstances prevented us from moving forward; we became confused about our identities and what it meant to be a Pakistani. And this state of puzzlement was reflected in all avenues of the public life, as we settled for mediocrity. We need to re-discover our pride, our faith in our country and our identity as Pakistanis.