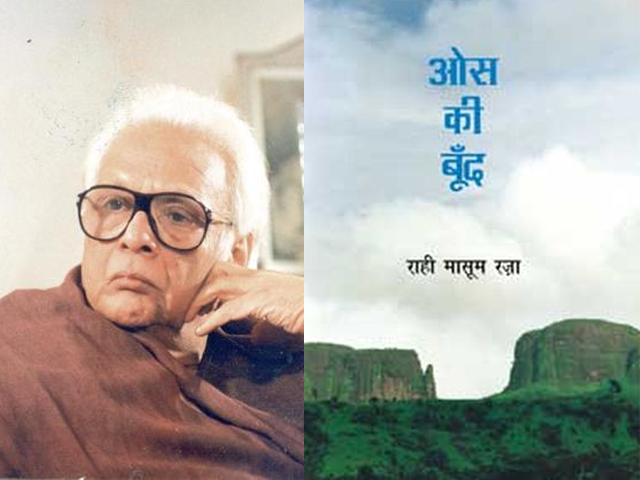 ---
Banned Books Week: Rahi Masoom Raza's fight to never stop swearing
Raza's defence is a call for budding and persecuted writers today who write to please their calling rather than awards
---
This week (September 23rd-29th) is being celebrated as the Banned Books Week around the world, especially in the United States, where this tradition took inception during the Ronald Reagan era back in 1982. Concerned about violation of freedom of speech, rights activists raised the issue of banning books and their censorship, as well as the persecution of writers. Hence, it was decided that every year, the last week of September would be celebrated as the Banned Books Week.

Perhaps it is no coincidence that International Translation Day falls immediately after Banned Books Week, on September 30th. At least for this humble scribe, there is an intrinsic connection between censorship and translation. When I first began my humble attempts at translation from Urdu to English, it was with the work of Saadat Hassan Manto, who was banned three times in colonial India and thrice in postcolonial Pakistan for the perceived lewdness in his short stories.

Also, back in 2014, when I curated my first Banned Books Week event in Lahore, it was not lost on me that this was the city where both Manto and his great contemporary, Ismat Chughtai, were summoned in the 40s to stand trial in court for writing stories depicting sex.

Earlier this week, I curated my fifth successive Banned Books Week here in Lahore, and we hope to continue this trend every year. Banning books is as old as publishing and reading them. Books have been banned for several reasons, such as using sexual language or depicting sex, like DH Lawrence's Lady Chatterley's Lover, Erskine Caldwell's God's Little Acre and James Joyce's Ulysses, or political reasons, like John Steinbeck's The Grapes of Wrath and George Orwell's Animal Farm.

To celebrate Banned Books Week and International Translation Day, I am sharing my translation of a short preface that the well-known Urdu writer Rahi Masoom Raza wrote for his 1970 novella Oos ki Boond (A Drop of Dew) in defence of using swear words in his writing. Raza was roundly criticised by some for frequently resorting to swear words in his magnum opus, Aadha Gaon (Half a Village), which is set around the Partition and was published in 1966. Raza's defiant and impassioned defence is a clarion call for all budding and persecuted writers today who write to please their calling rather than for awards or the elite:

The sages advised me so many times not to use swear words; had there not been so many abuses in (my novel) Aadha Gaon, you would definitely have won the Sahitya Akademi Award. But I think do I write novels for the Sahitya Akademi award? There is no harm in winning the award, obviously it's useful, but I am a writer; if my characters read the Gita, then I will write the ashloks of the Gita. I am not some Nazi writer who imposes my will upon the inhabitants of my novel and order every character, handing them a dictionary, that I will shoot them lest they dare speak even a word of their own. Some sage, pray tell, that where my characters rain abuses, what should I write by removing them, dot dot dot? Were that to happen, people will make up their own abuses! And in the matter of abuses, I do not trust anyone else but my characters.

I myself do not like swearing, nor is there a tradition of swearing in my home. But people swear on the streets; one hears the sound of swearing from the neighbourhood, and I do not shut my ears, you must be doing the same. Then if my characters rain abuses, why do you make me run? Those characters are swearing within their homes, they are neither within my home nor in yours. So sir! I cannot slice the tongue off my characters for the prize of the Sahitya Akademi. The characters of this novel too rain abuses here and there, if you have never heard a swear word, do not read this novel, I do not want to make you blush.
Facebook Conversations
COMMENTS
Comments are moderated and generally will be posted if they are on-topic and not abusive.
For more information, please see our Comments FAQ