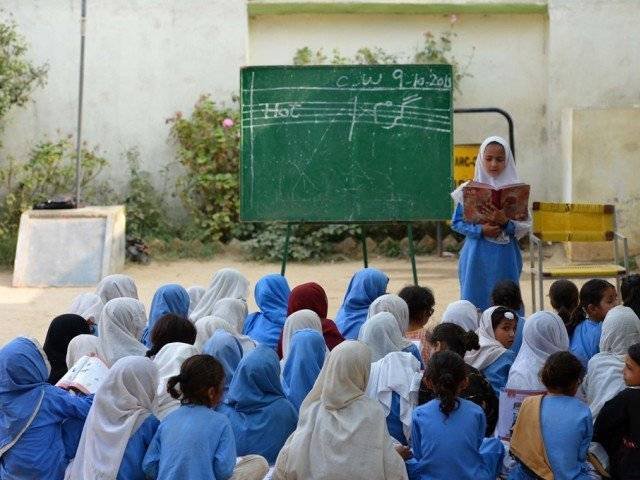 ---
Nation uniform curriculum: Are we compromising equity for equality?
If we fail to unanimously agree upon one 'purpose of education', how can we agree on a standard uniform...
---
In another move towards a Naya Pakistan, Federal Minister for Education and Professional Training Shafqat Mahmood has announced a uniform national curriculum policy to not only ensure the quality of education, but also provide a level playing field across the country and present equal opportunity to everyone.

This may sound utopian to many, but can we start celebrating yet?

Let's unearth this thought by taking a glance at the omnipresent institution of 'schools'. How old is this institution? Impromptu responses might suggest perhaps thousands of years old, or maybe dating back to Socrates. Not only would these responses reflect our naiveté, they would also reveal the success of the aforementioned institution in establishing itself as a hegemonic and formidable force, whose presence is considered as natural as human existence itself.

When the first schools were established in the 19th century, their inception was marked by a bleak moment in human history, governed by beliefs of an innate sinfulness in children. Schools were created by the status quo to discipline citizens and engage in thought control over future generations in order to keep their actions predictable. Following the industrial revolution, they existed to satiate the appetite of the capitalistic world. Thus, the noble institution of a school has not had a noble beginning after all.

Today, many view the new government's suggested reform to be a much-needed step towards eliminating inegalitarianism and social marginalisation. It is being considered the catalyst for inclusion, social cohesion and coexistence. Such ideals, stemming from Durkheim's notion of methodical socialisation, deem the purpose of education to be social continuity and the transmission of values and knowledge in a society.

However, if we can all fail to unanimously agree upon one 'purpose of education', then how can we agree on a standard curriculum that has to be uniformly applied across all schisms of our society? It thus becomes essential for us to raise the right questions in order to safeguard the diversity of our society, alongside the rights of those who are marginalised.

The announcement begs the question: what will this curriculum entail? Will it be a strict guideline or an overarching framework? What image of the child will it be built upon; children as savages needing correction, or as inquisitively predispositioned learners? Will it be a written policy, or will it be a design simply dividing a child's day? What will it demand beyond literacy and numeracy targets? What would be its implications on the culture of a school? What values will it underpin?

It is no secret that from an institutional level, we have all been fed a specific version of history that was drafted back in the 80s. Will the reform in Naya Pakistan allow any room for critical thinking, reasoning and questioning? Subsequently, will this curriculum be child-centred or state-centred? Will the cadre of experts deployed to create it ensure it is not used to appease certain lobbies or push forward political imperatives?

Furthermore, how flexible or adaptable should we expect this curriculum to be? How will it define the role of an adult in a learning environment? Be it a madrassa, a government school or a private school, the defining factor in any learning experience is the teacher, their competence and their personal values. This remains the deciding factor in the nationwide, multi-layered divide in our educational standards, and in turn our economic prosperity. In a nation which yet lacks a decent enough degree or certification in education, what would this reform mean for the professional freedom of aspiring teachers?

Most importantly, what would such a curriculum entail at a time and age when being knowledgeable is no longer a skill, and learning to learn is? The world is moving away from standardisation towards more inquiry-based learning approaches. Today, when the progressive education circles are talking about the possibility of having unique interest-based learning journeys for two students in the same class, should we really be thinking about coming up with a uniform learning journey for millions of children? By undermining the differentiation and complexity of the society, will we not be compromising equity for equality?

Having lived and breathed in an educational milieu for the past four years, I have learned to appreciate its intricacies. A school is never simply brick, mortar, rows and desks ­­– it is a living organism with a culture and values. It is next to impossible and almost futile to put all lives in a mould without appreciating the innate dispositions, inclinations and competence of children. And when we claim that we have been able to do so, we are in most instances referring to the hollow shells of children, whose spirits are broken and intellects numbed over a course of enforced education across years.

Some might view these notions as the rant of the elite, though it might help to view them as the voice of reason. Being someone who runs a private school, I do not feel threatened by this reform. If anything, I feel hopeful. Nothing can ignite our hope for a better future more than the promise of 'quality education' for all. No private entity can impact this arena as the government can.

Yes, there is the question of how this would align with international qualifications like the Cambridge system. However, most of these areas can be worked with if we have an adaptable framework. If the government wishes to do away with international qualifications entirely, it may do so only if it is willing and able to provide comparable, well-thought of and internationally recognised alternatives. In the end, the content of what is taught matters a lot less than how it is taught and the underpinning learning skills.

This reform can turn around learning environments if the child is kept in the middle of all decisions. It can have a phenomenal impact on the dispositions of children if the educators are made to understand how to interact with children in their formative years, which are deemed to be most important for personality development.

It can play an imperative role in breaking away from the archaic system of regimented education if it creates room for the voice of the child. We do not need more top-down instruction-based programs which fill a child's six-hour day to the brim, leaving them with only a 20-minute recess to 'cool off'. We do not need 'life skills' education, which is another textbook stating how a child must live his or her life. We need schools that do. We need schools that talk.

We need environments that harvest critical thinking and shape discourses. We need models that respect children, re-think discipline strategies, facilitate independent inquiries and model the right values. More than anything, we need environments that are cultivating grounds for morality, tolerance, patience, fairness, honesty, generosity, forgiveness and culture.

These are essential questions and concerns that need to be answered before any blanket policy is implemented across the country. As an administrator, I wholeheartedly support the intention behind the idea of reforming education, working on economic disparity and raising a nation of not just literate individuals but also reasoning beings. However, for now, we'll have to hold back our applause as we venture into an era of policy vagaries such as a uniform national curriculum.