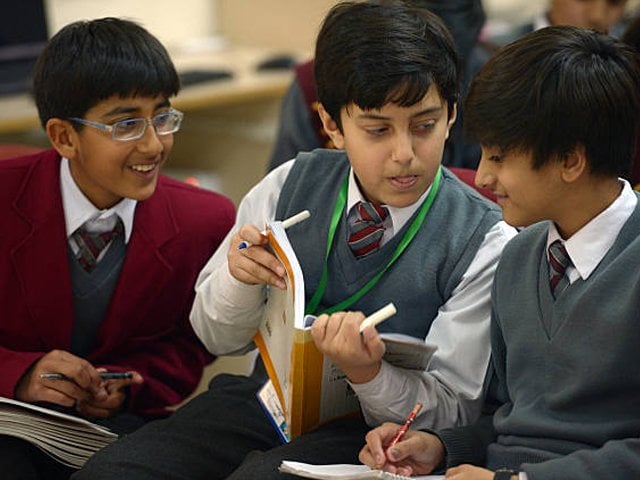 ---
I run a private school in Islamabad, and here's the truth behind summer school fees
During this summer, I have to pay: salaries to 36 teachers, 12 support staff members, rent, utility bills, repairs.
---
Those who are all daggers against private schools and are celebrating the Islamabad High Court's decision to stop private schools from charging a summer fee, can stop reading because a private school owner is writing this blog. But then again, it might be worthwhile for you to hear the other side's perspective too.

I find myself to be a very small player in the private school industry. A newbie, who perhaps four years ago might have been bashing private schools from the other side too.

Today, I am here not to make a case for myself but for the Citys, Roots, Beaconhouses, Headstarts, Supernovas, Educators, Siddeeq Publics and Chand Baghs; pretty much most of the private schools in our country.

We all hate private schools, don't we? Exorbitant fees, windfall profits, incompetent teachers and lack of facilities. Such horrible places they are. Yet, our children are enrolled in private schools. Why don't we send our children to government schools that have been established by our taxes?

Here is why:

On average, our government spends Rs1,412 per child per month on elementary education in government schools (food for thought: how much do you spend on eating out per meal?).

Whereas, the US spends Rs1,14,243, Australia Rs98,466, Sweden Rs1,15,016 and the UK Rs97,148. We are quick to draw comparisons between education in Pakistan and education abroad without realising that quality education is a costly commodity. From teacher training to resources, premises, administration, facilities, retaining good teachers, everything costs money.




Even if I take purchasing power parity into account, any private school should be charging at least Rs35,000 to Rs42,000 per month to meet the quality standards of public schools in the US, UK, Australia or Sweden. Over here, we are talking about a 1:25 ratio and education for the masses. We are not even referring to private education abroad or special needs education, which doesn't even come close to these estimates.

Despite paying 10 to 15% of what other governments pay per child, the quality of private school education in Pakistan competes closely with what is being offered in all these developed countries. We owe an entire generation of people who are doing well not only in Pakistan but also globally, to these private schools. We landed in Ivy Leagues, and Fortune 500s because of these private schools.

So many of us are now giving back because of our private school education.

If you still wish to complain about the fee, I know schools that charge Rs3,000 a month, and then I know those which charge Rs50,000 a month, and there are more than a 100 on the spectrum to choose from. Choose your pick as you do with Al Karam, Khaadi and Sapphire or with Haleem Ghar, Ginyaki and Serena.

Private schools are neither funded nor subsidised by the government. They indeed are taxed like any other business. Every school pays 33% income tax, 17% GST, 3% super tax, 6% Employees Old-Age Benefits Institution (EOBI), 6% social security and heavy property commercialisation fees or commercial rents. They are established when people invest their hard earned money to build them and hence, have a right to a return on investment.

But is it fair to charge a summer fee? Unfortunately, schools are not magazine subscriptions which can be discontinued and renewed as per our liking. I can paint a picture for you to understand, using my own example. I have a small school of 160 students. During this summer, I have:



36 teachers and admin members to pay salaries to


12 support staff members to pay salaries to


A landlord who will certainly not be able to give a rent waiver to me


Internet, electricity and telephone bills and multiple online subscriptions to pay


Two international consultants to pay, who are working on the professional development of the teachers


Repairs, renovation, new furniture and new annual resources (books, notebooks, stationery, equipment, manipulatives and so on) to pay for.



For those who might be familiar with how schools work, summer brings no pina coladas for the team. It is one of the most work-intensive times of the year as we have to prepare for an entire academic year. I know for a fact that my school will close down if I do not charge the summer fee because my profit comes nowhere near to covering the stated costs. And I am sure, this narrative holds true for most private schools.

Here are some further stats that might help you understand the gravity of the situation better:

Under article 25-A, the Constitution states that it is the states' responsibility to provide education. Yet, 40% of children in Pakistan are getting the education in 1,73,110 private schools across Pakistan.

In 1994, there were 393 government schools in Islamabad. Twenty-five years later, there are 422. However, the population of the city has increased much more during that time: 500,000 to 2,200,000.

There are already 22 million out-of-school children in Pakistan. This decision can potentially lead to the shutdown of 2,000 schools in Islamabad, adding 3,50,000 more children to the above-stated figure. Furthermore, 38,000 teachers may also lose their jobs.

It is justified to raise your voice against exploitation. If you want to fight, fight for quality education with respect to the amount you are paying (and not the quality that is being provided in the all-so-glamorous schools of Finland). Fight for teachers' salaries. Every teacher should be able to earn what he or she would be earning abroad, after keeping the purchasing power parity into account, given the fee that you are paying and the student-teacher ratio the school is maintaining. Fight for teacher training, research and facilities, with respect to what you are paying. Fight to establish universities that give degrees in education. Rather than asking schools not to charge a certain fee, ask them to give you a value based on what you are paying. Most of all, fight for quality government schools.

Let's not burn the private schools down. Let's be grateful for the service that they are providing. Because if they don't, who will?