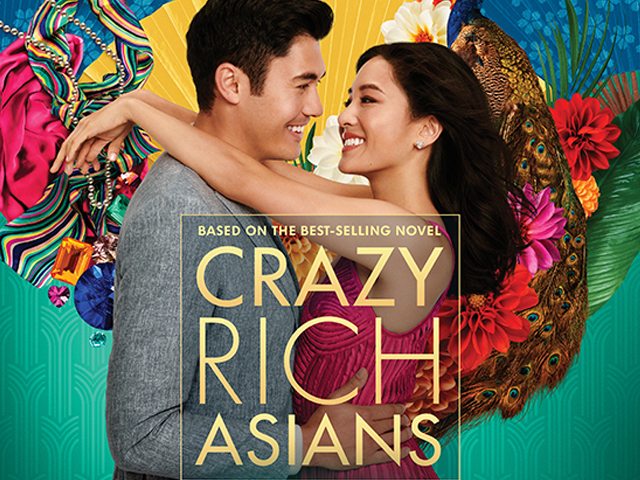 ---
Crazy Rich Asians may not be Oscar-worthy but it definitely is as captivating as it is entertaining
It takes comic jabs at the super rich, whose lives revolve around mammoth shopping sprees and mega dinner parties.
---
As I walked into a packed theatre in Birmingham, Michigan one evening, I was somewhat excited to see so many local 'white Americans' and 'African Americans' gathered to watch a film about 'Asian Americans' aka 'immigrants'. Our stories do matter, after all. Technically, I am also an Asian American; South Asian American to be specific.

The movie Crazy Rich Asians is specified as a comedy, but according to my humble opinion, it is more of a comedic satire. A bold sarcasm on the handful of 'brand conscious', 'wealth managed' crazy rich people who are found not only in Singapore (where the story is based) but in every country around the world.


Crazy Rich Asians is a modern day Cinderella story where a poor girl falls in love with a rich guy. Rachel Chu (Constance Wu), a smart and intelligent economics professor at NYU, falls in love with Nick Young (Henry Golding) and they start dating. She accompanies Nick to Singapore for his best friend's wedding and it is there that she realises that Nick is the heir to a mighty business empire. However, Rachel's welcome in Singapore isn't quite warm and loving. After facing many sarcastic comments and jealousy woven frameworks, we get to see whether true love really has the power to melt mountains.




The movie takes comic jabs at the super rich, whose lives revolve around mammoth shopping sprees and mega dinner parties. It also talks about how family, wealth and lineage easily overshadow many noble traits of a person. It is not just the story of China or Singapore but it is the tale of the whole of Asia – India, Pakistan, UAE and many other countries included. Where filthy rich people have carved their tiny, oh-so-beautiful and oh-so-perfect enclaves, away from the majority of the ordinary public.




Among the few heartwarming moments of the movie was when the family gets together to make dumplings. This reminded me of similar situations back home when people come together because of food. It's true, us Asians do take pride in talking about cooking and eating our savoury cuisines.

Crazy Rich Asians is the first modern story with an all-Asian cast and an Asian-American lead in 25 years; the last, The Joy Luck Club, was in 1993. In addition to Wu and Golding, the film also stars Gemma Chan, Awkwafina, Nico Santos, Lisa Lu, Ken Jeong and Michelle Yeoh in lead roles. They have all done an amazing job, but special accolades to Wu as Rachel, who has put forth an impressive act and shines throughout the movie.

Given their stunning performances, it is surprising that both Golding and Wu are new to Hollywood. It's a thoughtful romantic film in a sea of action and superhero films nowadays. And most of all, it makes use of a multilingual script that flips seamlessly from English to Cantonese to Mandarin and back again.




For so many years, Hollywood producers and studio executives have suggested that movies that revolve around people of colour just don't drive moviegoers. This particular film, however, defies this narrative completely as the movie was viewed in packed theatres across North America last weekend. It turns out that being white does not preclude someone from loving a story about people who are a bit different than them or relatively newer to their country aka immigrants.




Any child of an immigrant watching this film can draw the parallels between the lead characters' lives and their own. Through this, the movie shows us what is truly important. In the midst of an alienated feeling towards immigrants that gives birth to fear and anger among people, this movie is a sign of bravery and love. People of different race coming together to watch this movie sends a very positive message.

The movie is an adaptation of Kevin Kwan's bestselling novel by the same name and has earned huge box office success, however, some Asian critics have pointed out that it doesn't feel very Singaporean. Singapore has a huge South Asian population, including huge numbers of Indians, Pakistanis and people of Malaysian descent. All of whom are noticeably present all over the country but were noticeably absent from the movie; except for a Sikh guard putting suitcases in the back of the car, who graced the screen for a few seconds. The film appears to only show ethnic, good-looking Chinese people, most of whom speak in English without any sign of an accent.

As the film is garnered more towards American audiences and second-generation immigrants, it unfolds a dazzling image of Singaporean lifestyle. The slums, the poverty surrounding the mega hotels and private beaches are not incorporated in the story. I guess it was because the production team would be a bit sceptical that the audience would only want to watch the good and the fancy.




Even though the directors painted a little too auspicious of a picture, nevertheless I thoroughly enjoyed the movie. It's a fun-filled story with a new group of actors and set along a newfangled backdrop along the Pacific Ocean, resulting in a highly entertaining movie. Crazy Rich Asians may not be worthy of an Academy Award nomination for Best Picture like Slumdog Millionaire or The Bridge on River Kwai, yet it captivated the world audience with some good laughs!


All photos: IMDb