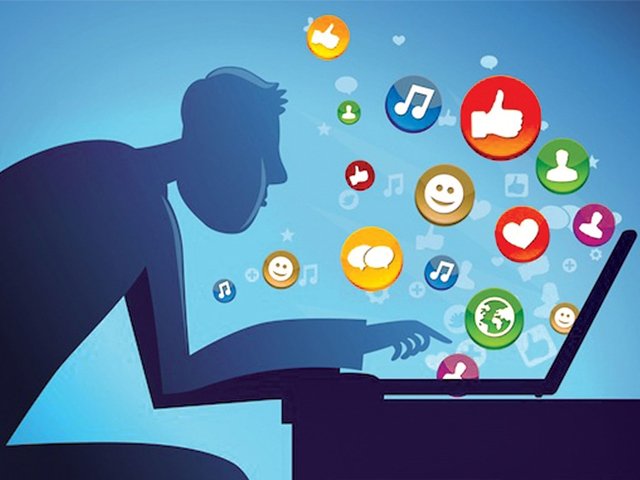 ---
"It's raining": Do Pakistanis know how to use Facebook?
If you're annoyed about people sharing on Facebook, you should deactivate your profile and live in the "real" world.
---
"You know what? You can travel to any place in the world without updating your status on Facebook!"

"What's the point of sharing your pictures on social media? What do you want to prove?"

"What are people supposed to do with what you are having for dinner at XYZ restaurant?"

To start off, I am not a big fan of changing my display picture every week or putting my selfies on social media; it doesn't interest me. I never share where, what and with whom I am eating. I have never posted about how many pounds I lost or gained in the last month. Regardless of my personal preference, I do not pass the aforementioned comments when someone posts their personal stuff on social media, more importantly Facebook. I don't do this because I understand the purpose of Facebook – a concept lost on many!

Social networking breeds virtual friends. These are people you may not be able to meet in real life but they are still your friends, people you connect with. They can't share what you are eating for lunch but they can look at your pictures and comment about what they think. They may not be able to come to your graduation party but they can cherish and live your achievement. They cannot see you on Eid but they can see your pictures and celebrate it with you.


When are people gon learn that twitter is not a platform to announce your personal good news, that is what Facebook is for, you'll be shot down. Baby scans, kids first day at school, your nans birthday or your new relationship status, Twitter isn't your happy place. pic.twitter.com/YmBLWTau5H

— •.• (@caffyhank) September 4, 2018


When you think about it, social media is not very different from real life. Did everyone you invite turn up for your wedding ceremony? It's most likely that they didn't or couldn't. Those who are close to you may also have called you and apologised and asked to see the wedding album later on. This is a very common occurrence and no one bats an eye. In fact, someone who missed an occasion but still asks to see the pictures from the event is considered close to you. You don't mind sharing the pictures either, in fact most of the time you do it happily. You even ask for their comments on certain pictures, searching for appreciation. After all, wanting compliments is only a human trait.

The question then is, why does the world turn upside down when the same is done on social media? Instead of showing everyone your wedding album individually, it is very convenient to upload it on social media so that everyone you know can see it. In fact, if you want to share it with a closed group and not everyone, you can change your settings and do so. Hence, I do not understand people's aversion to others sharing their life online. For example, if someone is flying for the first time and is excited, what is the problem with him/her sharing the experience with their virtual friends on social media? Those who do not feel that sharing this information is worth it aren't required to follow suit, and that includes me.

Some people even assume that the person is just showing off. Why can we not give others the benefit of the doubt? Maybe the person had a lot of friends from school life and has lost contact with them. Through social media, they can find and reconnect with old friends. In a country like Pakistan, where a considerable portion of workforce is living abroad, it is possible that a lot of people you knew also live far away now; the best way to share your life is through social media. Through your posts, you could meet an old friend in the same vicinity as you. Hence, your social media presence is not only connecting you to new virtual friends, it is rekindling old friendships.

There are also those who complain when people post statuses about something they already know.

Post 1: "Ronaldo!! You beauty. What a magical goal!"

Response: We have a TV at home and know what is happening. Why would you post this?

Post 2: "It's raining! What a lovely weather."

Response: We live in the same city and can see that it is raining. You don't need to post this.

Another response: You know, you can enjoy rain without posting a status.

In real life, if it's raining in Karachi and I am with my family or friends, I will definitely say something about the weather, despite the fact that they are with me and can experience the same. My brother is not going to say,

"Yeah I am with you bro, I see it as well. You don't need to tell me."

If he does say something like this, it will be rude to say the least. It is okay for a person to share details about their surroundings, or express themselves; you may not understand the need but everyone experiences things differently.

I feel that social media (particularly Facebook) in Pakistan is not used for the purpose it is designed for. From your aunt to your college friend, people either use it to share memes, join different groups or play Candy Crush. They steer clear of managing their profile and instead indulge in all of these extra activities on Facebook. Some people here also use it to spread false information and many, unfortunately, use it as a one-way online dating platform. However, interestingly, those who try to use it the way it is supposed to be used are mocked and sometimes maligned too.

Many people sight privacy issues as the reason why they are hesitant to fully live the social media life. It is normal to be concerned about privacy issues but social media platforms work tirelessly to provide you with a safe space. Of course there are cases where they fail but as a user, we also have to make sure our profiles are protected. Most of the time people keep default settings on their social media profiles which leads to cases where your private posts can be seen by people outside your virtual friends' circle. And when that happens, social media is blamed even though the user himself has no clue about how to control their content properly. No doubt, there have been multiple issues with privacy settings from development point of view, but the idea from the word go is to provide more control to the user.

If you're still annoyed about people sharing things on Facebook, maybe you should deactivate your profile and live in the "real" world. Social media is clearly not your platform. Developers do all the hard work to chain people together, enabling them to share more of their life with their virtual friends. In between this, you jump in and want others to stop sharing? You are definitely at the wrong place!


Imagine finding your soulmate only to realize they post all of their super personal life updates on their Facebook statuses.

— Gigi Engle (@GigiEngle) September 3, 2018


So next time a notification pops up that your friend is flying to Islamabad, just be normal. He wants you to wish him a safe journey, and is not showing off. Even if he is, be optimistic and let it go. Social media exists so that people can share their personal lives. The quicker you understand this, the better.
Facebook Conversations
COMMENTS (2)
Comments are moderated and generally will be posted if they are on-topic and not abusive.
For more information, please see our Comments FAQ