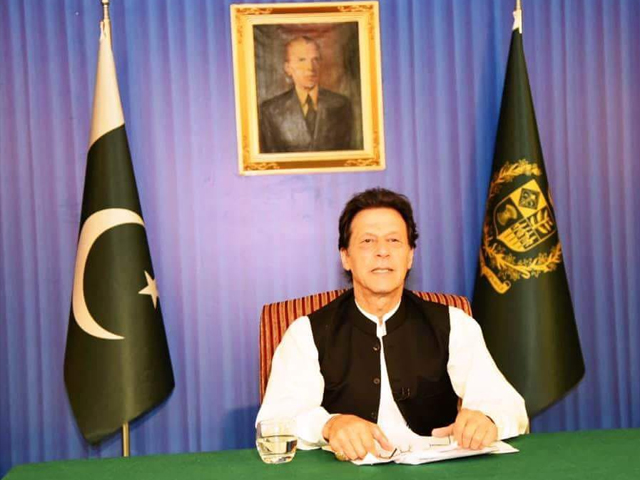 ---
The diaspora of Naya Pakistan: The time is ripe for us to pay back to the motherland what is due
"I am what I am today because of the opportunities my country provided for me. It is time we pitch in."
---
Some years ago, summer of 2012 to be precise, I hosted an informal morning tea for Maleeha Lodhi, and while discussing the upcoming 2013 elections, she said to me,
"It is not the Pakistan that this diaspora may have left 20 years ago, it's a different Pakistan. The public is more desperate, the crises are much more and the conscious awareness that every vote counts is on everyone's mind."

Hence, to me, her statement implied that Imran Khan was going to be elected prime minister in the 2013 elections, but history tells us a different tale. Imran fell, and with him fell all our hopes.

But come this July 26, 2018, our fervour is back in business. Our zeal is all the more profound after listening to Prime Minister Imran's first address to the nation, and the nation at large, as referred to the Pakistani diaspora.


He talked to us directly, and we understood everything he said.

To the sceptics who have an issue with Imran, why don't you listen to his speech? He's talking like you and I do while sitting in our drawing rooms, he's talking like an average Pakistani. Tell me one thing he said wrong, and I'll tell you a thousand things he said right!

I've heard him speak on several occasions, at intimate gatherings, addressing a small number of people in a drawing room, and what struck me most about his speech on TV was the sincerity and authenticity he displayed. It is exactly how he is in person. He appears idealistic, passionate, almost unreal, and on giving it a closer thought, I realised it is because he talks like a common man, something entirely alien to us when coming from a politician. He talks how you and I talk when we exasperatedly exclaim,

"You know what, if I was ever elected, this is how I would solve, or begin solving the issues that are facing Pakistan."

And that is a powerful feeling. It's a feeling of trust. It's a feeling of relatability. It's a feeling an average Pakistani understands and admires, because it's their feeling too.

He mentioned all the right issues plaguing our country like child sexual abuse, corruption, maternal health and even the stunted growth of children. Listening to him making all these promises, I thought to myself, if he's able to deliver even one-fourth or one-third of what he's saying, which is no less than delivering unicorns and rainbows given the time frame, it will be beyond anything I've ever seen in my lifetime.

Imran referred to all the ills ailing my beautiful country, and said he'll try to find a fix; he acknowledged all the menaces, and asked for my help. I understood him, as did all the others I spoke to before writing this blog.

Here is what the diaspora had to say:

Salman Akhtar, Cardiologist, Las Vegas, Nevada:

"I hope that we can contribute monetarily, or as direct investment in the new Pakistan. The new government should come up with a sensible plan with enough transparency that makes all the expatriates comfortable that the effort is not to fill the coffers of some professional politician, or his cronies.

With a humanitarian at the helm of the nation, the time is ripe for all of us to pay back to the motherland what is due. I am what I am today because of all the opportunities that my country provided for me, and the free professional education that was available. Seeing the nation crippled by debt, and the looting by the two major parties over the last few decades, it's been heart-wrenching. It is time we pitch in."

Muneezah Hamid, Teacher, Houston:

"We, the diaspora, support Imran not because he'll fix everything in a jiffy, but because he's the best choice at this moment in time.

Lyari not voting for Pakistan Peoples Party (PPP), Karachi getting rid of Muttahida Qaumi Movement (MQM), and the emerging Jibran Nasir force are very positive changes!

No popular leader is faultless; neither was Barack Obama just to give an example from recent history. Yet, a change (in spite of his faults) is better than the old corrupt order. Keep an open mind, support good effort and do our own civic duties, wherever we may live, is what is needed at this time. What surprises me is that there was no clamour for accountability for precious governments. Imran is not a saint, nor has he come from a different world, but he promises something no one has ever promised before.

I have lived more than half my life in Pakistan. My two daughters were born in the US and we moved back to Pakistan to raise them there until they were in their late teens. We suffered through many governments and the injustices that came with each. We do not condone the blasphemy law, nor violence against minorities. Hold Imran's feet to fire, by all means. We too hope for a better Pakistan, but all we are saying is that he seemed like the best option at this time. As for Aamir Liaquat Hussain, well, he is a despicable character, but maybe a necessary evil at this time to win over the MQM vote. Are you not rejoicing the loosening hold of MQM in Karachi? I certainly am. Let's be fair and objective in our analysis. Imran's speech was wonderful; I'm a big supporter for now."

Ayesha Jamil, Banker, London:

‪"I am very surprised that I am writing this next line. I was impressed and moved by Imran's speech to the nation after he was sworn in as the prime minister. There it is.

I have admired Imran for his cricketing career and his philanthropy, but his politics has often confused me. However, that speech and the ideas he encapsulated, it was the first time I heard a politician speak about issues that have concerned me about Pakistan. The way he spoke was open, frank, and he used Urdu I understood. There was no air of superiority.

As someone who has spent most of her life abroad, listening to the PTV news in my childhood was like listening to another language, which felt as if we were being pushed away. Hence, listening to the Urdu spoken by Imran was in itself a breath of fresh air.

After having supported and believed Pakistani politicians in my 20s, in my 40s I have to admit I lost hope. However, Imran's speech gave me hope again, and I truly pray that he can succeed and create a Pakistan that gives its citizens among other things, clean water, healthcare, education, equality, sanitation, religious freedom and prosperity. I do hope that right-wing elements in the party don't hold too much sway over him, and that we can create what this country called Pakistan was truly meant to be."

Amna Mumtaz, Lawyer, Singapore:

"We have to be realistic, Imran and his party are far from perfect, they are all from here and from us after all, but one cannot challenge the guts he has displayed. We are so down and out that Imran looks like a true hero just for saying the things he has said. No one has even done that, lest they be held to it! Let's hold him and all after him to their words. The onus is on us as much as them."

To all the cynics who are unwilling to give him a chance, or compare him to others in the past, it's interesting to me how we admire heroes in history books, movies and fiction. Heroes, who are gutsy and warrior-like, but have personal failings. Heroes who shake up the corrupt status quo, but are fighting their own demons too. Heroes who are Robin Hood, they take from the corrupt and give to the weak in society. Heroes who are compassionate, and ready to face the battlefield, and the Goliath within the country, and without! We admire the kings, Akbar, Babar and Saladin. Gladiators who are ready to fight, brave-hearts who are patriots yet flawed humans. If we are ready to admire the characters we have only read about, why are we held back from supporting our real life hero, Imran.

Give him a chance; we have nothing to lose and everything to gain. There are no losers this time. We are all on the same team!

Pakistan Zindabad!
Facebook Conversations
COMMENTS (11)
Comments are moderated and generally will be posted if they are on-topic and not abusive.
For more information, please see our Comments FAQ