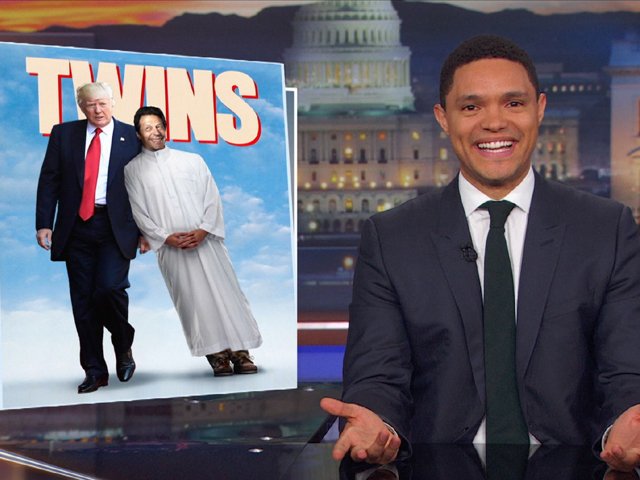 ---
Trevor Noah's comparison of Imran Khan and Donald Trump was mind-blowingly shallow
Because clearly, the lines of comparison here are so blurred that absolutely anything goes.
---
Trevor Noah is a funny man.

In 2015, he replaced Jon Stewart as the host of The Daily Show – a highly reputable satirical show on politics. Previously, Noah had been very successful as a stand-up comedian, and had reportedly been Stewart's first choice as the leading host of the show.

But when it comes to Pakistan, the two men could not be further apart.

Stewart's Daily Show was known for its wide array of well-researched pieces, and even his comedic bits gave the impression that he knew what he was talking about. He was never all jokes and no context. When the President of Pakistan at the time, Pervez Musharraf, went on the Daily Show, one could tell Stewart had given the time to research the man himself, his policies, as well the reason for his popularity around the region.

But we see something completely different when it comes to his successor.

Yesterday, Noah's Daily Show did a piece on Imran Khan. To say it was an uneducated, lazy piece of political news would be an understatement. As big of a writing force and creative team Noah has, it felt like the piece was done only by looking up Imran on Wikipedia and cherry-picking his life to somehow match Donald Trump's.



Noah tried to compare a philanthropic man – who has opened two cancer hospitals and one university in an impoverished country, and is renowned in the world for his cricketing endeavours – to a man who inherited upwards of $400 million from his father and started a reality show, and who also has a well-documented history of harassing women.

https://twitter.com/staplarrr/status/1029780497512255489

The piece begins with Noah pointing out how Trump's political style has been imported by other parts of the world, and lo and behold, Pakistan somehow tops the list! Thus begins the horrid comparison of two people who could not be more unlike, which I shall try my best to break down.

Imran's gold-draped room with the large bed and the feathery lamps from 1984 does not compare to the three-storied gold plated Athenian style penthouse suite overlooking the Manhattan skyline, which has been valued at $100 million. After all, we're still talking about the man who refuses to live in the Prime Minister House because it costs the federal government $8 million a year, right?


Imran Khan aka Brown Trump's Luxurious Lifestyle@Trevornoah@TheDailyShow#TrevorNoah pic.twitter.com/I3wQuutPPO

— 🔞 (@kaxev) August 15, 2018


https://twitter.com/nbinasim/status/1029767669959016449

Next, the side by side comparison of Imran shooting a Pepsi ad versus Trump shooting a Pizza ad was just bizarre. Famous people have been known to sell popular products since capitalism became a reality of our time. The narrative that simply because this event happened, it somehow equates the two, is quite lazy. I was waiting for Noah to point out how both Imran and Trump drink water, breathe, perspire and even exist at the same time! Because clearly, the lines of comparison here are so blurred that absolutely anything goes.

https://twitter.com/jhaque_/status/1029951177138552837


I waited the entire clip to laugh, went on YouTube to watch the entire clip but still not funny @Trevornoah As your fan I'm disappointed that everything about Imran Khan was out of context, makes me wonder how much research is done by the @TheDailyShow

— Hajira Khan (@hajirakhan) August 15, 2018


As the piece goes on, the non-contextualised cherry-picked video clips regarding Imran are played on full throttle. From his lack of experience to his populist approach to his marriages (for which they did not even take a picture of Bushra Maneka, just some random Google image of a veiled woman), Noah and his team did their best to somehow make Imran another shadow of Trump.

And then Noah made the following joke:

"Trump thinks Islam is bad, Khan lives in Islamabad!"

This joke was so awful, my soul was cringing beneath my skin. Surely you can do better, Noah!

The saddening lengths they went to became obvious when Reham Khan – who is notorious for defaming and shaming Imran – was used as "evidence" for sexual harassment allegations against Imran.


This is just poor research and completely out of context. Expected better from @Trevornoah

— Zain Shahzad (@zainshahzad3) August 15, 2018


Another montage of Imran and Trump was played, this time trying to show how similar their politics is. From Trump's 'rowdy and violent campaign rallies' to Imran's 'rude and disruptive followers', to people inexcusably waiting for their leaders to show up at a political rally, everything had become comparable. I repeat, the extent to which Noah's team stooped to somehow compare these two people was mind-blowingly shallow.

By the time the final reel was played of the two sitting side by side saying the same thing – taken completely out of context – I was done with Noah. Imran's answer to an Australian journalist's question on why he chose to come to politics was an altruistic, selfless reply regarding the reality of his life, as opposed to Trump's false sense of entitlement that people love him.


Extremely disappointed with #TrevorNoah for comparing #Trump with #ImranKhan and using out of context videos from 20+ years ago. Once you research him, you'll regret ever doing this comparison. You've lost my respect @Trevornoah#BillionTreeTsunami #SKMCH #NamalUniversity

— Raja Asim Akhtar (@raja_akhtar) August 16, 2018
@Trevornoah buddy. This bit about Imran Khan was shocking. If you want to compare their speeches... maybe get your writers to listen to the entire clip. When IK says 'people love me, I have everything' and then goes on to say 'Im willing to sacrifice it all for the betterment...

— YQ (@_YasserQureshi) August 15, 2018


The next clip shows Trump calling out a fairly stable, fairly well played out two-party democratic system in the US to be corrupt and crooked (mind you, this is the same Trump who is being investigated for collusion with the Russians and has never produced his tax forms), against Imran calling out the status quo in Pakistan. This is a man who had a three-time serving prime minister from said status quo sent to jail after being found guilty for money laundering and declaration of assets. So much for pure and pious, eh Trevor?


He has been a hero to his people as a Cricketer and has used his status to build a State of the Art cancer hospital in Pakistan. His conservative politics also align with the beliefs of the Country. So, in my humble opinion, he is nothing like Trump and brings hope to the region.

— Inderjot Singh (@inderjot09) August 15, 2018


However, what left me in a fit of anger surpasses all of this. When the last clip of Imran was played, one could hear a much energised version of Mein Tou Dekhoonga by Strings playing in the background, to which Trevor commented,

"I'm not gonna lie, it sounds better hearing Trump's phrases with Bollywood music in the background."

Bollywood? Bollywood?


Everyone is talking about how @Trevornoah @TheDailyShow is so right or so wrong about about comparing IK with Trump but I am just FURIOUS he called Pakistani music Bollywood!

— Multani Saint (@MultaniSaint) August 15, 2018
we already know that @Trevornoah's bit on IK was ill-informed, racist and all around whack, but did he really just refer to our beloved Strings as bOLLYWOOD

— r!hab (@rmaaaahm) August 15, 2018


If anything, it was a very sour piece of journalism and I can't help but say, a college student with little to no worldview and minimal international exposure could easily Google search the two people and see the difference. Perhaps if they hired Jeremy McLellan as a correspondent, this whole thing could have been avoided.

The problem not only lies in Noah's depiction of Imran, but the entire portrayal of Imran thus far by western media. It has been abhorrent, and it has been careless. As someone who lives in the West and is very close to Pakistani politics, I can see the nervousness in the media here. It almost seems as if they don't know how to talk about Imran – as if they've never seen a creature like him before.


So, crazy Youthiya invective against the Daily Show aside, I feel like this Trump-Imran analogy is a bit forced - and @trevornoah hardly the first to do it. It's almost like news media, obsessed with Trump, sees everything through his prism, cannot fathom plurality of reality.

— Asad Hashim (@AsadHashim) August 16, 2018


https://twitter.com/jhaque_/status/1029949933934321665

If that is the case, it's not that hard to connect with expats and immigrants from Pakistan who will willingly offer context to the man and the machine that is the Pakistan Tehreek-e-Insaf (PTI) Chairman, so hopefully we can endure less of this offhand journalism and terrible humour for the next five years.

I like Trevor Noah. For the most part, he does a good job at The Daily Show. But this piece just goes to show how much exposure is needed for Pakistan to thrive in an international culture. I have my hopes that Imran, the pseudo Donald Trump, will shine a new light and paint Pakistan in a different shade of green.