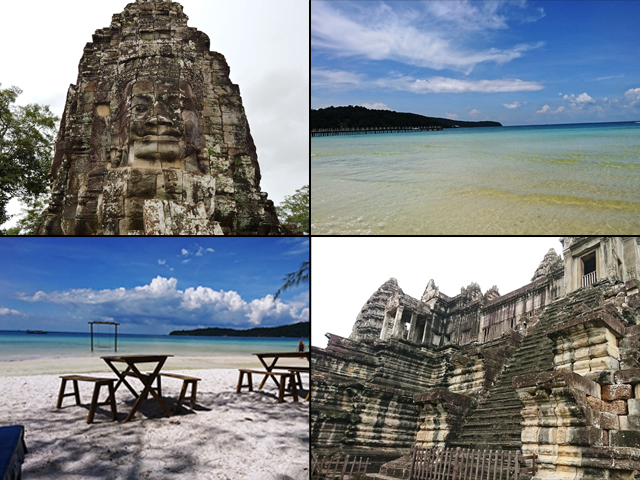 ---
My wanderlust took me to Cambodia, the museum of horrors and mass graves
While it was heartrending to discover the horrific events of Cambodia's past, it ended up being unlike any other place
---
Back in April this year, I felt really low and sort of depressed, as I kept getting a strong urge to visit a new place, somewhere I'd never been before. I made my way to Google and found that Cambodia offers e-visas for Pakistani citizens. Thus, I ended up applying for a visa on a whim sometime in the evening, and found it waiting for me when I checked my inbox in the morning; the whole process taking only seven hours to complete.

My wife and I took a connecting flight, which gave us a six-hour layover in Bangkok. Thankfully the airport in Bangkok is quite good, and you don't get tired of waiting even as the hours pile on. From Bangkok, we took a Thai flight – Thai Smile, a budget airline by Thai Airways – to Phnom Penh, the capital of Cambodia.

As we went to the gate to board our flight, two crew members approached us with smiling faces and courteously asked us for our details. I showed them our hotel bookings, visa, return tickets, as well as the funds we possessed. They took all our documents and returned after 15 minutes, apologising for the inconvenience. Apparently, we had to be enquired due to our nationality, as they had to send our details along to immigration in Cambodia.

After an hour long flight, we arrived at the Phnom Penh airport. When the immigration officer saw our Pakistani passport, he referred us to a senior officer, who took our passports to a room and came out after 10 minutes to stamp them and allow us to enter the country. Sometimes it feels rather embarrassing and offensive to travel with a green passport.

As our total journey had extended over 18 hours, we took a nap as soon as we reached our hotel. By the time we went outside, it was almost evening. Luckily, the Night Market, which is a flea market for tourists, was just a five-minute walk away from our hotel. We saw several garment, souvenir and handicraft shops, along with a great food court where we tried fresh sea food and other local Khmer delicacies.

Cambodia was ruled by the Khmer Empire from the ninth century onwards, comprising of present day Thailand, Laos, Vietnam and Cambodia. In the latter half of the 20th century, Cambodia saw the emergence of the Khmer Rouge, a communist party that became responsible for the Cambodian genocide. We asked around and decided to visit the killing fields and S21 Prison for our first day of sightseeing; places converted into museums to commemorate the horrors of the regime.

As you enter the fields, you can see a building resembling a large stupa, inside which there exist hundreds of skulls, bones, and the clothes of the people killed during the brutal Khmer Rouge regime.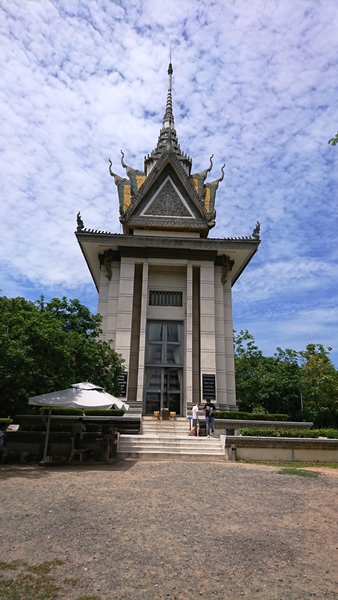 They have even segregated the remains on the basis of gender, age, and the way they were killed. It was really heart-wrenching to see remains of such horrors, as we also saw a place where they used to offload trucks full of prisoners who would then be executed in the most inhumane manner. There was a tree where they hanged a large loudspeaker to play loud music and speeches, which they used to suppress the screaming of the people being killed.




On the right side of stupa, they have fenced an area where mass graves were later discovered, and a pond where the regime used to throw the bodies after killing them. We stayed at the fields for three hours, and only saw silent visitors with tears in their eyes.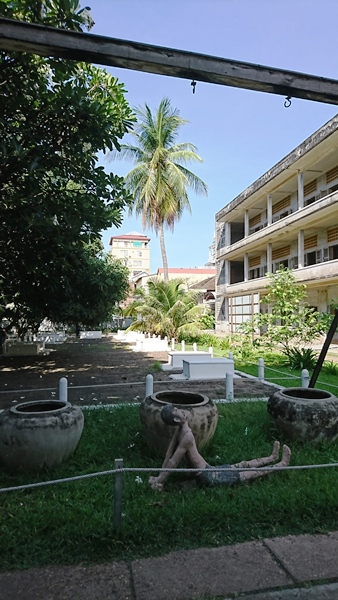 After the fields, we went to the S21 prison, which used to be a school but was transformed by the Khmer Rouge into a prison, and has now been turned into a museum. We saw tiny cells where prisoners were chained and torture rooms which were once class rooms. The modus operandi of the Khmer Rouge was to take photographs of dying prisoners after severely torturing them in order to spread fear amongst the people. There exist several accounts, but we were informed by our tour guide that almost 3 million innocent people lost their lives.




For the next day, we were advised to visit a huge complex in which reside the Royal Palace and the Silver Pagoda. The Royal Palace, of course, is the residence of the King. We saw large green lawns, a few stupas of previous kings, a monastery, museums, as well as a new building being erected facing the riverside park so the king can address his people.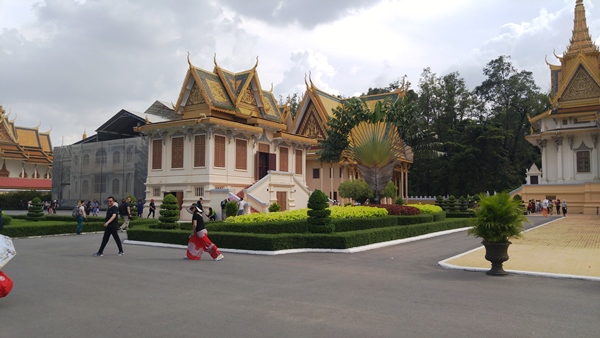 A popular building inside the complex is the Silver Pagoda, and as the name suggests, the entire floor of the temple is made of pure silver. Our guide informed us that approximately 5,000 bricks of silver were used, with each weighing approximately one kilogram. There is a statue of Buddha, which is made of pure gold and decorated with a 25 karat diamond on his forehead. We also saw lotus flowers everywhere, in large vases and in ponds, as they are considered sacred in Buddhism.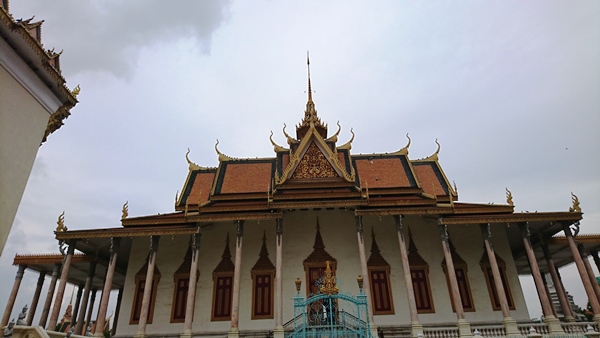 The next day we took a tour of Angkor Wat, a huge complex surrounded by manmade lakes. Once a home for crocodiles, legend dictates these lakes were made to prevent foreign aggression.




Angkor Wat is so important to Khmer traditions that they have made it a symbol of Cambodia, also displaying it on its national flag. There are five towers of the main temple, and it took us around three to four hours to visit them all. The walls are beautifully engraved with Apsara, Hindu Gods, Buddhist scriptures, Sanskrit scriptures, lotus flowers and so on. Alarmingly, many statues were missing their heads, and we were told they were stolen by smugglers and thieves.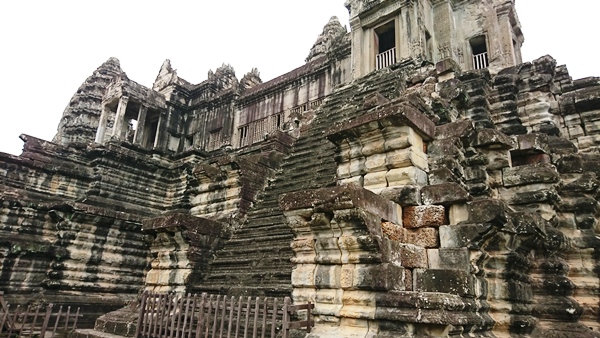 Later on, we visited the Bayon Temple, which is popular for its architecture and gigantic smiling faces carved on towers. There are about 212 smiling faces on 53 towers, with four on each tower. Standing at the entrance feels like you're on the movie set of Indiana Jones.




Our final destination was Ta Prohm, which is undoubtedly a wonderful, picturesque site. It was built as a monastery in the 12th century, but was abandoned after the fall of Khmer Empire, after which nature took its course. Huge roots belonging to large trees have covered almost all the buildings, destroying some of them. This temple is also famous for shooting purposes as Hollywood blockbuster Tomb Raider was shot here.




We also went to Koh Rong Samleom, a beautiful yet peaceful island with little to no indigenous people; the only visible population is tourists and the staff of resorts. This island was like visiting heaven on earth! The amalgamation of white sands, clean beaches, and bars near shores is amazing, while sipping on chilled drinks in such an ambiance is a feeling that cannot be explained in words.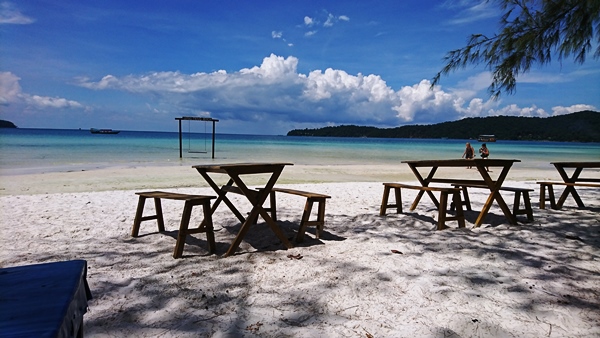 Our 15 days visiting a new land seemingly passed by in the blink of an eye. While it made us sad to discover the horrific events lying in Cambodia's past, we were lucky enough to see some awe-inspiring places and meet some really friendly people. Most importantly, the trip ended up scratching my itch to see a new place, as Cambodia ended up being unlike any other place I have travelled to, with such history. With enough memories to keep me going for a while, I will surely visit it again!

All photos: Muhammad Ali Panhwar