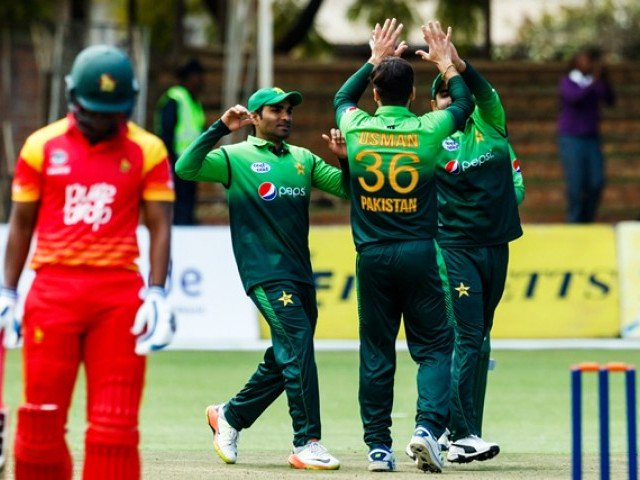 ---
#PakvsZim: When your haters are silent, you know you've made it!
Pakistan, who seemed light years behind everyone else, seem to have overtaken them as flagbearers of attacking cricket
---
Pakistan travelled to Bulawayo as the only ranked ODI team to not to have won an ODI this year, having lost all five they had played against New Zealand. Despite the slump in form, Pakistan were touted as overwhelming favourites to not only win but obliterate an inexperienced and depleted Zimbabwean unit.

Having already missed out on qualifying for the World Cup by the narrowest of margins, Zimbabwe were already batting at all fronts before the first ball of the series was bowled. With Graeme Cremer, Brendan Taylor and Sikandar Raza refusing to take part in the ODI series, Zimbabwe were forced to call up three uncapped players: Liam Roche, Tinashe Kamunhukamwe and Ryan Murray. To worsen the situation, Zimbabwe lost both Kyle Jarvis and Solomon Mire – their best batsman in the T20I Tri-Series – to injury. With no World Cup to look forward to, Zimbabwe looked dispirited and often times uninterested, having no way to counter Pakistan's dominance.

On the other hand, Pakistan looked every bit the champion side they are considered to be, outclassing Zimbabwe in all three facets of the game.

Pakistan may have found a solution to their long-standing opening woes, with the pairing of Imamul Haq and Fakhar Zaman looking rock solid. Courtesy of this dependable duo, Pakistan recorded the highest opening partnership, 304 runs, in ODI history. Averaging 101.42 after seven innings together, Haq and Zaman seem to have developed a good understanding of each other's strengths and weaknesses.


Brilliant inns from @FakharZamanLive 🏏🇵🇰Congrats bro for becoming the first Pakistani player to score 200 runs in an ODI game!Day of records for Pakistan! Well done @ImamUlHaq12 another ton boy! keep it up @TheRealPCB #PAKvZIM #Cricket #Pakistan

— Asad Shafiq (@asadshafiq1986) July 20, 2018


Ultimately, Haq's mental strength and ability to hold his end provides the perfect complement to Zaman's energy and fearlessness. While there are question marks over Haq's ability to shift gears as he approaches the second half of his innings, it would be safe to assume he has shown enough promise to cement his place in the side.




As for Zaman, he broke Saeed Anwar's 21-year-old record of 194 for the highest individual score in an innings, to become Pakistan's first double centurion. Averaging a mammoth 430 in the series, Zaman has proven himself to be the best batsman for Pakistan in its limited-overs setup.




https://twitter.com/jihan_facts/status/1020416301515276289

Alongside Zaman, Asif Ali has burst onto the scene to become Pakistan's poster boy for its new, fearless brand of cricket. His ability to hit boundaries at will is second to none, and his series strike rate of 204 serves as a testament to this claim. All of a sudden, Pakistan – who seemed light years behind everyone else – seem to have not only caught up with the others, but have arguably overtaken them as the flag bearers of modern, attacking cricket.


I have been super impressed with Asif Ali over the last few weeks. Proper Limited overs player who hardly wastes balls and has range of strokes. He will be picked up across T20 leagues over the next couple of years. #PAKvZIM

— Gaurav Sundararaman (@gaurav_sundar) July 20, 2018


Pakistan's batting was not the only department that witnessed the rise of new heroes. Faheem Ashraf recorded career-best bowling figures of 5/22 in the third ODI to prove he is more than good enough as Pakistan's third pace-bowling option. When facing a pace unit boasting proven match winners, it is easy to mistake Ashraf as a lesser bowler, but his sharp pace and pinpoint length allows him to be used as an attacking option rather than as a defensive one.

Few nations possess the mindboggling bowling depth that Pakistan does, and so they could afford to rest both Hasan Ali and Mohammad Amir to give Usman Shinwari an extended run and Junaid Khan a few games to get back into his groove. With nine wickets in four games, Shinwari is currently the highest wicket-taker of this series, and has proven himself to be the leader of Pakistan's pace attack. Quickest of all our fast bowlers, Shinwari gets a natural outward swing against the right-handers and, most importantly, consistently provides Pakistan with early breakthroughs, with seven of his nine wickets coming during the first powerplay.




Junaid, who could arguably walk into most international bowling lineups, has been restricted to a squad rotation role; such is the abundance of talent Pakistan have at their disposal. When he did get his opportunity, Junaid proved himself again and bowled an inspiring spell of 2/7 in the third ODI to restrict Zimbabwe to an astonishingly low total of 67.


Everyone is so busy with Fakhar that no one noticed that this guy @JunaidkhanREAL completed 100 ODI wickets and become the 4th fastest Pakistani to do so 👏👏
Congratulations @JunaidkhanREAL brother.. 🇵🇰🇵🇰🇵🇰
68 Matches 100 Wickets !#PAKvZIM @TheRealPCB pic.twitter.com/HUTzd4Tu34

— Muhammad Anas (@m_anas1819) July 21, 2018


Following India's twin leg-spin success story, Pakistan experimented with Yasir Shah and Shadab Khan together in the same lineup. Yasir has been hailed as a Test specialist for the longest time, but his trade in limited-overs cricket is largely untested. Although both are essentially right arm leg-break bowlers, Shadab bowls flatter and quicker, while Shah's attack consists of giving the ball more flight in an attempt to invite the batsmen forward. While Shah's performance in the two games he has played does not merit a guaranteed starting place, the experiment is unlikely to be foiled this early. Thus, expect him to get more games leading up to the World Cup.


Pakistan have just broken a 12 year record for the best opening Stand in ODIs going past the 286 set by Jaysuriya and Tharanga in 2006 https://t.co/2iT0gcle7C #PAKvZIM

— ESPNcricinfo stats (@ESPNcric_stats) July 20, 2018


As of this writing, Pakistan have comprehensively beaten Zimbabwe in all four matches, and the result for the fifth game is unlikely to be any different. While arguments can be made over the quality and strength of the opposition, Pakistan did make a strong case by dominating Zimbabwe just the way – maybe even better – than they were expected to.

With tougher assignments against Australia and New Zealand coming up and their sights set on the World Cup, Pakistan's young squad will take great confidence from this series win and feel right on course to achieving their end goal – adding a second World Cup to their cabinet – and never have they been better placed to do so.