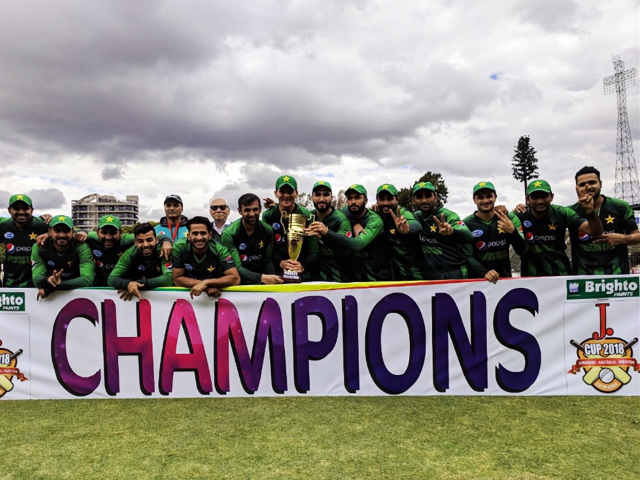 ---
If anything is coming home, it's Pakistan with 2 trophies!
This victory stated loud and clear that being the number one side in the world is no mere fluke for Pakistan.
---
As far as the T20 format is concerned, Pakistan cricket has been on a roll since September 7, 2016, under Sarfraz Ahmed's leadership. After a disastrous T20 World Cup in 2016, when Shahid Afridi and his men failed miserably and couldn't qualify for the next round, Pakistan were under a tremendous leadership crisis.

Enters Sarfraz. He was handed the captaincy and his first Test was against England, where Pakistan was coming in with a 4-1 defeat in the ODI series. However, we witnessed a complete turnaround as Pakistan comprehensively beat the pioneers of cricket with a nine-wicket triumph.


Since then, records just kept coming in for the green shirts in the shortest format of the game. Retaining its number one ranking is not something expected from Pakistan cricket, which is why the win at the Harare Sports Club was something extraordinary and refreshing to witness, since fans were used to disappointment more often than not.


Number 1 Ranking is retained, 9th consecutive T20I series win for Pakistan. 🤜🤜🤜🤜🤜🤜

— Najam Sethi (@najamsethi) July 8, 2018


Bye-bye mediocrity!

Pakistan started the tournament with the experienced Mohammad Hafeez and dynamic Fakhar Zaman working as a pair. After two games, 37-year-old Hafeez failed miserably with the bat and was replaced by the southpaw from Sialkot, Haris Sohail. This was once again an unfruitful change for Pakistan, as the left-hander also failed to make an impact at a position alien to him.




Then, in the all-important final, the management decided to bring in 22-year-old Sahibzada Farhan. Although his debut was a failure – he became the first man in T20 history to be dismissed via stump on the very first ball he faced – it proved that more young blood should be entrusted with high pressure situations, and that players would have to ensure they bring their full potential to the ground.

Pakistan can chase the impossible!

As both debutant Farhan and Hussain Talat were dismissed for naught while the scorecard said 2-2, the show belonged to the Aussies till the end of  the power play. Losing three wickets, including that of the skipper, while chasing our record total – the previous best was 178 against Bangladesh in 2012 – victory seemed next to impossible.

Then Zaman's aggression, Shoaib Malik's cool-headedness, and Asif Ali's finishing touches made an impossible chase a possible and impeccable one.




This victory not only gave confidence to the team, but stamped authority on the fact that our side can win from any situation. It also stated loud and clear that being the number one side in the world is no mere fluke for Pakistan.

Bright prospects for the future!

The biggest satisfaction from this tri-series was the emergence of Shaheen Afridi. After the thrashing defeat from Australia in the first game, pressure was on as critics were all over the men in green and fingers were raised to question the abilities of this team.

This led to the brave yet risky decision to drop Hasan Ali and bring in Shaheen, which proved to be a master stroke. The teenager from FATA not only took three wickets, but he nullified the Finch factor very early. His fiery pace and deceptive length proved to be the reason behind the quality of his performance.


D Arcy Short c Sahibzada Farhan b Shaheen Afridi 76(53). Australia: 148/4 (16.2 ov) Live Updates: https://t.co/55SosVnksZ #PAKvAUS #TriSeries pic.twitter.com/5kvVCdHgFK

— Pakistan Cricket (@TheRealPCB) July 8, 2018


With average performances before the final, Shadab Khan was under pressure to deliver, which he did as he proved to be a player with grit. The 19-year-old consistently deceived D'Arcy Short with his length and variations, and ended his spell by taking the crucial wickets of Finch and the hard-hitting Glenn Maxwell. Of course, we can't forget his unreal grab which earned him praise from fans and commentators alike.


Ridiculous catch from Shadab 😱#PAKvAUS 🎥: @FoxCricket pic.twitter.com/JoK1oeItl7

— Josh Schönafinger (@joshschon) July 8, 2018


Asif straight away paid off the trust placed on him by the management, for his performance was superb in almost every game. His ability to clear the boundary with ease is somehow settling the debate of who to fill in as number six.

All in all, the youngsters playing for this side are learning the ropes and have started to deliver wherever they are needed.


Aap sub ki duaoon aur support ka shukriya. Pakistan ek baar phir Champions. #PakistanZindabad pic.twitter.com/QPZAV5mHTz

— Asif Ali (@AasifAli2018) July 8, 2018


Fantastic Fakhar!

With this series, Zaman has taken the longest stride of his career. He was ranked 46 before the start of this series, but has now reached number two in the men's T20 rankings.




Winning both the Man of the Final and Man of the Series, Zaman has once again earned his spotlight in the media. After his smashing 100 in the Champions Trophy last year, he proved his mettle yet again and has established himself as a big player. It wasn't only his big hits, but also the creation of strokes and his awareness to take the game to the finishing line. Undoubtedly, it would have been impossible to clinch this trophy without his herculean effort at the helm.

Sarfraz remains the cornerstone of the team

It seemed like a casual run between the wickets during the final, when the skipper was set to play a match-winning round. However, two wickets down and chasing a mammoth score of 184, Sarfraz displayed his positive intent and took the pressure off Zaman. His 28 from 19 balls gave Pakistan hope that the record total could be achieved.

Sarfraz's performance throughout the tournament was exemplary. His consistency as number four brought stability to the team, and he came out not only as a victorious skipper but also as the glue holding the number one side together.




Thus, another long-cherished record was achieved by Sarfraz's 11 by winning this tri-series, and that too against Australia. This was Pakistan's first win in the final of any tournament against Australia since 1990; this stat alone speaks volumes of the magnitude of this win, as well as Pakistan's all-around performance.


Champions 🏆#TriSeries #PAKvAUS pic.twitter.com/kbKpyOaBjP

— Pakistan Cricket (@TheRealPCB) July 8, 2018


Pakistan can rightfully expect this brilliant performance to be replicated in the difficult forthcoming home series against New Zealand and Australia. For now, as Pakistan play a five-match ODI series against Zimbabwe, fans can only hope the team takes advantage of the winning high and translates it into a winning streak. However, as fans of Pakistan cricket are well aware, the only thing we can be sure to expect is the unexpected.
Facebook Conversations
COMMENTS (9)
Comments are moderated and generally will be posted if they are on-topic and not abusive.
For more information, please see our Comments FAQ