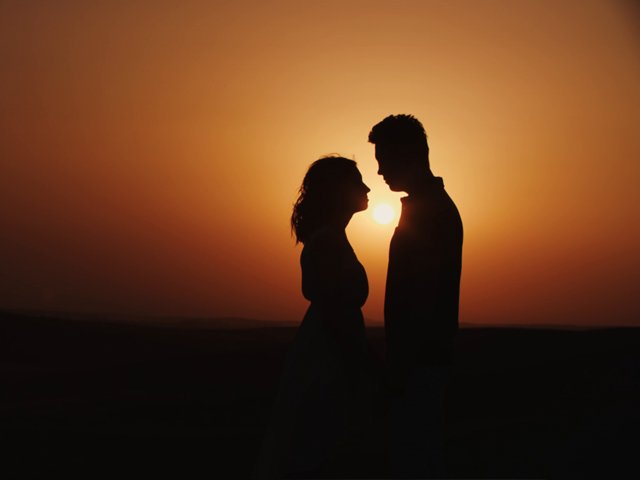 ---
It was meant to be, yet it wasn't
Noor would lose nothing, but disobeying her father would mean trouble for him. He was forbidden to love Noor.
---
On this beautiful summer morning in the Sultan Khel village, everything was in bloom. Flowers lazily tumbled along the pathways, butterflies and bees buzzed at blossoms, and the spindly green trees rose impossibly high into the clouds.

For this day, Noor chose a pale lilac shalwar kameez strewn with floral embroidery, and wore her sparkly new golden heels underneath. Her black hair cascaded down her back in waves, and her big brown eyes twinkled.

Noor looked beautiful – a vision to behold. No wonder all the village boys were after her.

She opened the windows of her room, and breathed a lungful of air that smelt of cherries and blossoms. Even the sun was glorious today, as its yellow rays unfurled in the blue sky. She left the house, and threaded her way to the bus stop.

When she reached, she was breathless; her legs ached, and the small of her back stung with sharp pain. She was weary from the travel, and her heels bit into her feet.

She waited a little, and then saw Jehangir emerge from a crowd of laughing and talking passengers. Her fatigue dissolved, and her strawberry lips drew out in a smile.

She had heartily missed Jehangir. Now that he was back, she felt like the happiest girl alive.


---


Jehangir couldn't believe his eyes when he saw Noor. For a split second, he thought it was his imagination. 'This girl is nuts, she'll get us killed some day,' he thought.

"What are you doing here?"

"I came to welcome you!"

"And if your parents find out?"

"They won't. They have gone to the city for a wedding, and will return in the evening."

Jehangir's apprehension faded into the thin summer air, and he led Noor away from the throng of passengers.

They went to the lake, and settled under a tree. This was their spot. This was where they used to meet every day, before Jehangir went to Lahore for work.

Jehangir couldn't stop looking into Noor's watery brown eyes. They were shiny and bright, and full of dreams. He had missed looking into her eyes.

Eventually, the rich yellow light started fading from the sky, and the sun sank in a red glow. It was time for Noor to return home. In the murky twilight, she started walking away.

"Noor!" Jehangir called after her.

She looked back and flashed him a smile. Then she bustled off.


---


Noor saw her father's car parked outside the gate. Cold panic seized her.

"How did they get home before me?" she wondered.

She went inside the house, her heart racing frantically in her chest. Her thoughts were hazy, and she didn't know what she would say to her parents.

"Where were you, Noor?" Father asked her sharply.

"I went to see my friend," she answered weakly.

"Which friend?" he asked sternly.

She could see anger flicker in father's eyes.

Noor was good at making and embellishing stories, but for the first ever time, she didn't have enough words to speak.

"Noor, my little girl! You are as transparent as a person can be. I know where you're coming from; you don't have to tell me. But listen to me, and believe me – Jehangir will not marry you," father's voice softened, and his eyes revealed a sadness unfamiliar to her.

His words, however, fell on deaf ears. Noor's face twisted with fury. 'If only he knew how much Jehangir loves me,' she thought to herself.

"We'll see, father," she spoke instead.

Noor went to her room and shut the door. She didn't realise, but her eyes were glazed with tears. Her father's words had hurt her deeply.

Outside, the night was sultry; the air smelled of jasmine. And somewhere, a bird sang a sad song.


---


It was a blisteringly hot day.

Jehangir sat in his room. A fan whirled noisily above him, but he was still drenched with sweat.

Noor had called him to the lake in the evening. He knew he shouldn't go – Noor's father had warned him, after all.

"I will not have you around my daughter again. There will be consequences."

Jehangir was a poor man who worked as a servant to earn a living. After his parents passed away, Noor's father helped him, and offered him work at his own house. She fell in love with him and openly confessed her feelings to him, but he told her it could not be. He was a poor man, and was forbidden to love her.

Yet Noor remained adamant.

She would tell her parents she was going to meet her friends, but instead she'd come meet him. They'd go to the lake and spend time laughing and talking, with their bare feet dangling in the cold water. Jehangir also fell in love with her – she made him fall in love with her.

They met each other every day, until one day they got caught, and Noor's father sent him off to Lahore.

Jehangir had given up on her. He knew she couldn't be hers, and hoped she would realise it too. He decided he would go meet her today for the last time, and tell her that her own father had told him to stay away from her. Noor would lose nothing, but disobeying her father would mean trouble for him.

Jehangir's eyes were misty. Once again, he was forbidden to love Noor.


---


The evening sky was purple and pink. After a long wait, Noor saw Jehangir walking towards her.

His sparkling eyes looked empty today, and his lips were pursed together in a tight line.

"Jehangir! Father knows I met you yesterday. And he says you won't marry me! I told him that you will. Let's get married, and then I'll go with you to Lahore," Noor spoke with a desperate longing in her voice.

Jehangir was quiet for a while, and studied her probing and insistent gaze on him.

"I can't marry you, Noor, " he said in a flat, emotionless voice.

Noor couldn't believe her ears.

"What are you saying, Jehangir? How can you not marry me?" Noor asked brokenly. Her voice was a thin whisper. "Father was right about you. He was right all along."

"Your own father asked me to stay away from you. I can't disobey your father, Noor."

Her father told her that Jehangir could never be hers, but in reality, it was him who never let him be hers.

The realisation hit Noor hard. Her eyes filled in with tears, but before they could fall, she turned away from him.

"Noor! Noor! Listen to me!"

Jehangir called after her. This time, Noor did not look back.


Facebook Conversations
COMMENTS
Comments are moderated and generally will be posted if they are on-topic and not abusive.
For more information, please see our Comments FAQ