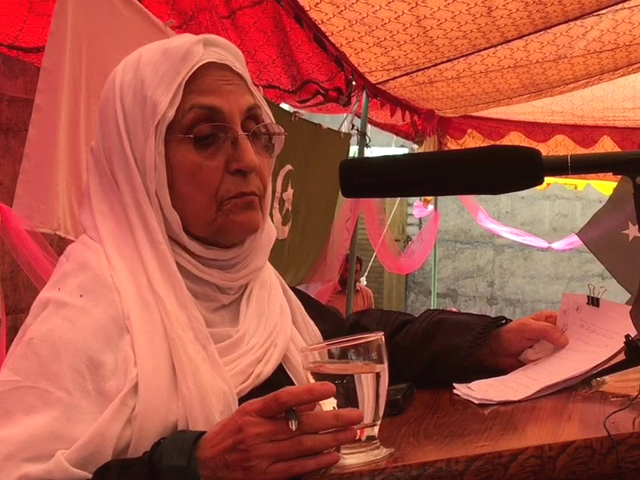 ---
Ali Begum: A symbol of grit and perseverance making history in a no woman's land
Tribal women are craving empowerment and inclusion in politics, and no one other than Begum can achieve that end.
---
While there is no denying the fact that the expertise and contributions of men and women alike are sine qua non (essential) for the establishment of a prosperous and progressive society, it is also a grim and acrimonious reality that women in the tribal areas of Pakistan are excluded from the decision-making and nation-building processes.

This callous attitude towards women is leading us nowhere.

Notwithstanding our patriarchal and ultra-conservative society where gender discrimination and a misogynistic mindset still prevail, there is a valiant and indomitable woman who is defying the stereotypes of a male-dominated tribal society.

Ali Begum, a woman who not only had an illustrious career in public service, but one who made it to Grade 22 of the highly competitive Pakistani bureaucratic hierarchy. She achieved this accolade by dint of her unflinching dedication and sagacity. Her name is a symbol of grit and perseverance amongst the women in tribal areas. Now, she is contesting the forthcoming General Elections from the NA-46 constituency in the Kurram Agency, where she has to compete with more than 25 male candidates.


Being a lonely female candidate from newly merged #Fata, i have stepped forward to contest the upcoming #GE2018 for National Assembly Seat from #NA46 #Kurram as an independent candidate, with campaign focused on health, education and women's rights.

— Ms. Ali Begum Khan (@Mrs_AliBegum) June 11, 2018


What's more challenging for her is the fact that she is surrounded by powerful and seasoned male candidates like Sajid Turi, Syed Iqbal, Ibrar Jan and Irshad Hussain Turi, all vying for the same seat.

Although all of her political rivals are equally strong and competent, yet she seems poised for this unprecedented competition against the twice-elected MNA Sajid Turi, who poses a daunting challenge to her goal. She knows that winning the seat against the powerful and influential male candidates is a hard nut to crack, nevertheless she is all set to break the status quo by becoming the first female public representative from the Federally Administered Tribal Areas (FATA).

Her election campaign has gained momentum ahead of the fast-approaching schedule. Having served at different posts during her long service tenure, she doesn't face any problems in interacting with male and female voters alike. It's already a great deal of success for her to contest against male politicians, bearing in mind that precedence for events such as this is rare in Kurram – a part of erstwhile FATA.

We are now at a critical juncture after the merger of FATA with Khyber-Pakhtunkhwa (K-P). Women in the tribal areas are craving empowerment and inclusion in the political set-up, and in a situation like this, no one other than Begum can contribute more to achieve that end. After all, the participation of women in political activities indubitably bodes well for this long-neglected area.

If Begum is fortunate enough to make it to the National Assembly, it will be the biggest feat yet in the history of the tribal areas, where no woman has ever been elected to the Parliament of Pakistan.

The odds are stacked against her, and it's not going to be a cakewalk for her to make history by becoming the first ever elected female parliamentarian from the tribal areas. That being said, men and women alike can be seen campaigning for this dauntless, magnanimous and judicious woman.

The driving force of her election campaign is the women who foresee their ultimate hope of salvation and empowerment in Begum's charismatic personality. Women's outright participation in her election campaign could give her some sway in these much-awaited polls scheduled for July 25th.

Despite already having so much to her credit, Begum wants to do something for the women who haven't yet gotten the dividend of freedom and prosperity. For now, she faces an uphill task of knocking down her male political rivals in her constituency, before committing herself to the cause of women empowerment in this underdeveloped and relatively restive area.

Giving an interview to a local news channel, Begum said,

"There comes a time when a person strives to better his or her own life and then that of one's family life. I have done both these tasks and now at the later stage my life is dedicated for the cause of development and enlightenment."

Like her male counterparts, she too has vowed to change the political landscape of her constituency if she is lucky enough to be given representation in the upcoming General Elections. Given her past credentials, the best case scenario for this long-neglected area would indubitably be her election to the respective constituency.

Begum has what it takes to be a visionary leader. Let's hope her participation in local politics ushers in a new era of awareness and enlightenment in the tribal areas.