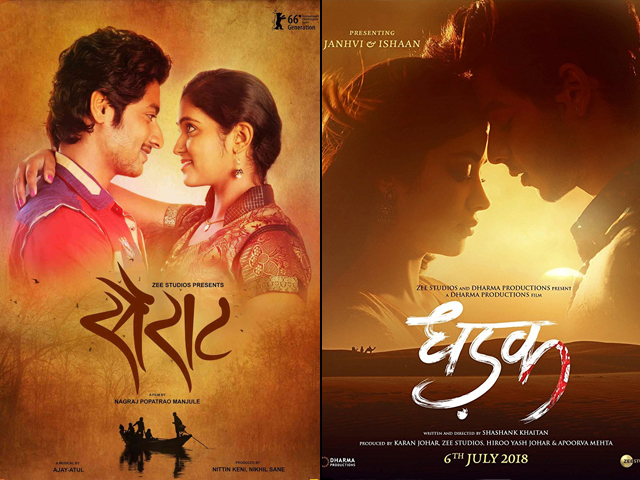 ---
Sorry Karan Johar, but Dhadak lacks the rawness and simplicity of Sairat
Sairat underlined the ruthless reality of caste atrocities but Dhadak is a glamorised version of Romeo & Juliet saga
---
The much-awaited trailer of Dhadak, starring Janhvi Kapoor and Ishaan Khatter dropped on the Internet a few days ago, and gathered responses and reactions from people that reached a feverish and vehement pitch instantly. Dhadak, much to the disbelief and disappointment of people, could not strike a positive note and received cruel social media grilling and flak.


Dhadak is an adaptation of the critically and universally acclaimed, hard-hitting Marathi blockbuster Sairat. The movie revolved around the deep and unconditional yet forbidden and doomed love story of two youngsters from different classes of society – Archana (Archie), the indulged daughter of an influential political kingpin, and Prashant (Prashya), the son of a fisherman. Sairat became a phenomenal sleeper hit and rewrote the box office history of the celluloid by becoming the first Marathi film to enter the coveted 100 crore club.


Fans trolled Dhadak because they felt that the charm and vibe of the original film was missing and the idea of underlying politics and caste system was completely diluted in an attempt to relocate the plot to a much larger-than-life grandiose milieu. As a result, the virtual universe of social media has been flooded with memes and sarcastic one-liners and jokes since then.


is anyone holding protest screenings of Sairat all over India when Dhadak releases?

— denny (@dennymades) July 2, 2018


A realistic movie like Sairat that was made on a shoe-string budget with no star-studded cast has been reinvented by Karan Johar, the king of glitz and glam. The classic Dharma style of making flamboyant films is clearly at odds with the simplistic allure of Sairat. Johar said at the trailer launch,

"When you adapt a film from a brilliant source material, you always know that no matter what you do and try, there will be comparisons. But all you can do is pay homage to that film."

But it seems that Dhadak could not even retain the soul of its inspiration.


Sairat's director decided to not direct Dhadak as he wanted the love story to be based on two characters that live in a small village but karan johar said "these village couple will live in a palace wearing designer clothes cause my village is my village none of your village"

— Ojasism (@Ojasism) June 23, 2018


As opposed to Sairat that underlined the ruthless reality of caste atrocities, violence, prejudice and honour killings, Dhadak is ostentatiously a romanticised, fancied and glamorised version of the Romeo and Juliet saga (with a Bollywood twist) that has not merely trivialised but diminished the most significant theme of the original courageous film. Dhadak runs more on the clichéd ridden subject of economic barrier, the rich girl-poor boy love story, and has given a rise to the allegation that Bollywood adaptations of the regional films are sheer parodies of the original ones.


If Sairat was all about caste, Dhadak is all about dharma.

— Avinash Iyer (@IyerAvin) June 11, 2018


Sairat was certainly a hybrid of conventional and commercial Bollywood narrative and the art-house narrative, both sweeping with love and caste as constant undercurrents. On a small budget, Nagraj Manjule not only depicted the realistic picture of the brutalities and cruelties of caste apartheid successfully but he also challenged the gender stereotypes by going in a role-reversal where it was the female actor leading all the action scenes.


Please watch sairat before watching dhadak. Sairat is such a beautiful film. Watch with subtitles if you don't know marati.

— 🌼🍃🌿 (@Gulmohar__) June 27, 2018


The acting of the lead actors, Rinku Rajguru and Akash Thosar, was naturalistic as they were immensely plausible as Archie and Prashya in Sairat. They brought an utter, raw realism to their characters, wore their characters' skin like their own and received priceless plaudits nationally and universally for their truthful and honest display and portrayal of the doomed lovers.

https://twitter.com/Butiwantpasta/status/1007528173557313536

But Johar, "flag bearer of nepotism" as he is rightly called, recreated Sairat as a launch vehicle for Sridevi Boney Kapoor's daughter Janhvi and Shahid Kapoor's half-brother Khatter.


I'm starting. Anyone joining? #Zingaat #Dhadak #KaranJohar #Sairat #Okjaanu #Okkanmani pic.twitter.com/tRxsdc5swC

— tanika godbole (@missfitcomics) June 27, 2018
Movie #Dhadak:
Hero- Brother of another actor.
Heroine- Daughter of famous actor and director.

Movie #Sairat:
Both hero and heroines are selected on the basis of merit.

Still Sairat is much better.

— Nandan Daga (@mrdagajee) June 27, 2018


After release of the trailer Janhvi and Khatter have been heavily criticised as according to fans they could not do justice to their roles, despite going through countless acting workshops and tutorials and growing up in a richly embedded environment of experienced and endowed artists.

Director Mohit Suri in relation to his opinions on adaptations once said,

"The essence of the film and its narrative need to remain the same, no matter where you are adapting it from. If these elements are in place, then the rest too, falls into place,"

But Dhadak's trailer, thanks to its overt extravagance, unrealism, poor and amateur acting skills of the lead actors, English version of Kaise Batayen song and flippancy of dialogues like "puppy matlab kutte ka chhota bachcha" (puppy means a dog's child) could not appeal to cinema enthusiasts. The film has been roasted severely since as it seemingly lacks the rawness, simplicity, earthen humour, innocence, charm, magic and proximate, native and relatable screenplay of the Manjule directorial.

The latest released song, Zingaat taken from Sairat could not even enthral the people the way the Marathi, Zingaat did, the one that has since become the must and most played song in weddings and discos.




Sairat Zingaat is recipe you watch on the TV and Dhadak Zingaat is the recipe you make.. 😂😂 #zingaatRuined #Zingaat

— Zeall R Soni (@blithesoul_) June 27, 2018


Although Dhadak seems to be the unmaking of Sairat's cinematic opulence from its trailer, the picture is yet to be seen. As the Dhadak actress, Janhvi said,

"I hope they [people who did not like the trailer] change their mind after watching the film…"

One can only hope that this is the case.
Facebook Conversations
COMMENTS (4)
Comments are moderated and generally will be posted if they are on-topic and not abusive.
For more information, please see our Comments FAQ