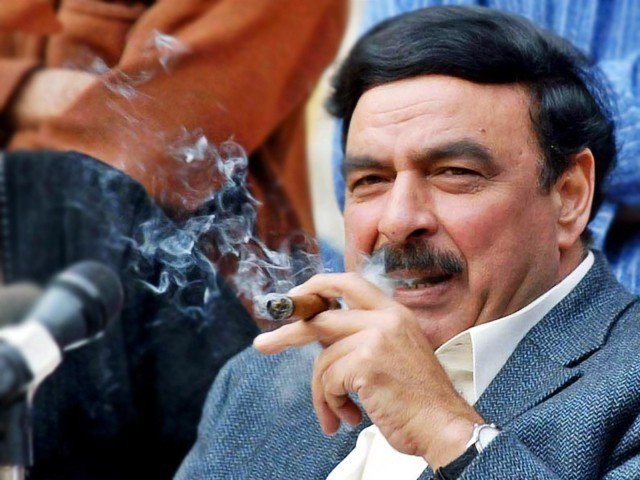 ---
Can someone please stop Sheikh Rasheed from talking?
How can he represent us through a sacred institution while having such venom in his mind and disrespect in his words?
---
Can somebody stop Sheikh Rasheed Ahmad from spluttering venom, please? I am sure 'somebody' could positively do that! While social media is rife with news of Reham Khan's book launching around elections time, there is a social media battle of verbal abuses going on between Reham and Pakistan Tehreek-e-Insaf (PTI) leaders and followers  – the latter accusing her of their leader's character assassination, who is at the moment focused on elections to become the next prime minister of Pakistan.

After celebrity-turned-analyst Hamza Ali Abbasi claimed that Reham was being backed by Pakistan Muslim League-Nawaz (PML-N), Sheikh thought it was the right time to jump into the muddle. Certainly an "open and upfront" soul like him was expected to say some nasty things on the issue.

In a recent interview with a local TV channel, the politician dubbed Reham to be worse than the prostitutes who once lived in Lal Haveli (ironically where Sheikh Sahab himself lives today). He was of the view that a pious woman would have some respect even for a man who has been her husband for an hour. Additionally, giving example of the film industry he said, even 'kanjars' (transgenders) have some principles and Reham is even worse than them.


Sheikh Rasheed uses dirty language for Reham Khan, ex wife of his political partner Imran Khan. This is a glimpse of the Naya Pakistan and Tabdeeli PTI and its partners are promising. Feminists and anchors known for getting into rage are quiet about this pic.twitter.com/eJ0MvVVbVH

— Murtaza Ali Shah (@MurtazaViews) June 20, 2018


These statements sparked anger over social media and some of the leading actresses of the film industry like Armeena Khan took to Twitter, asking how Sheikh was allowed to use such filth against the film industry and more importantly why was his statement even allowed to be aired on a local TV channel? She also criticised Sheikh for holding the position of Information Minister in the past and considered people like him to be playing the main part in destroying the local film industry.

The tittle tattle around this issue has already set the tones of an election campaign that is based on verbal abuses and name-calling. Coming out of a veteran politician's mouth – who is also a popular public figure – this statement is nothing but an indication of what we are about to witness in the days to come.

This has not been the first time that we are hearing such abuses, as Sheikh and other senior politicians have already been playing their respective roles in degrading and defaming female colleagues and insulting females, males and the transgender community in one way or the other.

The first female prime minister of Pakistan and a veteran politician, Benazir Bhutto was once subjected to these kinds of abuses and derogatory remarks. The same Sheikh slated Benazir's government and incited the masses in a public speech to kick her out of Islamabad:

"Jootiya maar ke nikalein ge Islamabad se is ko." 

(We will kick her out of Islamabad.)



Benazir was also challenged for being a woman at almost every point. After giving birth to her children in the 90s, she was ridiculed and even her supporters joked that the acronym for Pakistan Peoples Party (PPP) stood for 'Permanently Pregnant Prime Minister'. Similarly, her opponents criticised her character, the way she dressed and her liberal way of spending her university days (which was completely her personal choice and no one else's). These abuses and the practise of intimidating women is still predominant today.

Khawaja Asif, a senior leader of PML-N who served as the defence minister and foreign minister called Pakistan Muslim League-Quad (PML-Q) leader Begum Mehnaz Rafi a 'penguin'. Similarly, in another incident in 2016, he targeted PTI leader Shireen Mazari and called her a 'tractor trolley'. Some of the other male Parliamentarians supported him by suggesting that Mazari tried to make her voice more 'feminine'.

This offensive language has also become a general practise not only on the floor of the Parliament and public rallies but also on live TV talk shows – Ijazul Haq targeting Sharmila Farooqi's family and her character, Abid Sher Ali telling women to stay in their auqat (limits), or a right-wing cleric from Jamiat Ulema-e-Islam-Fazal  (JUI-F) insulting Marvi Sirmed on a live talk show.

https://www.facebook.com/msirmeda/posts/1233365893363147

But perhaps Sheikh has graduated in using bad language wherever and whenever he sits and talks politics, which has transformed him into a 'bazari' leader from an 'awami' leader. Criticising his opponent Bilawal Bhutto Zardari, he has frequently taunted his masculinity by calling him 'billo rani' and used low sentences like,

"Agey se Pervaiz aur peche se Parveen!"

(Pervaiz from the front, Parveen from the back!





Sheikh should learn how to respect people and particularly women – whether that be a famous anchor or a prostitute. First of all, in a society like ours, nobody enters prostitution out of free will. As there are a number of societal issues involved in this topic, one should refrain from ridiculing the poor women who are entrapped in it. Then again, respect is mandatory for any woman – whether it be an anchor or a prostitute – because both are earning independently without any support from men like Sheikh.

The "man" Sheikh was defending has been, no doubt, an international player of cricket who brought fame and made Pakistan proud by winning the World Cup back in 1992. He is still a reputable man who has struggled hard to become an established politician. I agree he has an enormous number of fan following both within and outside the country. I also agree that he has done some tremendous work by setting up the first cancer hospital in Lahore, spreading it to various other cities, which has benefited not only the people living inside the country, but also a large number of Afghans and people from other neighbouring countries.

However, having served as a TV producer with various leading channels, I have witnessed Imran's on and off flirtatious text messages to female anchors. These anchors chose to stay quiet because of a number of reasons: either they didn't want to get it reported as they feared they would be blamed for attracting him in the first place or from the distress of being subjected to humiliation and disgrace by their families and society. Whatever the reason was, they chose silence and I fully respect that. However, they did make fun of Imran and his "flirtatious attitude at this age" with their respective teams.

Let us now come back to the "man" called Sheikh. I am shocked he is not aware of basic media ethics as he has remained Pakistan's Federal Minister for Information and Broadcasting from 2002 to 2006. Further upsetting is the fact that we have time and again elected this person to the Parliament without recognising that he has no respect for women at all and certainly no respect for the fact that his private views when aired on TV, in fact, impinge on someone's basic human rights. How could he even represent the people of Pakistan through a sacred institution like Parliament while having all of this venom in his mind and disrespect in his words?

Being open and speaking up is another thing and being big-mouthed and not respecting basic rights of people and marginalising women is another. I am also surprised that our almost defunct Pakistan Electronic Media Regulatory Authority (PEMRA) has not taken any notice of this issue. In today's world, news spreads like wildfire and his clip of degrading prostitutes and Reham – in fact degrading women as a whole – is all over social media. This is the kind of message and image we are giving to the people outside Pakistan.

We talk of peace, sustainability of democracy, transparent elections and making a new Pakistan. Have we forgotten that when a guard kills a bus hostess for declining his proposal, it does not only depict the death of a woman? It is showing the place this society gives to women as a whole – be mine and you are respectful, reject me and you are a prostitute worthy of being dead.

It is ironic that public representatives such as Sheikh take pride in degrading and bashing women daily on talk shows without realising that it was a woman who has brought them into this world. Calling a woman a prostitute will not do him any good. It just reveals what sort of a person he himself is!

Lastly, it would be horrifying to see a person like him sitting in the Parliament yet again, which unfortunately is very likely.
Facebook Conversations
COMMENTS (23)
Comments are moderated and generally will be posted if they are on-topic and not abusive.
For more information, please see our Comments FAQ