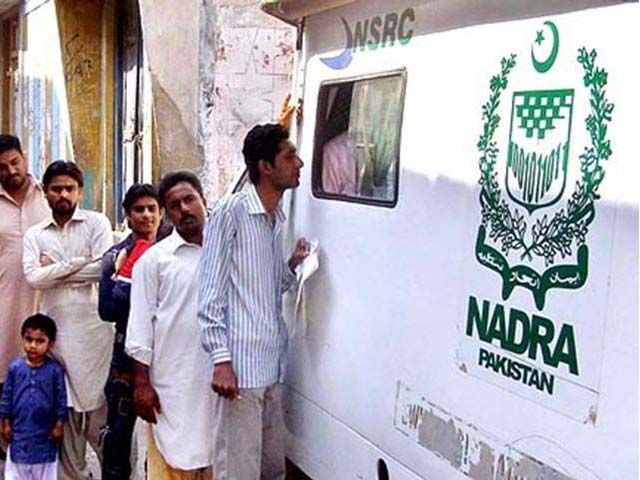 ---
Dear NADRA, your failure to recognise Pakistan's undervalued regional languages is not surprising
A masters degree or doctorate in any language except English, Urdu and Persian will be considered as bachelors degree
---
I recently came across a disheartening news article which stated that the National Database and Registration Authority (NADRA) failed to recognise a degree attained in a regional language. This applied to all the areas and provinces of Pakistan and not just Khyber Pakhtunkhwa (K-P).

Now, let us take in the severity of this statement. In effect, this means that those who have done their Bachelors or Masters in Pashto or any other regional language cannot enter their education data for their national identity cards (NIC) at NADRA. The premier regulatory authority's online forms only contain and recognise a master's degree or Doctorate in English, Urdu and Persian.

But I beg to ask, what about those people who are perfectly educated in regional languages? Do we just ignore them? Do we just pretend that they are not qualified?

A NADRA spokesperson claimed that the information provided by the applicant is only kept as a backend data and thus these slots do not matter. However, people who have attained a master's degree in any language other than English, Urdu and Persian are forced to quote themselves solely as Bachelor's degree holders because of an aberration in NADRA's online system.

After going through the news, I decided to get in touch with NADRA officials since I had several questions in my mind that needed clarification. According to the official I spoke with, there are no distinct online forms available for different provinces and hence each province has no other choice but this fragmented online form.

The official also specified that every now and then, the government of Pakistan, especially the interior ministry, asks NADRA for the latest information available in this regard. This makes it clear that the backend data is in fact required for some statistics. Faiq Ali, NADRA's spokesperson, deemed it 'backed futile data'.

Although NADRA has done commendable work in the previous years, especially through the production of the biometric verification of NICs, it is regrettable to see the heedlessness on part of the organisation. Furthermore, it is unfortunate to see our state institutions turning a blind eye to education in regional languages.

The people who prefer to pursue their Bachelors, Masters or Doctorate in regional languages work just as hard as any other student does to get a degree. Other than this, it is also a matter of recognising the importance of our languages, which are an integral part of our culture.

For a moment, if we discuss Pashto literature and language, we can easily observe the cultural and historical affluence of the language. Pashto marks the identity of the people living in K-P and Federally Administered Tribal Areas (FATA). Although Pashto is an old language, its literature is comparatively new. Moreover, Pashto literature has attracted local and foreign scholars to Pakistan for research.

Apart from universities offering Masters and Doctorate in Pashto literature, there is an academy that has been running since the mid-50s for the prolongation of the Pakhtun culture and language.

Apart from the abundance of our culture and venerating our people opting to obtain degrees in the regional languages, it is pertinent to talk about the government's use of NADRA's backend data. If this data is so important, shouldn't it be accurate? Shouldn't it specify the level of someone's education, regardless of the language they attained it in?

Apparently, this updated data is used by the government of Pakistan to assess 'various important' statistics. This would obviously include the degree of higher education level in each province. Thus, how can a particular provincial government, through the 'updated' and 'factual' information entered in the online form of NADRA, render the exact number of graduates, postgraduates and doctorates? Furthermore, how can they do so when a majority of them cannot even declare their actual degrees?

We are living in a democratic state, thus we do expect our institutions to facilitate us in every respect. We expect them to empower us to speak up for our basic rights, permit us to preserve our rich culture and languages, and allow us to get our education recognised at all levels.

We must take measures to recognise these scholars, researchers, students and teachers who are working hard to contribute towards Pakistan's multi-ethnic image. This holds immense value during a time where terrorism and radicalisation haunts our people.

We expect NADRA to be fair and endorse people to enter valid and updated information in their online forms. Our languages are already fading away and those who are still undertaking their higher education in regional literature should not be demoralised through this move. Pakistan must remember that Urdu and English are not the only languages that define our country – every regional language gives colour to the bold outline that is the land of the pure.
Facebook Conversations
COMMENTS
Comments are moderated and generally will be posted if they are on-topic and not abusive.
For more information, please see our Comments FAQ