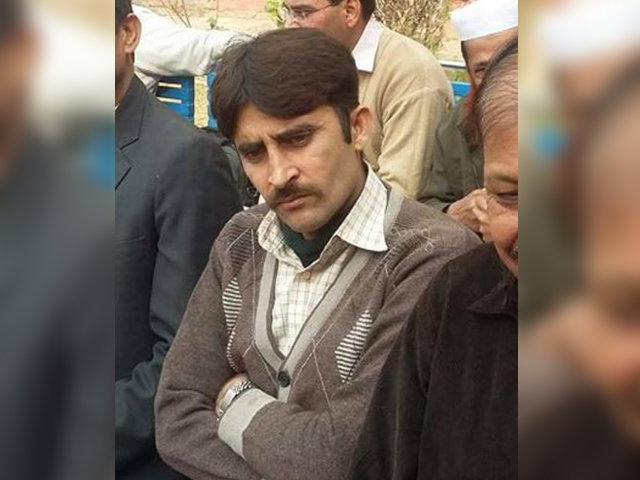 ---
#PunishSadatBashir: Are 80 voices not proof enough?
We should be ashamed that she had to clarify what she was wearing for society to think her accusation is...
---
Online feminist campaigns such as #MeToo have brought down many titans of toxic masculinity. Famous international cases include James Dean, a famous adult actor who was accused by many women of sexually assaulting them. The House of Cards star and Oscar-winner Kevin Spacey too was accused by a man of sexually assaulting him and is currently under police investigation, after having his contract with Netflix ended for his shameful conduct.

The never-ending list of accused also includes other former legends like Bill Cosby and recent addition, Morgan Freeman. In all these cases, the allegations have been and are undergoing investigation by relevant authorities. Careers have taken a hit and apologies/clarifications have been issued.

In contrast, when Meesha Shafi spoke up about Ali Zafar sexually harassing her, she was witch-hunted till she had to deactivate her Instagram account, and was a recipient of more abuse than support. There was nothing that was not questioned about her; men and women on social, electronic and print media assassinated her character left, right and centre.

Perhaps we can blame some people for being too unaware or uneducated as to not understand the deep-rooted patriarchy involved in the response. But it was truly shocking to see the self-proclaimed anchor Mubasher Lucman and his all-female guests, including Resham, questioning Shafi's character, emotional stability and reasons for coming out now. This attitude has now transcended to a level where more than 80 college girls are enduring what Shafi did.



Saba Ali, a student of Bahria College, reported on her Fscebook account that she was sexually assaulted during her biology exam by her invigilator, Sadat Bashir.


"He groped me twice, once when I went for the model recognition and he touched my butt, and second when I was making the slides. He came behind me and traced my bra strap, all the while pretending he was just examining my slide."

She is not alone, 79 other girls have also allegedly been harassed by him and 18 of them have recorded their testimonies online.

https://twitter.com/OfficiallyAlsa/status/1001450370000916480

"After I was done writing I visually realised a hand was extending to my chest."

Let that sink in. Eighty girls no older than 18 were sexually harassed by their invigilator. Current and former students of other universities and schools, including the prestigious Army Public School, have come forward and narrated similar incidences. It seems that Bashir is obviously a pervert who has not been investigated for many years, despite being reported numerous times.


Here's my full testimony. This happened in Army public school Westridge 3 branch in 2014.I have not shared the details of how he tried to touch me or other girls but this doesn't change the fact that he didn't. quick action should be taken against him #punishsadatbashir #timesup pic.twitter.com/Ff17nvQ6tJ

— Faryal (@Frylabac) May 30, 2018


Bashir, however, denies having sexually harassed the 80 victims and claims he is being victimised because the educational institutions wanted him to award maximum marks to their students. I fail to understand how he has equated the two issues together. But I don't want to delve on his response because his argument is self-defeating.


#PunishSadatBashir rejects allegations of sexual harassment. "Education institution like APS&Bahria always pressurize me to award maximum marks to students in practical exams but I give marks to students on basis of their performance. I am being victimised for that," he said. pic.twitter.com/eS2NsbcJIl

— M AWAIS KIYANI (@MAWAISKIYANI) May 30, 2018


What is appalling is that it took a lot of outcry and numerous tweets, under #PunishSadatBashir, by these brave girls and their allies (including many celebrities) to get a reaction from authorities, after days of being originally reported by Saba. I want to give a special shoutout to lawmaker Shaza Fatima Khawaja, who was the first one to raise her voice in the parliament against this incident.


Massive shoutout to @OfficiallyAlsa @Lanaschild_, @someaningless, and of course Saba Ali and all the rest of the girls who came forward. These words echoed in the NA today bec THEY took up this fight. Without their fierce campaigning on social media, this wouldn't have happened. pic.twitter.com/S9Pbj15LVQ

— Faizan. (@merabichrayaar) May 30, 2018


What has happened is an unfortunate and infuriating incident and needs to be investigated, and Bashir needs to be prosecuted for his reprehensible actions. But what terrifies me more is the deep-rooted misogyny and patriarchy in our society. Shafi was called a slut for coming out with her story. These girls are now going through the same name-calling and victim-blaming.




I wish I could name and shame the patriarchs but they are far too many. However, I do refuse to call them apologists. Apologists are people making excuses for a certain behaviour. A patriarch is someone perpetuating that behaviour. Character assassination often involves invasion of the victim's privacy, which is a fundamental human right and should be protected even if the patriarchs are too toxic to respect it.

Women are conditioned to internalise the violence they go through by parents and sometimes even by their friends. They are told to ignore the predatory behaviour otherwise it will hurt their reputation. They are told to cover themselves instead of speaking out, they are asked to avoid going to certain places rather than punishing the harassers and keeping them off the streets. People like these, who call victims 'not less than a slut' or someone who was 'asking for it' are the cause of female subjugation.

The difference between us and the developed countries is that they actually investigate and prosecute abusers. Maybe we should take a lesson from the US, they took action against the accused, which gave strength to other survivors of sexual violence to come forward. We, on the other hand, call them names and put them down. Even Saudi Arabia has outlawed sexual harassment recently, which would introduce a prison term of up to five years and a penalty of 300,000 riyals ($80,000).

Our society also seems to suffer from amnesia because we have forgotten what happened just a few months ago in our very own country. We collectively stood up to demand justice for Zainab Ansari; however, we refuse to extend the same courtesy to these 80 girls. We will not only forget but fail Zainab if we continue to allow these patriarchs and misogynists spew their venom against victims of sexual violence. By making excuses for the predator or questioning the victim, we are encouraging more rapists and predators to take form.

We keep asking the woman to give evidence of her assault and not once do we question the man's behaviour. In this case, not one, not two but 80 girls have been the victims at the hands of this predator. Are 80 voices not proof enough compared to his? Is that not evidence enough? Should that not put all our "doubts" to rest? Because if that isn't enough, sadly nothing will ever be enough! It seems that in this society we are not looking to demand justice for the victim, we are looking to absolve the perpetrator and turn a blind eye.

Saba in her status mentioned that the girls were wearing their uniforms and weren't parading around in some revealing dress. We should be ashamed as a society that a girl had to clarify what she was wearing in order for society to think that her harassment accusation is "acceptable". She probably said that because she knew that this is one of the first million demeaning questions she would be asked before society can finally ask for justice for her. You see, we obviously have to make sure that a person accusing someone of harassment fits our criteria of a "real" victim!

Shame on you, Imran Arshad, the killer of little Zainab. Shame on you, Sadat Bashir (you are not innocent until proven guilty – 80 victims cannot be wrong). And shame on all you patriarchs and apologists!

Shame on us for not standing up with the victims and speaking for them earlier. Justice delayed is justice denied. Bashir should be immediately arrested and investigated, and the likes of him should be shunned from our society forever, and more importantly, be made an example of.
Facebook Conversations
COMMENTS (8)
Comments are moderated and generally will be posted if they are on-topic and not abusive.
For more information, please see our Comments FAQ