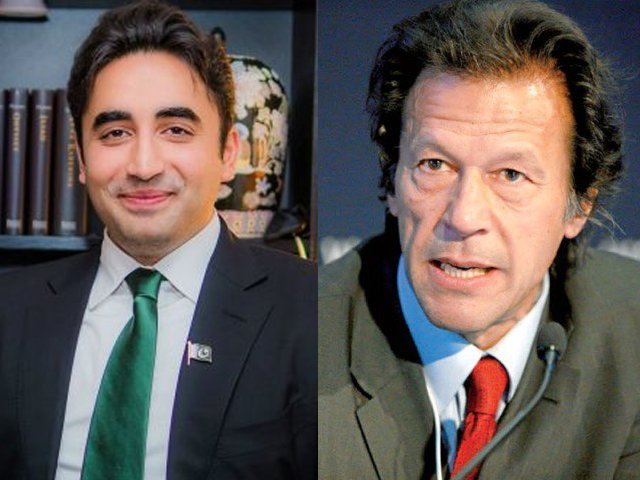 ---
In #PPPvsPTI, Bilawal wins the round and leaves behind a lesson for Imran
Sometimes politics is the art of a tactical retreat, where the one to step back gains political points; as Bilawal did
---
Finally the people of Karachi can sigh in relief, as the tussle between Pakistan Tehreek-e-Insaf (PTI) and Pakistan Peoples Party (PPP) has come to an end, with both parties agreeing to change the venue of their jalsa on May 12th. This conflict between the two parties over what was undoubtedly a petty issue, brought about a violence that the streets of Karachi, though familiar with, have not witnessed in a while.

The clashes between workers of both parties over holding their jalsa at the Hakeem Saeed Shaheed ground left several people injured on both sides, while many vehicles were also damaged or set on fire.

It is ironic that violence would break out over a jalsa both parties want to conduct on May 12th. For those who don't remember, this day has a significance in Pakistan's history, as on May 12, 2007, over 45 people were killed and hundreds were injured when riots erupted between the Muttahida Qaumi Movement (MQM), backed by General (retd) Pervez Musharraf, and the political activists of PPP, Awami National Party (ANP), and Pakistan Muslim League-Nawaz (PML-N), amongst others, who were all backing the return of Chief Justice Iftikhar Chaudhry. Every year, this day is observed as a black day in the country, and is commemorated to make a point against oppression and violence.

What we saw on the roads of Karachi recently was the opposite of the spirit of commemorating this black day, as political workers physically fought and threw stones at each other. The simplest solution was to check which party had official permission to hold a jalsa at the ground, but everyone let their emotions get the best of them, and the leadership present did not intervene while public property was destroyed and workers were beaten up.

As per the record of the local government, it was PPP which applied first for permission to hold a jalsa at the venue and got approval from the local authorities, which is why it made sense for them to get the venue. However, once this information was revealed, instead of stepping back, PTI chose to impose their will by suggesting that since they announced their jalsa first, the ground was rightfully theirs. According to our law, as well as basic common sense, this is incorrect, as a mere announcement cannot be equivalent to legal permission.


Fact 2: To pay tribute to our martyrs PPP planned to hold a jalsa at Hakeem Saeed ground in district East, as most lives were lost in District East. We applied for and received all necessary legal permissions.

— BilawalBhuttoZardari (@BBhuttoZardari) May 8, 2018


Furthermore, once the situation worsened and the clashes took place, instead of trying to solve the matter peacefully, PTI came up with another petty demand: it would not hold the jalsa at that venue and would look for another, but only if PPP did the same. This was a poor and childish demand by PTI, and is not a good look for a party eyeing a win in the next general elections. Ruling the country requires a cool temperament and skills to resolve conflicts peacefully, and this messy conflict revealed both to be missing within the ranks of PTI, which came out looking worse for wear. The party's attitude and unwillingness to abide by the law, which clearly did not give them permission to hold a rally, offers a glimpse of what conditions will be like when PTI has some actual power. It also suggests that the days of violence in Karachi are not over yet, and that elements of violence will unfortunately prevail in the local politics of the city for days to come in the wake of upcoming election campaigns.

On the one hand, Bilawal Bhutto Zardari made a strong political move in good faith by announcing that PPP will step back to ensure peace and will hold their jalsa elsewhere. This was a sane and robust approach from Bilawal, who should be admired for defusing the tension in the city. However, one does wonder why it took him so long to react, and why the intervention did not take place once violence ensued. Nonetheless, his delayed intervention was better than no response at all.


Fact 7: I call for a complete enquiry to hold all those responsible accountable

— BilawalBhuttoZardari (@BBhuttoZardari) May 8, 2018
Fact 9: Karachi is our city - we can hold a jalsa anywhere.

— BilawalBhuttoZardari (@BBhuttoZardari) May 8, 2018


On the other hand, Imran Khan unsurprisingly accused his opponents of attacking PTI workers, and accused PPP of using force against the party. As usual, he chose not to speak about the role of his workers and leadership. If Imran cannot discourage violence or denounce party workers who engage in hooliganism, then how can he claim he is good for Karachi? Completely ignoring the city as he focuses on Punjab, and leaving it to second-tier leadership, will certainly not help his cause.

The reality on ground reveals Imran will not be able to grab a majority by winning in Punjab alone, as he is not in the position to get a clean sweep in the province. Imran needs Karachi, and if he cannot take advantage of the space left behind by MQM, then he will witness a repeat of 2013, this time with PPP taking away votes that could have gone to PTI. In fact, Bilawal's retreat has given PPP a political edge over its opponents.


Strongly condemn the attack on PTI workers by PPP at our jalsagah camp in Karachi yesterday. Sindh govt must take action against those who used violence against our workers. Strong arm tactics by PPP reflects their fear of PTI's rising popularity in Sindh.

— Imran Khan (@ImranKhanPTI) May 8, 2018


Over the years, we have witnessed how the violence of MQM's workers was never discouraged, and left to their own devices, and how they almost ruined Karachi. Now that conditions have improved, both Imran and Bilawal need to be better at dejecting such behaviour and taking strict action against those involved. This form of mob violence and burning property is inherently fascist in nature, and if these leaders are incapable of handling their own workers, how can they handle the turmoil that comes alongside the city of Karachi?

PPP is an old political party, and should thus behave in accordance with its stature. At the same time, PTI is emerging as one of the biggest parties in the country, and needs to learn the art of politics accordingly; it cannot cry 'foul play' every time, and present itself as the victim in every situation. PTI is on its way to developing a reputation, and if this tendency to bring Karachi to a lockdown does not cease, it will not be long before they are labelled as another MQM in the country.

Both PTI and Imran can learn from the young Bilawal – politics is not always about being on the offensive. Sometimes, politics is the art of a tactical retreat, where the one to step back is the one who gains political points; in this case, Bilawal.

The tragedy that took place on May 12, 2007 reminds us how quickly the inability to understand an opponent's point of view can lead an entire city to the path of violence. Hopefully, both parties in this case will learn the lesson from this unfortunate incident, and infuse tolerance within their workers and supporters, especially as they commemorate one of the blackest days in our history. In a bid to fill the vacuum created by the absence of MQM, both parties will have to understand the solution is not to become like MQM, by creating another monster in Karachi. As Friedrich Nietzsche once said,

"Whoever fights monsters should see to it that in the process he does not become a monster."
Facebook Conversations
COMMENTS (22)
Comments are moderated and generally will be posted if they are on-topic and not abusive.
For more information, please see our Comments FAQ