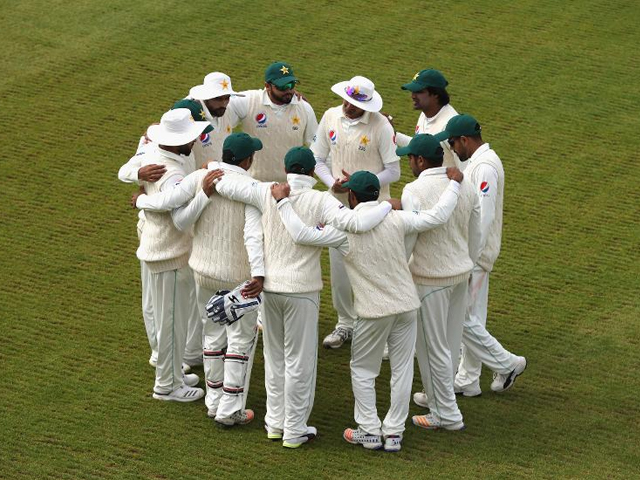 ---
Is Pakistan ready to play real cricket in Ireland and England?
Pakistan might find themselves in a troublesome situation, as they haven't played the longer format in a long time
---
Having played the shorter format of cricket for quite some time – with the Pakistan Super League (PSL) and West Indies' tour of Pakistan – the national team and its audience have been craving the long and real form of cricket since last October.

Currently, Pakistan is sitting comfortably at the top of the T20 International table, and if anything, this is evidence we've been indulging in this format for far too long. When it comes to ODI and Test cricket, the men in green are lagging far behind their real potential, as at the moment, Pakistan is ranked sixth in ODI and seventh in Test cricket respectively.

Under Misbahul Haq's reign, Pakistan managed to reach the top spot for the first time since Test rankings were introduced in 2003, for which he was awarded the Test mace in 2016. Since then, Pakistan's performance in the longer format has dipped significantly. Thus, with the announcement of its 16-man squad, the green caps are gearing up for an important tour (Ireland, England and Scotland) to commence their season and get back in shape.

Pakistan clearly has a lot riding on this tour, and the following are four reasons why the significance of this tour should not be underestimated.

1. Playing with the rookies

May 11th will be marked as a historic day in Ireland, as well as a new chapter in Test cricket for the history books, as Ireland will be playing their first ever match after getting Test status from the International Cricket Council (ICC) last year; and that too against Pakistan. Ireland may be the rookies in the Test arena, but Pakistani fans nonetheless have some horrible memories attached to this particular side. After all, who can forget March 17, 2007?



Ireland stunned Pakistan in a World Cup match, where their victory over the green shirts ended up sending Pakistan – ranked fourth in the world for ODIs then – out of the series and back home.

Since then, Ireland cricket has become better and better, as they beat the West Indies, England and Bangladesh in ODIs on various occasions, compelling the ICC to reward them with Test status alongside Afghanistan.

Hosting the series on their home soil, Ireland have nothing to lose. Pakistan, on the other hand, will be under severe pressure to not lose to this new side that is quite literally playing their first Test match. As fans of Pakistan cricket are aware, Pakistan has a terrible history when it comes to playing against newly inducted cricketing nations; Zimbabwe and Bangladesh also got their Test status after beating Pakistan. Now, given alien conditions in Ireland and a not so great history against new teams, this will definitely be an interesting contest between the two sides.

2. Missing #MisYou

Since the exit of the two players who have functioned as the pillars of Pakistan cricket for the past decade, the team's management is trying to fill up the gap of Misbah and Younis Khan. This feat is proving to be just as difficult as making and maintaining a house of cards during a storm, for the two batting giants had the unique capability to not only occupy the crease, but to seize every opportunity to score runs. They were magnificent against spinners, and many a times, confounded the spinners of the opposition.

As Micky Arthur once mentioned, the absence of Misbah and Younis felt as if suddenly, 16,000 runs were taken away from Pakistan. Thus, without these seasoned campaigners, Pakistan's batting side certainly looks to be in jeopardy. The youngsters in the team will really need to learn the ropes, and quickly, in order to guide the ship smoothly.

3. Bowling backlash

With the injury of ace spinner Yasir Shah taking place at the beginning of training camp, Pakistan's spin department and fast bowling looks fragile. This, coupled with the unjustifiable decision of dropping Wahab Riaz and creating a heavy dependence on Mohammad Amir, ensures the men in green will certainly feel the heat.

Additionally, the team's management has kept Mohammad Abbas, Amir, Rahat Ali and Hasan Ali in its arsenal, with Faheem Ashraf playing a supporting role. Keeping the spearhead Amir aside, Pakistan's side has a total experience worth 17 Test matches in its bowling lineup, and just one in the spin department in the shape of Shadab Khan. These numbers depict nothing; rather, they only ring alarm bells for what is to come. Test matches are always won with bowlers, by taking 20 wickets in two innings. This time, it seems Pakistan might find themselves in a troublesome situation, as they also haven't played the longer format in a long time.

A long gap, mixed with inexperienced youngsters and foreign conditions, will form the main challenges Sarfraz and his XI will have to face in order to succeed and end the long drought of winning a Test series in England.

4. Batting against the odds

"Edged, and gone!"

This phrase is frequently being used by commentators regarding the condition in England, because bowlers get immense support to swing the red cherry, both in the air and off the wicket. With such conditions in the presence of experienced duo Stuart Broad and James Anderson, Pakistan's batting will be facing a herculean task.

With significant buzz being created over Fawad Alam being axed from team, the batting lineup has a lot to prove. Out of the five uncapped players in the squad, four are batsmen, namely Saad Ali, Imamul Haq, Usman Salahuddin and Fakhar Zaman. Just like Amir, Azhar Ali, Asad Shafiq and skipper Sarfraz Ahmed will also have to carry the enormous burden of batting responsibilities.

Pakistan's cricket team is famous for its batting collapses and keeping this in mind, the batting selection looks absurd. The team is in dire need of someone who can provide stability in the middle order, but for this, Pakistan seems to have no one to bank on. Shafiq's inconsistency and Haris Sohail's lack of experience (in red ball cricket) is sure to put fear in the dressing room. All in all, our batsmen will really have to play out of their skins to defy the odds.

In order to maintain its reputation of being a tough opponent, and avoid repeating the performance of our last tour, Pakistan's cricket team has a daunting task ahead. Courage and self-belief are the two basic factors that might help them keep their feet grounded strongly against the harsh conditions. If our bowlers do their job correctly, and our batsmen support their bowlers, then this young team definitely possesses the capability to turn the tables in its favour.