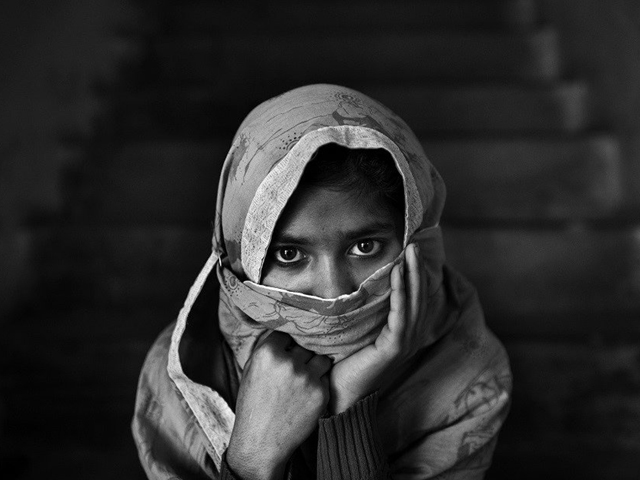 ---
It was time for Laila to go home
When he turned around, Laila thought he was leaving. But instead, he locked the door, turned off the lamp and stayed.
---
The autumnal sky was reddened by the setting sun. Laila gazed at it in admiration. In just a few hours, the sky would turn dark and it'll be night. And Laila would finally escape her wretched, tormenting, miserable life.

She felt all her fear and trepidation melt into thin air as the world around her slowly dyed into a deeper shade of scarlet.

'A few more hours, and I'll be gone from here, forever.'


---


A cool blue dawn broke over the village of Saleh Brohi. From her window, Laila saw the streets of Saleh Brohi sprawling out below. This place was where she had grown up. This place was her home. But the time to say goodbye to her home had finally arrived. The thought filled her with immense sadness.

Laila was accompanied by her Maa (mother) on the journey to Lahore. She was to work at some Chaudhry's house. Maa had trained her in all household work. She was sure to please the Chaudhry and his wife.

Maa dropped Laila off, and returned to the village the next day. Laila was all alone in a house full of strangers.

'Strangers aren't strangers once you get to know them. It'll take some time before I settle down.'

Chaudhry's wife put Laila to work almost instantly. She was well pleased with Laila's proficient housework skills. Maa's training was paying off.

Mostly everything was to Laila's liking, but one thing discontented her. Laila was the only female worker at the Chaudhry's house. The rest were all men, old and gauche.

When Laila talked to the Chaudhry's wife about the discomfort she felt in the presence of all these men, she responded impolitely,

"We can't fire all our workers for your sake. They've been serving us for much longer than you. Get back to work, and wash the clothes properly today."

Laila bit back whatever else that she had to say.


---


Pale, wan sun glared down from a blue sky. Outside, in the sweltering summer heat, drenched in sweat, Laila was drying the clothes that she had just washed. Her hair was tied back in a knot, and her dupatta hung loose around her neck.

When Laila turned around to leave, she saw Afzal, Chaudhry's driver, staring at her from across the garden and smiling a smile that made her heart race frantically. She shot Afzal a reproachful look and stormed off.

Even when Laila was back in her room, she felt Afzal's prickly gaze linger on her. This wasn't the first time I saw him looking at me like that, she thought to herself.

From that day onwards, every time Afzal was around, Laila would wrap her dupatta tightly around herself and ignore his presence as best as she could.

One day, Laila went to give him tea. Normally, Nadeem the gardener or Arshad the other driver would be around, but on this day, Afzal sat hunched on the bench, without company. When he saw Laila approaching, he straightened up and smiled a sleazy smile. His demeanour disconcerted her.

When Laila gave him the tea, he grabbed her hand instead. The tea spilled, but Afzal took no notice of it and held onto Laila's hand.

"Leave my hand. I said leave my hand," Laila yelled at him.

Afzal's smile widened, but he let go of her hand.

Later that night, when Laila was in her room, tears rolled down her cheeks. She hated Afzal. The way he looked at her, the way he smiled at her, the way he touched her – she hated it all.

'Why am I crying? Who cares about the tears I shed?' 

More tears rolled down her cheeks.


---


Laila slipped in and out of sleep. Something was deeply unsettling about the night. Laila turned on the lamp, hoping a little light would silence the buzz of disquieting thoughts that rose in her mind.

'I need to sleep. I can't work tomorrow if I don't sleep right now.' 

Laila's thoughts discontinued when her room's door creaked open.

'Who at this hour would come into my room?'

Her heart fluttered in her chest and she felt scared.

A dark and daunting figure emerged from the door.

Afzal.

His dark, venomous, malevolent eyes flickered in the lamplight. Afzal's face was terrible to look upon.

Laila reached out for her dupatta but her hands fumbled. Her heartbeat quickened and the world around her spun in circles.

"You forgot to lock the door," Afzal said quietly.

When he turned around, Laila thought he was leaving. But instead, he locked the door, turned off the lamp and stayed.

Outside, the night air was cold and crisp, and the stars flickered faintly in the sky. Inside, it was pitch black. It was the darkest night of Laila's life.


---


On some nights, Laila would scream, wail and shout for help. On others, she would endure the abuse quietly.

When she finally composed herself, she decided it was time for her to go back to her village, to her home.

"Maa's old and sick. I've to take care of her. I've to go," said Laila.

"You can leave when this month ends," Chaudhry's wife wasn't too pleased.

And finally it was the month's end, Laila's last day at the Chaudhry's house. In the time that remained before Laila went to the bus stop, she walked around in the garden. She was restless and wanted nothing more than to be away from this place, to wrench free from all gruesome, terrifying, dreadful memories associated with it.

The thought of going away relieved her. It liberated her. It made her feel free. She had desperately yearned for this freedom.

"Laila, come let's go. We're already a little late. I've to drop you and then pick baji too," said Arshad.

Laila broke into a smile, and delightedly followed Arshad into the car.

It was finally time to go home.
Facebook Conversations
COMMENTS (3)
Comments are moderated and generally will be posted if they are on-topic and not abusive.
For more information, please see our Comments FAQ